Disclosure of Material Connection: Some of the links in this post may be "affiliate links." This means if you click on the link and purchase an item, I will receive an affiliate commission. Disclosure in accordance with the Federal Trade Commission's 16 CFR, Part 255. This site is a participant in the Amazon Services LLC Associates Program, an affiliate advertising program designed to provide a means for sites to earn advertising fees by advertising and linking to Amazon.
Winter can be one of the most challenging seasons to think of anything to do for date night. Most people will do the same boring out to dinner and a movie routine. However, there is so much more fun you can have than just dinner and a movie. Although winters isn't my favorite time of the year, I think it is important to find the beauty in every season and make the most of it as a couple.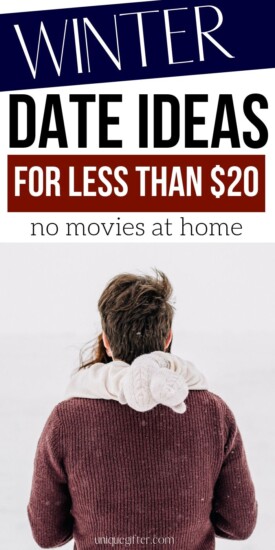 Winter Date Ideas for Less than $20
Spending time with your loved one is just as important in the winter months as it is any other season. Just because we have colder, shorter days doesn't mean we can't make great memories. So, here are my favorite date ideas for less than $20!
Go Sledding together. Yes, sledding with children is a drag, but when it's just adults, you can have an amazing time. Don't knock going sledding with your significant other until you try it. You may both have a blast.
Build a snowman. I think a fantastic idea would be to visit a local park and build a snowman there. It would be a great contribution to the city and the kids that visit. Or, you can just build one together in your yard. Either way, it's fun.
Have a snowball fight. Let's face it; both partners could use some time to get that built up physical aggression out in a fun way. So, why not pound each other with some snowballs?!
Go Ice skating. There are lots of places to go ice skating in the winter time, and it is always more fun when it's just the two of you. And, don't feel embarrassed about using the "helper thing" because I will tackle down kids for that thing just sayin'.
Drive around and look at Christmas lights. There is nothing more magical than a city filled with luminating Christmas lights. Take a drive around the city or visit neighboring cities to take in the breathtaking views.
Go to a random parking lot and make out. Now this might sound a little bit scandalous, but seriously, when is the last time you had a thrill like this with your significant other. You could get caught or you could make it out unscathed. Who knows, but it's worth doing!
Go Bowling. Most bowling places have deals where you can get a lane and shoes for $20 or less per hour. Shop around for a good deal. Bowling is always a fun activity during the winter months.
Go See a Movie. I am not an advocate of this being your only type of date night activity, but there are a lot of great movies that come out during the winter months. Pick a movie you both want to see and go see it together. Make sure to sit in the back so you have a little alone time.
Try out Ice Fishing. Ice fishing can get cold, but it is worth trying out. Head out to a pond, put a hole in the ice, and see if any fish will bite. If not, just slide around on the ice like you were really out there to ski.
Head to the slopes to go skiing. You may not be able to find many ski slopes for $20 or less, but you can look on Groupon for deals that could get you around that $20 budget. There isn't any harm in looking.
Go on a brief walk. I asked my daughter what a winter date for mommy and daddy would look like, and she said go on a walk. I would have to agree that a wintery walk is probably a beautiful sight, but we may want to make it brief depending how cold it is.
Spin out in the parking lot. I know this probably isn't even legal, but it's fun! As long as nobody is in the parking lot and you are just making some big sliding circles, you can really have a good time together sliding on ice.
Spread some Christmas cheer by going Christmas caroling. Singing carols to people in your neighborhood is a way of serving. Serving is a definite way to bring a couple closer together.
Bake cookies and take them to people. Another way you can serve your community is by baking cookies to hand out. You can take them to neighbors as Christmas gifts, donate them to charity, or feed the homeless.
Go to a triple A Hockey Game. These games are usually before the big games when everyone is choosing their players. This means you can score free or super cheap tickets.
Go on a Groupon Date. My favorite place to find date ideas is Groupon. You can get great deals on restaurants, movies, concerts, shows, musicals, theatrical performances, and so much more! If you want to do something fun, but are on a budget, check out Groupon.
Have a dance party at home. Music and dancing are great for the soul. Make some cocktail creations in the kitchen, turn on some music and have a dance party. You can dance together or make it competition.
Check out local museums or galleries. Usually there are local art galleries, museums, or aquariums in each city or close to the city you live in. Visit their website for free days so you don't have to pay for your date at all.
Cuddle by the fire with a book. If you have a fireplace, winter is the perfect time to lay a blanket on the floor and cuddle next to the fire. Pick a book you both enjoy and spend time reading and cuddling.
Go to a game night at a bar. Bars have lots of ways to keep us entertained, and if we choose not to drink, many of those activities are pretty cheap. For instance you could do trivia night, BINGO night, play darts, or hold the pool table hostage if you are really good.
Winter doesn't have to be filled with TV, movies, and boring date nights. Branch out of the norm a little. I promise you won't regret it.
Do you have any other winter date ideas? Share your ideas in the comments below!