Disclosure of Material Connection: Some of the links in this post may be "affiliate links." This means if you click on the link and purchase an item, I will receive an affiliate commission. Disclosure in accordance with the Federal Trade Commission's 16 CFR, Part 255. This site is a participant in the Amazon Services LLC Associates Program, an affiliate advertising program designed to provide a means for sites to earn advertising fees by advertising and linking to Amazon.
Have a birthday coming up? Or maybe you're thinking about planning the perfect birthday activity for someone else? Either way, you need to come up with some things to do on your birthday!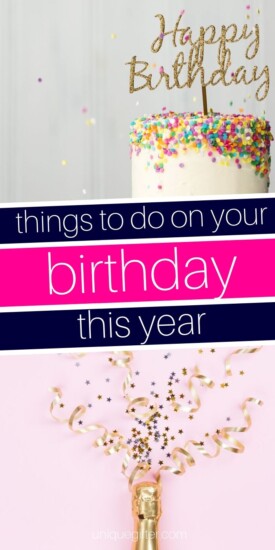 20 Things to Do On Your Birthday
These ideas are a perfect way to make your birthday that much more special, even if you're not having a big birthday bash. Maybe some of them can even turn into brand new birthday traditions!
When planning a birthday activity don't forget to let them know you're celebrating a birthday. Lots of places have special birthday promotions and gifts!
Go out to eat
Most places offer some kind of perk for eating out on your birthday. Usually, it's a free appetizer or dessert… Plus you just might get to have a bunch of strangers sing you happy birthday. You might need to sign up for their rewards emails before your birthday to take advantage, though.
Hit the spa
Plan a special birthday of relaxation. Make a spa reservation and go alone or with a friend to enjoy some much needed (and deserved) pampering.
Take a vacation (or staycation)
Book yourself a room in a fancy hotel or cabin and enjoy some "time away" from the hustle and bustle of real life. Or pack your bags and set out on a celebratory birthday vacation! A trip is one of the best things to do in my opinion.
Take in a concert or show
Buy Now
Depending on where you live there's probably a lot of concerts to choose from on or around your birthday. If that's not your scene, check out the local theatre for birthday performances.
Go to an amusement park
Buy Now
There's nothing like having some pure fun on your birthday. Hit up a local amusement park or indoor fun park (like go-karts or mini-golf).
Play laser tag
Buy Now
If you haven't played laser tag (or even if you have) your birthday is the perfect time to have a match. It really doesn't matter how old you are, it's still tonnes of fun! Make reservations at a local facility or pick up a set.
Shop online
Lots of websites (like Sephora, for example) give free birthday gifts with purchase. Treat yourself and get some bonus treats at the same time! Win-win!
Get a makeover
Buy Now
Have you been wanting to do something "cosmetic" for yourself for a while? Whether it's a "new year, new you" haircut, getting your teeth whitened, or something else, why not use your birthday as an excuse to take the leap and make a big change?
Try a new hobby
Buy Now
Are you picking up on the self-love theme here yet? If you're running out of ideas for your birthday why not try a new hobby? Maybe splurge and sign up for a class or treat yourself to some materials and spend the day learning some new skills.
Go wine tasting or on a brewery tour
Buy Now
Enjoy having a drink or two? Why not try wine tasting or brewery tours for your birthday! Get a couple of friends together or go alone and try and experience some new beverages.
Take the day off work or school
Buy Now
Assuming there isn't anything pressing going on why not use a holiday day or play hooky and spend the day doing something you love. You can go out or just spend the day at home binge-watching a series or reading your favorite book.
Find yourself some fancy cake
Buy Now
Here's an idea for you – find a bakery that does cake by the slice. Instead of having a traditional birthday cake, grab a few slices and enjoy a variety of specialty flavors. If you go with a group it also means everyone gets what they want.
Do a photoshoot
Buy Now
Photoshoots are all the rage with adult birthdays. You can do a fun one for Instagram, professional photos with your family as a keepsake, or even something silly. Adult cake smashes are becoming popular, especially for "milestone" birthdays like 30.
Have an adrenaline adventure
Want to really try something new for your birthday? Why not go skydiving, rock climbing, whitewater rafting, or some other kind of cool adrenaline adventure in your area.
Go to an escape room
Buy Now
These are a popular adult birthday destination and for good reason – it's a lot of fun! Perfect if you have a small group of friends or even as a birthday date for couples. After going for dinner or drinks to make it a fun birthday celebration.
Go on a local tour
Buy Now
Chances are your home town has all kinds of fun tours you've been meaning to go on or haven't even heard of. Some great ideas are train rides, walking tours, or tours of local buildings.
Get a tattoo
Buy Now
Birthdays are a great excuse to get your first (or another) tattoo. Ask for gift cards for your birthday or set off on your own to get some permanent ink.
Be a kid again
Buy Now
For your birthday why not relive something from your childhood? Get your friends together and hit up the local arcade or invite them over for some classic party games. Play pin the tail on the donkey, musical chairs, and of course have a pinata!
Plant a tree
Buy Now
Planting a tree is a great way to measure the passing of time and helping the environment. A great idea is to plant one in your yard that has fruit to enjoy in a few years. It will forever be your "birthday tree" – don't forget to take a picture with it each year!
Plan a birthday party
Buy Now
Let's face it, birthday parties are one of the most fun things to do. If you're not sure where to start to look online or buy a party planning book to help you get organized.
Party or not, hopefully, you have a wonderful birthday! Take full advantage of these things to do on your birthday and treat yourself to an awesome day.