Disclosure of Material Connection: Some of the links in this post may be "affiliate links." This means if you click on the link and purchase an item, I will receive an affiliate commission. Disclosure in accordance with the Federal Trade Commission's 16 CFR, Part 255. This site is a participant in the Amazon Services LLC Associates Program, an affiliate advertising program designed to provide a means for sites to earn advertising fees by advertising and linking to Amazon.
Just imagine the leaves have changed colors, the crisp cool air has cooled the summer heatwaves, and you have a little free time to spend with your significant other, but you don't have a lot of that moolah because let's face it; money doesn't fall from the trees like leaves do. What are you going to do?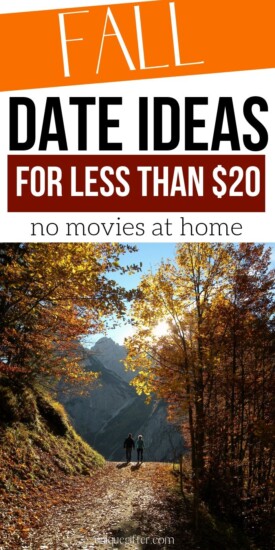 Whether you have kids, no kids, are busy, or have a lot of free time, you can always find something to do with your significant other that shows you care.
Fall Date Ideas for Less than $20
Even if I have the money to do a really expensive date, I am kind of a cheapskate when it comes to spending money. But, I have found some amazing things to do to spend time with my love without spending our life savings. Plus, fall is like the perfect time to get out of the house and rekindle that love.
Check out my fall date ideas for less than $20 bucks below!
Go to an orchard. As the trees begin to change for fall, the apples also begin to fall. Take a trip to a local orchard and spend the day talking, picking apples, and enjoying the fresh air.
Take an adventure through a corn maze. Put your skills together and find your way out of an intricate corn maze. Or, get lost in the corn for a little PDA. Either way, it is a great way to get out and spend time together.
Go for a hike. With the leaves changing to beautiful hues of orange, red, and yellow, a hike through the woods is the perfect way to rekindle your love. It's romantic and scenic.
Take a winery or cider tour. Fall is the perfect time to get your pallett ready for some fall flavors. Look up wine or cider tastings in your area on Groupon. Sometimes, you can score a tasting for as little as $10 for two people.
Light up the fire. Nothing can put a spark in your love life quite like a fire. Whether its an outdoor bonfire or an indoor fireplace, light it up for a romantic night for two. Add a dinner, a book, or a movie to give the date a little more jazz.
Dance in the leaves. Turn on some tunes and head outside for a little dancing. They say to dance in the rain, but leaves are just as fun. Take pictures and enjoy the cool breezes without having to change your clothes.
Head to the pumpkin patch. Pick out some pumpkins that you can carve and decorate together. Although this may be something you do with your kids, it's also a great way to bond with your significant other.
Make Halloween costumes together. Instead of buying $50 costumes, come up with ideas yourself, and find a youtube video on how to make them. This is a lot of fun, and they can even be worn to your next Halloween party, or to bring out a fantasy in the bedroom.
Take a walk through a cemetery. If you are in for a spooky thrill, you can take a little adventure through the cemetery at night. This is so creepy, yet so much fun!
Go to a harvest festival in your area. These are usually free to visit or very cheap to get into. Visit your cities' website for fun things they have going on in the fall. Usually, there is live music, tents, and places to stop and grab a bite to eat.
Have an outside photoshoot. You may need someone to come help you do this, but if you have a selfie stick, you may be able to do it yourself. Photo shoots are absolutely gorgeous in the fall. So, do that pouty face, kissy face, or goofy face and have fun making memories together.
Go on a historical tour. Travel around your city, finding historical buildings. Head to the pawnshop, museum, or vintage store to look at things from the past.
Binge-watch scary movies on Netflix. When the leaves start to fall, Netflix starts the Halloween ball with movies and episodes galore. Stay up late into the night, eat popcorn, and get the crap scared out of you.
Have a baking contest. Who is the better cook between the two of you? Find out with a baking contest. Then, enjoy devouring your treats together.
Do a painting. Go out to the park and pick some of the best leaves you can find. Bring them home and do a painting together. Choose colors that will match your home, and that you can hang up.
Find the best happy hours in your town. Every town has a few restaurants that offer a happy hour. Head over to get that $1 drink or that burger, fries, and a drink for only $5 bucks.
Play some board games. I personally like to have two other adults over to play Cards Against Humanity. It's really fun to play as a team and individually. But, be careful because the truth may just come out in this game. #doubledatenight.
Test drive a car. I am not talking about a car you would ever buy. Nope! Put on your dress to impress clothes and head to the most expensive dealership you can find. Take one of those 100,000 dollar cars for a spin, and maybe even go through a drive-through just to see what it feels like.
Walk around Costco. Seriously this is the best place to score free food. It's like every corner you turn someone wants you to try the newest latest entree. Once you have had your dinner fill, you can head to the couches for sale for a little R&R ( I mean to try the couches out).
Take an online relationship test. It never hurts to find out just how compatible you are. Take a test and see how you are doing. This is a way to find out about your significant other and make improvements to your relationship.
You don't have to spend much money when you go on a date! The point is to just rekindle the romance. Whatever you do, do it together.
Do you have any other fall date ideas? Share them in the comments below!