Disclosure of Material Connection: Some of the links in this post may be "affiliate links." This means if you click on the link and purchase an item, I will receive an affiliate commission. Disclosure in accordance with the Federal Trade Commission's 16 CFR, Part 255. This site is a participant in the Amazon Services LLC Associates Program, an affiliate advertising program designed to provide a means for sites to earn advertising fees by advertising and linking to Amazon.
"If ya had the chance to change yer fate, wouldja?" Brave has a fiery spirit and some interesting characters. A daring princess unlike any other requires some pretty unique gifts. Check out all the gifts below for the best brave gift ideas!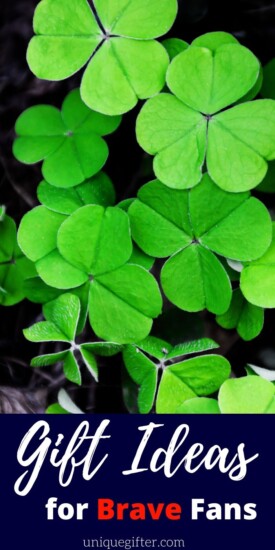 Incredible Brave Gift Ideas
Anyone who is a huge fan of the movie Brave is going to go wild for these gift ideas. 
Brave Charm Bracelet
This adjustable bangle has charms from all the different symbols in the movie! Customizable and absolutely elegant.
Merida Inspired Mouse Ears
These ears are a great low-key way to share your love of Brave. Meeting Merida with these on would be the cherry on top of a sundae!
Princess Merida Magnet
This doodle of Merida is perfect for the fridge or a whiteboard. Add a little character to your kitchen!
"I'll Be Shooting For My Own Hand" Tank
A tank top made for killin' it at the gym or on a hike. Strong independent women unite!
Merida Wall Art
This beautiful watercolor print works for kids or adults. " Our fate lives in us. You only have to be brave enough to see it."
Princess Merida Necklace Set
Great for adding a "Brave" touch to any outfit! This simple yet stunning necklace is sure to shine.
Merida Lanyard
Show off your pin collection or keep your park pass close! The Mickey clip adds the perfect touch.
"Merida's Bake Shoppe" Embroidered Patch
A Starbucks style logo for Merida. Put on your favorite bag or jean jacket!
Brave Inspired Spirit Jersey
Let everyone know who your favorite princess is loud and proud! Get in the spirit with this popular new style.
"Bow-dacious Babe" T-Shirt
"There are those who say that fate is something beyond our command. That our destinies are not our own. But I know better." This shirt is sure to get compliments!
Handmade Merida Ornament
Something special for the Christmas Tree. It can even be hung off hooks or doorknobs for decoration for the rest of the year!
Personalized Merida Drawstring Bag
Useful for the parks or for the kids on a field trip! With their name plastered on it, hopefully, they are less likely to lose it.
Merida Watercolor iPhone Case
Have your love for Merida in your heart and in your hand every day. Amazing quality and vibrant colors!
Merida Fingerless Gloves
These gorgeous fingerless gloves can work for a cozy Halloween costume or with your favorite sweater. Being brave doesn't mean you have to be freezing!
Baby Merida Pin
How adorable! A perfect addition to any pin collection, stuffed teddy bear and all.
Personalized Wall Decal for Girls Room
This lovely wall decal is perfect for placing on a bedroom wall. It's a beautiful reminder to be brave!
Disney Brave Merida's Family Gift Set
This gift set is perfect for anyone who is a huge Brave fan.
Merida Pillowcase
This pillowcase is a super cute way to add some decor to your space. 
Morning Coffee Mug
Hot cocoa, tea, or even a glass of milk tastes better when drinking out of this mug. 
Disney Animators' Collection Merida Doll
This Merida doll is great for hours and hours of imaginative play!
I'm in love with all these gifts! I hope they inspire you to be brave and forge your own path. Or at the very least watch the movie again. Go out and change your fate!