Disclosure of Material Connection: Some of the links in this post may be "affiliate links." This means if you click on the link and purchase an item, I will receive an affiliate commission. Disclosure in accordance with the Federal Trade Commission's 16 CFR, Part 255. This site is a participant in the Amazon Services LLC Associates Program, an affiliate advertising program designed to provide a means for sites to earn advertising fees by advertising and linking to Amazon.
20 Gifts For Peter Pan Fans
Peter Pan is one of those timeless characters that have a special place in millions of people's hearts. Whether you're a fan of the books or you're a fan of the films, it's hard not to love this classic tale. When you've got such an old and beloved story, you'd be hard-pressed to not run into a fan!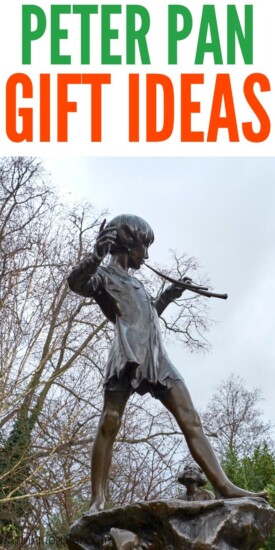 To Give The Perfect Gift Would Be An Awfully Big Adventure
When you've got tons of merchandise surrounding a certain subject, it's going to be quite a feat to nail down that perfect present. There's a lot of shopping and worrying if you're snagging the right thing and it's just a headache that I'm going to help you avoid! I've scoured the neverland of online retail to bring you some of the most awesome gifts you'll come across, so take my hand and join me in this list of 20 gifts for Peter Pan fans!
Peter Pan (Blu-Ray)
No Disney collection is complete without Peter Pan and I'd be willing to bet that any fan of the series would absolutely love to own it on Blu-Ray.
Peter Pan 65th Anniversary Figurine
This lovely figurine truly captures the essence of the classic scene from the film. Featuring Peter, Wendy, and Tinkerbell, it would look lovely on any collector's shelf.
Loungefly Backpack
There are so many wonderful characters in the Peter Pan film that it would be a shame to have to choose between them. Lucky for the fan in your life, this backpack features nearly every one of them!
Peter Pan Scarf
This unique scarf is bound to please any fan of Peter Pan! Featuring pages from the book itself, it manages to mix art and fashion in a wonderful way.
Neverland Map Artwork
Neverland is a place that has captivated thousands of souls and now the fan in your life can proudly display a map of it on their wall with this stretched canvas art piece!
Vinyl Wall Clock
The design of wall clocks like these is truly amazing. They are created from repurposed vinyl records and this one captures the essence of the movie wonderfully.
The Moment You Doubt Candle
Does it smell like Peter Pan? I'm not sure about that, but I know that it has a wonderful quote on it and smells like sandalwood and vanilla!
Peter Pan Pendant Necklace
This is definitely a unique gift here. Created in a cameo style fashion, it features the characters in flight around Hook's ship and is a beautifully designed piece.
Drinkerbell Wine Tumbler
When you've got a fan on your hands that seriously enjoys their wine, you've gotta get them the best. This tumbler is designed to keep wine cool and even features the name "Drinkerbell" on it.
Thomas Kinkade Coaster Set
These coasters are truly miniature works of art. Featuring works from the artist Thomas Kinkade, they certainly add magical pizazz to something as mundane as coasters!
Peter Pan's Flight Musical Snowglobe
Snow globes are always wonderful gifts. They make great collectible pieces and this one is surely no exception. Your loved one is going to cherish this gift for sure!
3D Tinkerbell Lamp
Another gift for Tinkerbell lovers! This lamp features an optical illusion that projects a seemingly 3D version of Tinkerbell herself.
Peter Pan Quote Cuff Bracelet
Sometimes, some of the simplest jewelry speaks volumes and this piece is definitely one of those types. Featuring a phrase from the tale, it's sure to warm any fan's heart.
Glow In The Dark Wall Stickers
Everyone has glow in the dark stars on their wall but how many people have glow in the dark Peter Pans? This will definitely give your fan points when it comes to style.
Peter Pan T-Shirt
This shirt is subtle but pretty awesome all the same. It's as simple as featuring a silhouette of Peter Pan but it's bound to be loved by any fan that receives it.
Peter Pan (Leatherbound)
If the fan in your life doesn't own a copy of the Peter Pan book, they definitely should and this is one of the best copies to give them. With a wonderful, leatherbound cover, it's guaranteed to elicit glee from the recipient.
Peter Pan music box
This darling gift will make any Peter Pan fan swoon with excitement. It's such a unique music box too. 
Peter Pan Engraved Brass Compass with Leather Case
You don't even have to be a fan of Peter Pan to appreciate this awesome gift idea. It's so cool and will make whoever you give it to happy. 
Thomas Kinkade Studios Peter Pan's Never Land 
This canvas is gorgeous! Thomas Kincade blew this one out of the park when this canvas was made. It's an amazing gift for anyone. 
Peter Pan Coloring Book
This adorable Peter Pan themed coloring book is wonderful for kids or adults. Coloring is a relaxing way to spend an afternoon too. 
Well, I'm confident that I've given you some amazing gift ideas for that certain someone. With all of these awesome presents to choose from, I'm not sure how you wouldn't find something that you couldn't resist. Did you find anything that they absolutely adored? Maybe you found something that you wanted for yourself. Let us know on Twitter (@ugifter) or Instagram (@uniquegifter) and thanks for checking out 20 Gifts For Peter Pan Fans!