"Christmas is coming, the goose is getting fat" …isn't it a shame that you haven't bought that! (yet).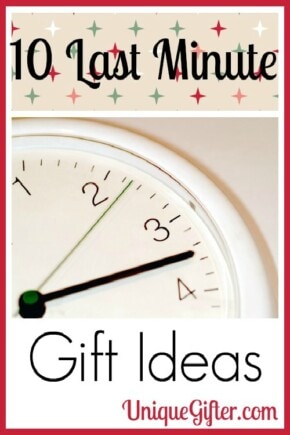 The final countdown is on for Christmas gift purchasing and you might find yourself scrambling to find some last minute gift ideas, with only three days to go.  If you already have a gift stash, you should be well positioned.  If you don't, or if you don't have quite the right thing, here is a selection of 10 that will be easy to pick up, assuming you have access to some stores and the fortitude to brave the malls and parking lots.
10. Gift Certificates
These days, basically every big box store, gas station, convenience store and grocery store has a whole rack full of gift cards for various places. You can get gift cards for clothing stores, hardware stores, grocery stores, restaurants and more, all from a single place. Pick something that you know each person will be able to use (that's a biggie, it doesn't do them any good if the nearest one is three hours away!) and that they will enjoy.  One stop shopping!
9. The Ubiquitous Bottle of Wine
Sarah at Life, Comma, Etc keeps an "emergency bottle of wine" in the trunk of her car during holiday season, for those times they arrive somewhere to discover that everyone else has brought a gift of some sort. It's a fantastic idea, and it saves your budget, while getting you out of a bind in a hurry.
8. A Bottle of Liquor
One of the great things about alcohol is that it comes in a whole heap of flavours and varieties… and price points! Pop into a liquor store and pick up a bottle of Baileys or a bottle of Scotch to use as a gift, or maybe a bottle of pomegranate liqueur (I love Pama) for your twenty-something niece. (Spouse's comment to me: you drink like a high school girl.)
7. A Terrarium
Flower shops sell lots and lots of gifty things, but they also usually have low-maintenance (which I still manage to kill) terrariums, cacti or potted plants. They also come in a variety of price points. Bonus: They'll have gift cards for you to buy, too.
6.  Promise of a Dinner Out
The trick with this one is to make it genuine and from the heart, not "oh crap I have nothing so jotted this down." Get a card (or make one) and write that you want to guarantee that you will spend more time together this year, so your gift is a dinner date with you, redeemable next year (or in the week between Christmas and New Years).  You could switch that to a coffee date, or a dessert date too, whatever you need to fit your budget.
5. Cash
Cash is an awesome gift. No one's ever said "what am I going to do with this?!" If you don't have enough cash on you, write a cheque instead. You can also say that it's for something in particular that you wouldn't be able to buy for someone else, like clothing or a bike helmet, or a contribution toward something expensive you know they are saving to purchase.
4. A Charcuterie Grab Bag
This is a quick dash through the grocery store, so you can tack it on to an errand that you are already running. Get a gift bag (many grocery stores will sell you that part, too), and fill it up with some gourmet sausage, olives, cheese and a thing of crackers.  Maybe a set of napkins or some neat toothpicks. Done. Simple. Absolutely delicious. If you pick things which last a little bit longer, the recipient can use it in a few weeks, or they can use it when guests show up at the door.
3. Magazine Subscriptions
Just like the charcuterie grab bag, this one can be picked up at the grocery store, or done online. (Amazon is a great source
.) Choose magazines that would be appropriate, check the price for a subscription (there will be 8000 subscription cards in them during the Christmas season) and steal the subscription card. All you need is the recipient's address, which you can even get later, just don't forget!
2. Tickets
Almost every type of ticket can now be purchased online, from concerts to festivals to museum passes. If you need some ideas, go read Ticket Gift Ideas for Everyone. Hop online and grab a family pass to the zoo for your brother and his family, a festival pass for your nephew that goes every year and a ticket to your daughter's favourite band.  Print the tickets out, pop them in a card and you are done!
1.  A Subscription Box
There are so, so many different subscription boxes that you can get. The jelly bean of the month club exists, so do several coffee clubs, new pairs of socks and more! The great thing about subscription boxes or "of the month clubs" is that you don't have to physically have them, and you have a perfectly legitimate excuse for them being "late."  Head over to the Amazon "of the month club" section
, pick out a few, print off the details and pop them in a card. There are lots and lots of price points available, too. You can also spring for netflix, hulu, xbox live and more.
And there you have it folks, ten last minute gift ideas to get you out of a bind, you can find more last minute gift ideas here, if you're still stuck.  Good luck!