Disclosure of Material Connection: Some of the links in this post may be "affiliate links." This means if you click on the link and purchase an item, I will receive an affiliate commission. Disclosure in accordance with the Federal Trade Commission's 16 CFR, Part 255. This site is a participant in the Amazon Services LLC Associates Program, an affiliate advertising program designed to provide a means for sites to earn advertising fees by advertising and linking to Amazon.
You two have been together for two years. That is a long time! It is hard to choose just the right gift for your significant other, but it doesn't have to be with the help of this handy list of 2 year dating anniversary gift ideas.
Make the day special and give your partner a gift to make your anniversary special.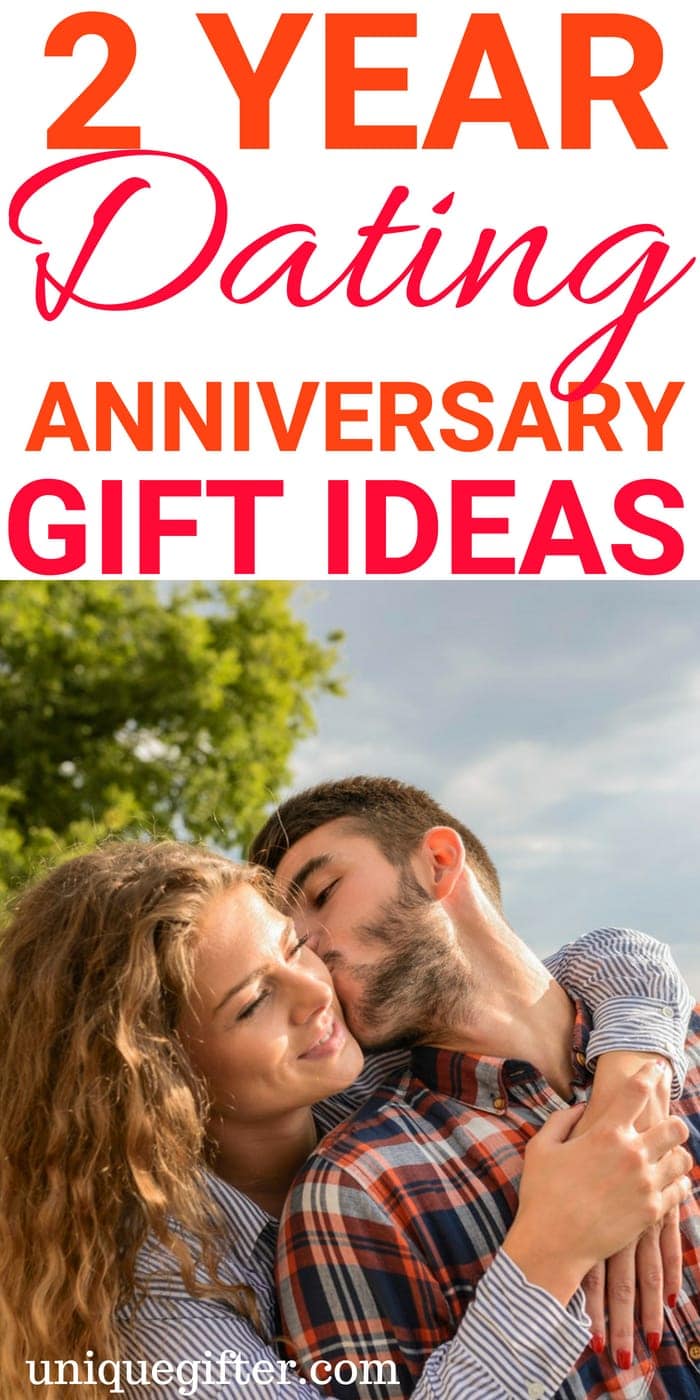 Memorable and Fun 2 Year Dating Anniversary Gift Ideas
After 2 years of dating, your relationship might be starting to get serious. Keep it light with fun gifts, or get your partner something really special to take things to the next level. It's up to you!
"She still puts up with me after 2 years" Shirt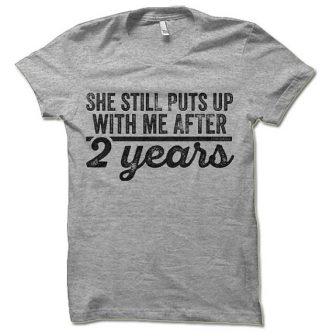 Even after two years, you still put up with him
"Spooning since…" Engraved Spoon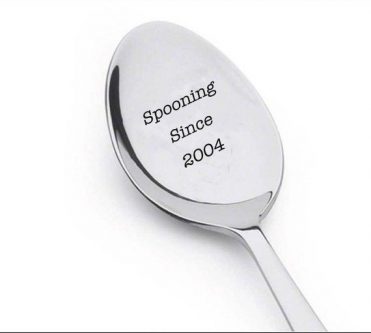 You two have been spooning since… This engraved spoon is great as a stirring spoon or a piece of decoration.
Personalized Heart Bar Necklace with Initials and Date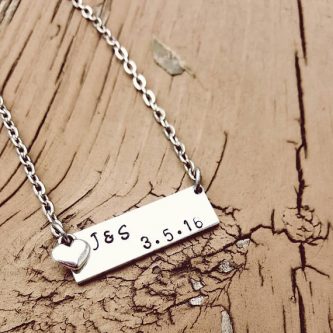 Personalize the heart bar with initials and date you started dating, and she will gladly carry it near her heart
"I'm so happy I swiped right" Coffee Mug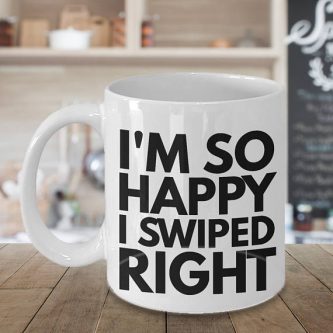 Boy, swiping right sure worked out for the best, didn't it?
"Thanks for not being just another weirdo on the internet" Keychain with Computer Charm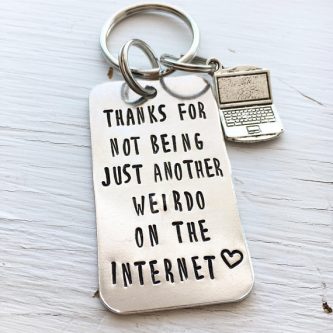 Sometimes you meet weirdos on the internet, and sometimes you meet the love of your life! This is one of the best gifts if you met online.
Painting from Portrait of the Two of You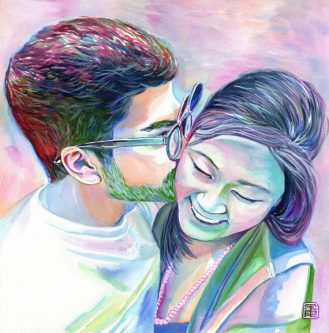 This one of a kind painting from a portrait of the two of you will be a long-time keepsake. It is not only a memory captured in a painting, but it is a beautiful piece of art too.
Set of Mugs with Boyfriend Blowing Heart Bubbles to Girlfriend on other Mug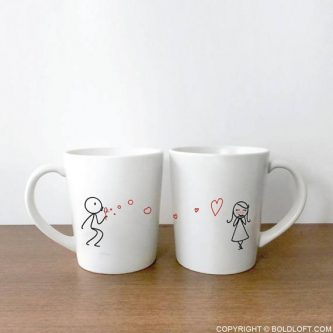 If you two love blowing kisses to each other, you will love this set of mugs with the boyfriend blowing heart bubbles to his girlfriend on the other mug. The awesome part is that there is a mug for each of you
"Where it all began" Coordinates Burlap Print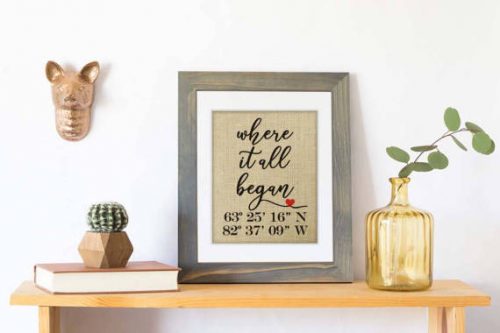 The coordinates where you met on a burlap print, showing that that is where it all began with you two, is a fun gift for your two year dating anniversary together.
"You are my lobster" Keychain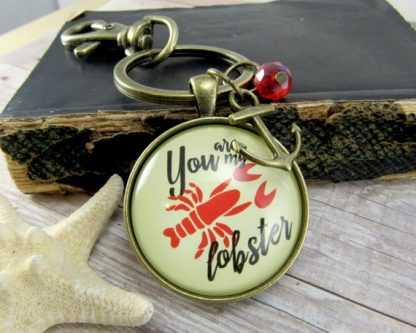 The TV show, Friends certainly started this trend, but it is a fun trend. They are your lobster, the one you were meant to be with.
"Truly, madly, deeply" with Date Pillow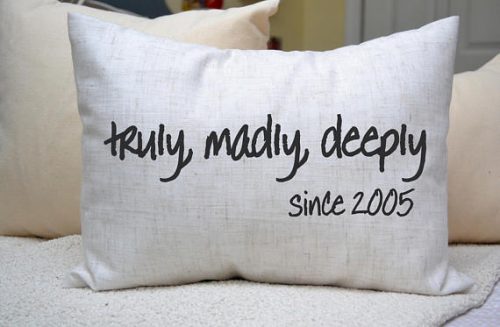 You are both truly, madly, and deeply in love with each other. Get the year you met or started dating put on the pillow and it makes it that much more special.
"Toujours" Love Always Shirt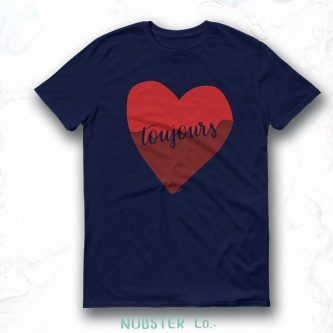 You will always love each other, there is no doubt in your minds as you celebrate your two year dating anniversary.
"We go together like peanut butter and jelly" Coffee Mug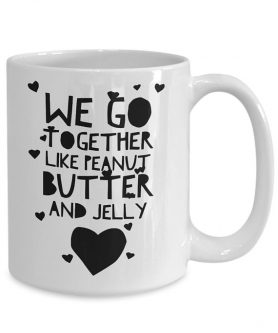 The two of you go together like peanut butter and jelly, perfectly
Personalized Name Love Bracelet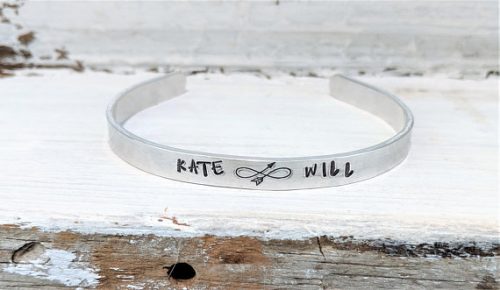 The personalized love bracelet with your names on it is something she can wear wherever she goes, and bring you along for the ride.
"All of me loves all of you" Print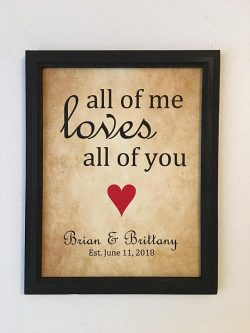 Your whole being loved their whole being. Every time they look at this print, they will be reminded of that.
"Love means calling each other names… that only the two of us get" Pillowcases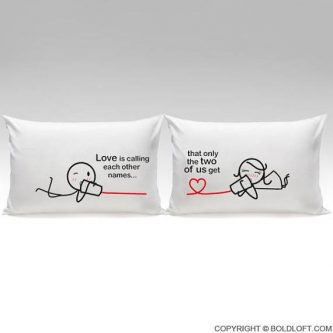 Sometimes when you've been together a while, you end up calling each other names that only the two of you get and understand.
"I pick you" Guitar Pick with Date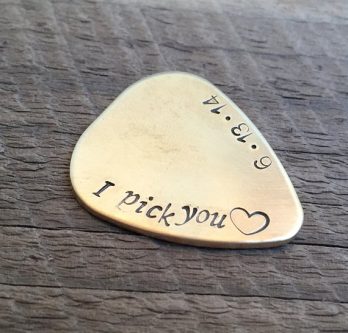 If they are a guitar player, they definitely need this "I pick you" guitar pick that has the date you met or started dating on it.
"Love at first swipe" Personalized Can Cozy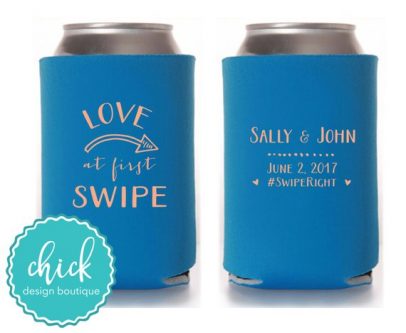 It was love at first swipe for you guys
Love Birds on a Clothesline Heart Shaped Pendant Necklace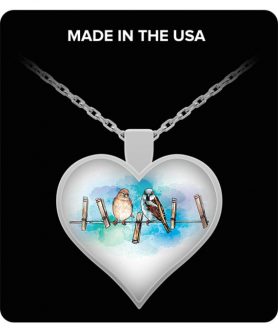 These lovebirds on a clothesline on a heart shaped pendant necklace represents the two of you and your love for each other.
"We make a great pear" Coffee Mug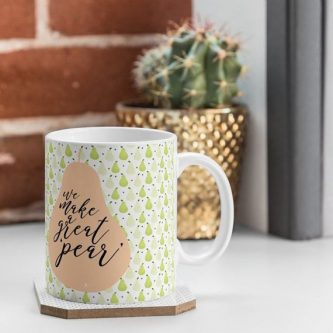 You two make a great "pear!"
Engagement Ring
Maybe it's time to take your relationship to the next level. If you're feeling like this person might be the one, use your 2nd anniversary as the perfect occasion to propose!
Your two year dating anniversary is a big occasion. Make it a memorable celebration with a thoughtful gift.