Disclosure of Material Connection: Some of the links in this post may be "affiliate links." This means if you click on the link and purchase an item, I will receive an affiliate commission. Disclosure in accordance with the Federal Trade Commission's 16 CFR, Part 255. This site is a participant in the Amazon Services LLC Associates Program, an affiliate advertising program designed to provide a means for sites to earn advertising fees by advertising and linking to Amazon.
Need to get a 6th anniversary gift for your loved one? If they love spending time in the kitchen, you'll find the perfect gift in this list of 20 stunning cast iron kitchen accessories. We've taken inspiration from everything from homely traditions through to exotic cuisines from all over the world. Whichever accessory you choose, it'll motivate your loved one to try something new in the kitchen (and probably in other rooms of the house too.)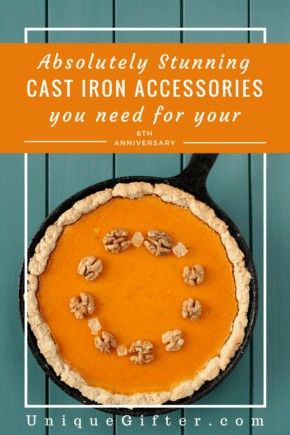 If kitchen accessories aren't the perfect sixth anniversary gift for your spouse, try this list of over 100 iron gift ideas instead.
Cast Iron Kitchen Accessories for your 6th Anniversary
Tawa
Used in Indian cooking to make crispy dosas, this tawa is a one-of-a-kind gift that will help your loved one create authentic Indian recipes. (Yes, this is one of those gifts that will benefit you too!)
Aebleskiver
Try something new with this aebleskiver! This pan is designed by the Danish to make traditional pancake puffs. They look delicious!
Skillet
A skillet mightn't be the most exotic of kitchen accessories but it sure is essential. This pre-seasoned cast iron one will help take your partner's cooking up to the next level!
Dutch Oven
This pre-seasoned dutch oven is perfect for winter. By helping to make those slow cooked stews, warming chillis and comforting cobblers, it'll be the most used cast iron 6th anniversary gift ever!
Pizza Pan
Mmm you can't really beat a homemade pizza. With this gift, your partner will become a practiced pizzaiolo/a in no time!
Coffee Grinder
Any coffee aficionado will appreciate this antique style coffee grinder. Hand-grinding their coffee will allow them to add some extra care into the brewing process. It might take them just a little bit longer though!
Cornbread Wedge Pan
This cast iron cornbread wedge pan is great for cooking up a Southern feast! It is designed to heat up the bread evenly so your loaf will be burnt edge and soggy middle free.
Hibachi Set
Transport your loved one to Japan with this cast iron hibachi set. This grill is used in hibachi restaurants by chefs who grill meat over it in front of an audience of customers. You could totally try this at home!
Tortilla Press
Make super fresh and healthy homemade tortillas with this cast iron tortilla press. You'll be eating warm tortillas for breakfast, lunch and dinner before you know it!
Paella Pan
This paella pan is perfect for when you have friends over and you want to show off a little bit! Cook this Spanish dish the traditional way and present in this authentically designed pan for the added "wow" factor.
Waffle Iron
Breakfast waffles will taste extra good when made using this old-fashioned waffle iron. Just don't go expecting waffles in bed every single morning!
Grill Pan
Grilled meat just tastes so much better! For those days when it's too cold to get outside on the BBQ, a grill pan is a great way of bringing that delicious grilled flavour indoors.
Tea Set
This mystical tea set will whisk your partner away to the far with each delicate sip. This set is even decorated with a dragonfly which symbolises joy and happiness! Combined with the cast iron which shows strength and unity, it's a pretty perfect message for an anniversary present.
Cocotte
This cocotte, or French oven, is perfect for cooking up a tasty boeuf bourguignon or flavourful coq au vin. Bon appetit!
Panini Press
Enjoy this delicious Italian street food at home with a cast iron panini press. Just imagine that melted mozzarella!
Bread and Sausage Pan
This bread and sausage pan is brilliant for making rustic bread sticks and tasty sausages without worrying about them sticking to the sides. A bratwurst hot dog please!
Bottle Opener
Now no one in your house will have to attempt to open that bottle of beer with their teeth ever again. This cast iron bottle opener can be attached to the wall as a cool looking piece of decor that has a practical use too!
Meat Tenderizer and Cuber
Perfect for creating delicious schnitzels or pollo milanese! This meat tenderizer will help your partner to recreate popular European dishes in their very own kitchen. You don't need that trip to Europe after all!
Tortilla Pan
A cast iron tortilla pan adds the finishing touch to a perfect Mexican feast! This pre-seasoned pan will add extra flavour to make those homemade enchiladas taste extra good.
Le Creuset Cast Iron Tagine
Bring the flavours of North Africa into your home with this cast iron tagine. Don't faint at the price- just imagine the flavours! (Plus it's still cheaper than taking an actual trip to North Africa.)
Which of these unique cast iron kitchen accessories are you going to choose for your partner? Whether it's an all american waffle iron or an enchanting tea set, your gift will inspire them to get creative in the kitchen! If you do buy any of these gifts, we'd love to hear about it! Let us know in the comments or find us at @ugifter on twitter and @uniquegifter on instagram.