Disclosure of Material Connection: Some of the links in this post may be "affiliate links." This means if you click on the link and purchase an item, I will receive an affiliate commission. Disclosure in accordance with the Federal Trade Commission's 16 CFR, Part 255. This site is a participant in the Amazon Services LLC Associates Program, an affiliate advertising program designed to provide a means for sites to earn advertising fees by advertising and linking to Amazon.
Skijoring is the winter sport of cross-country skiing with a dog (sometimes a horse or a motorised vehicle is used) pulling the skier forward for additional power. It's a fun way to provide exercise for man and dog. This list of great gifts for skijorers with both useful and knick-knack items has something for everybody.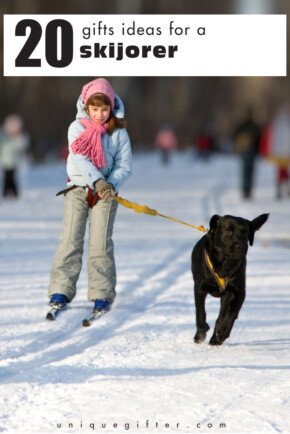 Harness, Towline, and Hip Belt Set
They probably already have the necessary gear, but an upgrade will certainly be welcome and it doesn't hurt to have spares.

Durable Dog Booties
Ice and rough terrain can be hard on dogs' feet. These booties are useful as protection for those precious paws.

Paw Wash
You know that feeling of being able to soak your feet after a hard workout? Dogs will love that feeling too.

Got Snow? Husky Window Sticker
Siberian huskies are the most prominent breed associated with skijoring and this "got snow?" window sticker highlights the most prominent thought on a skijorers mind.

GoPro Camera
Skijorers experience a world of beauty on the trail, encourage them to share it with you with an active sports camera.

Heated Gloves
These heated gloves are breathable and yet super toasty and comfortable on hands.

Siberian Husky Knit Beanie
A knit hat is essential for keeping heads warm when out in the winter weather and this one has a cute husky logo.

Anti-fog Ski Goggles
There is nothing worse than snow hitting you in the eyeball when you're out on the trail. Speaking from experience, anti-fog ski goggles can be a skijorers life saver.

Dog Massager
The dogs work hard and their muscles deserve some tender care after a long run. This infrared dog massager helps to increase blood flow to soothe sore muscles.

Snow Pack
This comfortable snow pack is perfect for storing all the supplies for a skijoring excursion into the forest.

Siberian Husky Socks
These Siberian Husky socks are just too cute to pass on.

Shot Ski
Is your skijoring friend also a party animal? Drinking shots off a ski will be ideal!

Ski Mask Balaclava
Keep their face warm with this outdoor balaclava which comes in a variety of cool designs.

Wooden Husky Keychain
Everybody needs a keychain for their keys, it might as well be a cute one like this.

Lightweight Ski Jacket
A good ski jacket will help to break the wind but will also be lightweight enough so the active skijorer does not overheat.

Clicker for Training
Clicker training is a form of positive reinforcement for dogs and these clickers are durable and easy to use.

Portable Water Dispenser
For when the hard working canine gets thirsty, this portable water dispenser is a bottle and dish in one.

Milk Bone Treats
Dogs will love these crunchy milk-bone treats given as a reward at the end of their run.

Pet Tube Car Kennel
When travel is a necessity, this pet tube is an in-car kennel which will keep the carseat free from dirt and the dog comfortable.

Skijor with Your Dog Paperback
Skijor with Your Dog is a great book with a variety of useful information including training tips, traveling tips, and tips for competition.