Disclosure of Material Connection: Some of the links in this post may be "affiliate links." This means if you click on the link and purchase an item, I will receive an affiliate commission. Disclosure in accordance with the Federal Trade Commission's 16 CFR, Part 255. This site is a participant in the Amazon Services LLC Associates Program, an affiliate advertising program designed to provide a means for sites to earn advertising fees by advertising and linking to Amazon.
20 Gifts For Snow White Fans
Snow White is a tale that is over 200 years old but was truly immortalized by Disney with the animated film in 1938. There are massive amounts of fans when it comes to this film and this tale which means there is a plethora of merchandise. It's like finding a needle in a haystack when it comes to finding a present for that certain someone!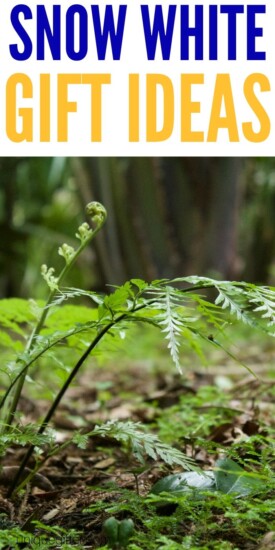 The Prince Charming Of Gifts
Lucky for you, I've compiled this list of some of the best gift ideas that you're going to run into online when it comes to Snow White. I've scoured the magical halls of online retail to bring you the best, so this search just became far less of a headache. Relax because I've got you covered with these 20 gifts for Snow White fans!
Snow White And The Seven Dwarves (Blu-Ray)
If you're a true fan, you have to own the film on Blu-Ray, right? Give the gift that they really want!
Snow White Hairbrush
How fitting is it to be a fan of Snow White and have a lovely Snow White hairbrush? I'd say this gift is a serious winner.
Loungefly Convertible Purse
This cute purse shows off Snow White in all her beauty with her signature colors. Perfect for any fan that wants to show off their love for the film at all times.
Drunkest Of Them All Wine Glass
If you've got a fan in your life that loves their recreational drinking, this hilarious gift is definitely for them!
Snow White Costume
Whether it's for cosplay or just sitting around dressed like Snow White, this one is sure to put a smile on your fan's face.
Enesco Collectible Figurine
Enesco makes some quality figurines and this one is definitely no exception. Crafted from hand-painted stone resin, it features Snow White, the seven dwarves, and even her wicked stepmother in lovely detail!
Snow White And Prince Charming Salt And Pepper Shaker Set
This salt and pepper shaker is absolutely wonderful. How cute is it that they've managed to bring a couple together in the perfect setting: a salt and pepper shaker!
Ceramic Teapot
This teapot has a rather nifty style. Featuring Snow White looking beautiful as ever, the handle for the lid is even an apple!
Snow White Funko Pop
How do you make a cute character even more adorable? Make them into a Funko Pop!
Thomas Kinkade 750 Piece Puzzle
Thomas Kinkade creates masterpieces and this puzzle is perfect for any collector's stash. Featuring Snow White and Prince Charming dancing, it's sure to look wonderful on display.
Snow White Ornament
This Lenox ornament embodies the old-school style of the Snow White animation and brings a welcome Disney flair to any collector's tree.
Snow White Mickey Ears
Got a fan that's planning on heading to Disney World. Maybe they just want some awesome ears! Either way, this gift is for them.
Snow White Lunch Bag
Officially licensed by Disney, this lunch bag is perfect for fans that want a stylish way to carry their lunch around. Just be careful of what kind of apples get packed in it!
Poison Apple Popsocket
A poison apple with serious style. Anyone who loves Snow White and Popsockets is going to gush over this gift.
Snow White Rebel Princess Pillow
Bringing a modern style to a timeless classic, this pillow is perfect for anyone who enjoys the alternative side of things.
Vinyl Wall Clock
These vinyl wall clocks always manage to look amazing and this one is no exception. Featuring Snow White and Prince Charming, they're joined by the dwarves to tell the time in a very stylish way.
Snow White Coloring Book
Any fan of Disney is likely a fan of coloring. This Snow White coloring book brings iconic scenes to the page for your fan to color in their own fashion!
Swarovski Crystal Figurine (2019 Edition)
This gift is definitely a unique masterpiece! It's an elegant and beautiful piece and Swarovski has truly outdone themselves with this 2019 edition.
Precious Moments Disney Snow White and Dopey Ornament
Decorate your tree with this adorable Precious Moments Ornament. It has Snow White kissing Dopey on the head and it's truly adorable.
Women's Rhinestone Watch
This Snow White watch is gorgeous! It will go with any outfit and is a great way to show off your favorite Disney princess.
We've made it through the Dark Forest of retail and I'm sure that I've found you some of the greatest treasures that you're going to find for that fan in your life. Did you come across anything that they absolutely adored? Maybe you found something that you wanted for your own collection! Let us know on Twitter (@ugifter) or on Instagram (@uniquegifter) and thanks for checking out 20 Gifts For Snow White Fans!