Disclosure of Material Connection: Some of the links in this post may be "affiliate links." This means if you click on the link and purchase an item, I will receive an affiliate commission. Disclosure in accordance with the Federal Trade Commission's 16 CFR, Part 255. This site is a participant in the Amazon Services LLC Associates Program, an affiliate advertising program designed to provide a means for sites to earn advertising fees by advertising and linking to Amazon.
Whether you're celebrating Hanukkah, a birthday, or another holiday, this list of gift ideas should definitely inspire you when you're deciding on the perfect gift for a Jewish man in your life. It is also worth considering what type of Judaism the man practicing before purchasing a gift. Depending on whether he is an Orthodox Jew or a Secular Jew will help you determine what type of gifts are appropriate.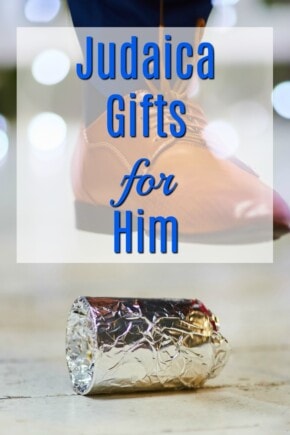 Judaica Gifts for Him
Israel Agorot Coin Cufflinks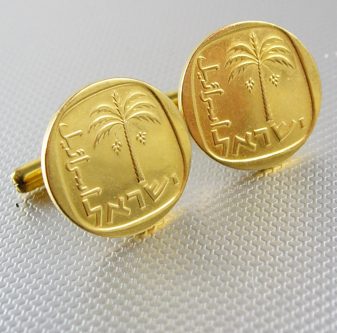 A set of nice cufflinks is a simple gift choice for a Jewish man. They could be worn to work or to temple, depending on the man.
A Charity/Tzedekah Box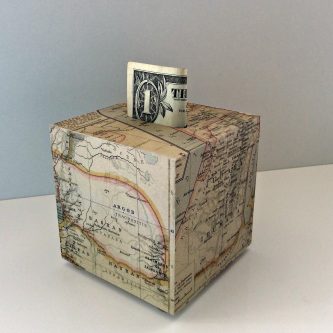 It is Jewish tradition to give at least a tenth of their income to charity. It is custom to have these charity boxes in a prominent location in the Jewish home as an aid to remember the constant practice of charity.
Krosno® Handmade Glass Morgan Wine Decanter 50oz
Almost all Jewish festivals have blessings over wine. Chances are, a glass (or crystal) hand-crafted decanter would make an excellent gift for a Jewish man and his family.
The New York Times Jewish Cookbook
Depending on the man, he may not be a whiz in the kitchen. This light-hearted option could be super helpful and fun for him! Maybe he'll make you something from the cookbook?
"True Mensch" Coffee Mug
This coffee mug is a fun way to show a Jewish man your appreciation or love.
Stainless Steel Yiddish Proverb Money Clip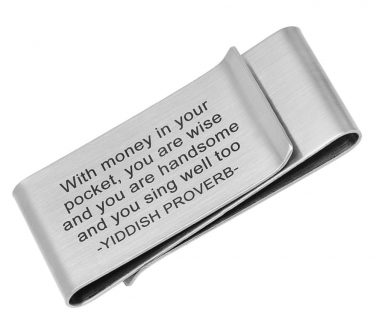 This simple money clip is great for the man who prefers to not carry a wallet!
"This Guy Loves Hanukkah" Shirt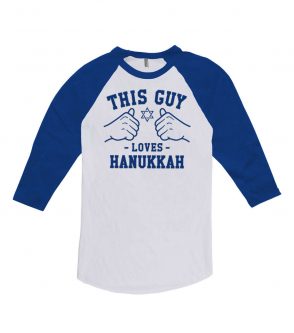 This clever shirt would make an excellent (and funny) Hanukkah gift!
This "Fiddler on The Roof: If I Were a Rich Man" Silhouette Print Art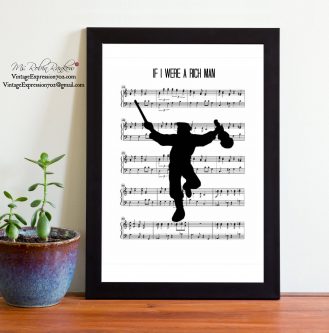 If the man is musical, this might be an excellent addition to a collection of wall art.
Personalized Note Cards with "Shalom"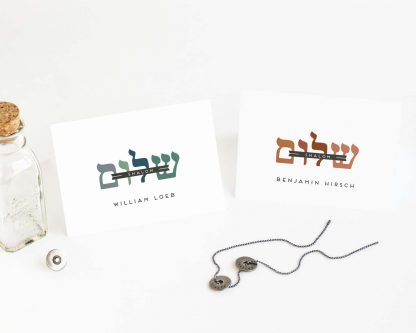 These personalized note cards are great for thank you notes, birthday greetings, or just saying hello.
Star of David Keepsake Box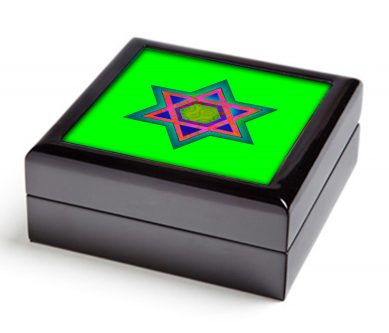 This colorful box could hold cufflinks, rings, and any other small trinket gift items.
Book: Russ & Daughters: Reflections and Recipes from the House That Herring Built
This book highlights the history of one of NYC's most popular food stops, Russ & Daughters. If he loves bagels & lox, he's sure to enjoy this book.
Bagel Wall Clock
Depending on the man, this is a silly gift that could be enjoyed by the recipient.
Joyva Sesame Crunch Candy
If this Jewish man has a sweet tooth, these kosher candies might make an excellent treat!
Star of David Laser Engraved Slate Coasters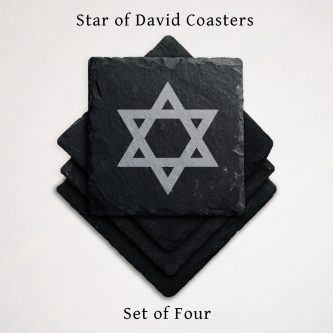 These coasters are perfect for desks and end tables. The black slate material is a safe color choice for a man.
Dinosaur Shabbat Candlesticks in Gold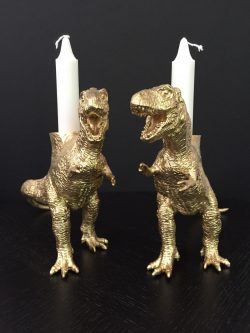 If you want to make the man laugh during his Shabbat dinners, these would be perfect.
Menoppopotamus: Hippo Menorah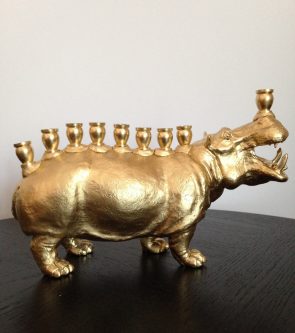 Again, depending on the man, this Hippo Menorah would make Hanukkah a little more comedic.
Shema Israel Bracelet for Men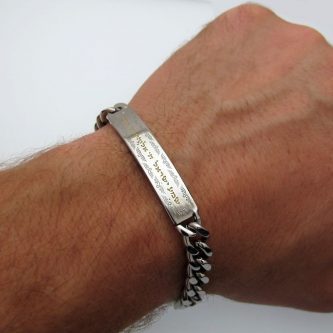 If the man wants to wear reminders of this declaration of faith, this would make a meaningful gift.
Nice Jewish Boy T-Shirt
Chances are you think this man is nice, so give him the shirt that lets everyone else know he's a "Nice Jewish Boy."
This "Shalom Gnome"
Another funny gift option for the home!
A Tetragrammaton Necklace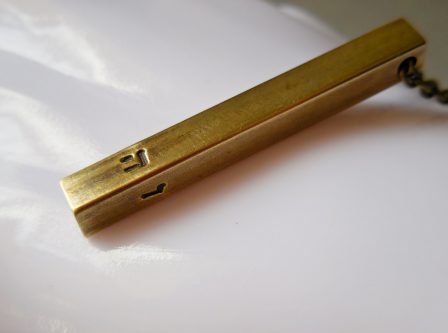 A more spiritual gift for a man with Hebrew symbols imprinted on brass.
Many Jewish holidays are excellent times to celebrate with gifts. Here's wishing you a mighty "mazel tov" as you search for an amazing gift for the Jewish man in your life.