Disclosure of Material Connection: Some of the links in this post may be "affiliate links." This means if you click on the link and purchase an item, I will receive an affiliate commission. Disclosure in accordance with the Federal Trade Commission's 16 CFR, Part 255. This site is a participant in the Amazon Services LLC Associates Program, an affiliate advertising program designed to provide a means for sites to earn advertising fees by advertising and linking to Amazon.
Gemini men, born in May and June, are quick thinkers, adventurers, and definitely the center of attention. This leaves you with a small problem: what on earth will be some gift ideas for a Gemini man?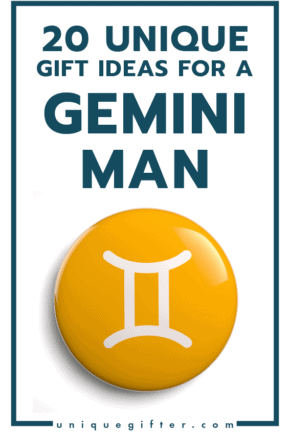 His birthday is coming up and your friend/boyfriend/husband/dude in your life needs a gift… but what?
Regardless of whether or not he's a horoscope fanatic, put his astrological sign to good use to help select that perfect present.
Here are 20 gift ideas for a Gemini man.
We've got adventure, wit, and creativity all in one. (You can check out gift ideas for a Gemini woman here.)
Windproof Travel Umbrella
An umbrella is super useful, compact, and in some places completely necessary. Give him this practical gift, and he will definitely thank you for it.
Fishing Lure Set
If the outdoors are his thing, then hooking him up with this fishing set is a great choice.
Portable Camping Hammock
Hammocks are so fun, and this one can hold two people.
Camping Cookset
More important than leisure time while camping is the cooking. Make sure he's all ready to go this summer with this camping cookset. (Check out other gift ideas for camping here)
Portable Camping Lanterns
Finally, to top off the camping gear, make sure that he can see what he's doing while outside at night with these camping lanterns.
Drawing Basics and Video Game Art
Is he more of a gamer than a camper? Is he interested in the art behind the games or is he an artist himself? Then get him this amazing book on the basics of drawing and how art is made in video game worlds.
Funny Video Game and Remote Pillowcase
Perfect for the gaming couch. And while on the couch you'd like to play a game try one of these.
Rubbermaid Cooler
Great for the outdoors, traveling, and storing drinks for a party. Coolers are always useful gifts.
Gemini T-Shirt
Get him a gift to show off his Gemini pride.
Personalized Wooden Flask
If he is a fan of alcoholic beverages from time-to-time, then get him this nice personalized wooden flask.
Vintage Mug
This mug is cool because it tells a story and holds coffee. Story not included.
Hand-Blown Beer Stein
This beer stein looks almost luminescent.
Rouxbe Online Cooking Course
If your Gemini loves to show off their artistry in the kitchen a Rouxbe online cooking course might be just the thing. These self-paced courses are available on a variety of topics, or a membership model, and make an excellent gift. He will learn SO much. Click here to read a full review of Rouxbe.
Custom Illustrated Dog iPhone Case
Get his dog on a phone case for him, it's adorable and will save his phone from damage.
StarTrek Laptop Decal
Is your Gemini friend a Trekkie? If so, then gift him this decal so he can show the world.
Gamer Socks
Funny socks for the comically serious gamer.
Nintendo Character Pillow
If he is a Nintendo fan, then this pillow is perfect for him. Fun game: see if he can name every character on the pillow.
Fishing Pole Rack
Help him store his fishing poles and stay organized.
Vintage Fishing Lure Print
This print is great for the fishing enthusiast Gemini.
Outdoor Coffee Mug
This mug is a great way to remind him that adventure awaits… After a cup of coffee.
Engraved Sundial Compass
This is a great conversation starter and the perfect decorative piece for the office.
There you have it! 20 fit ideas for a Gemini man. Tell us your favorite gift ideas in the comments. If you get him any of these gifts, be sure to let us know! Our Twitter is @ugifter and our Instagram is @uniquegifter.