Disclosure of Material Connection: Some of the links in this post may be "affiliate links." This means if you click on the link and purchase an item, I will receive an affiliate commission. Disclosure in accordance with the Federal Trade Commission's 16 CFR, Part 255. This site is a participant in the Amazon Services LLC Associates Program, an affiliate advertising program designed to provide a means for sites to earn advertising fees by advertising and linking to Amazon.
Is your friend or relative a planner addict? You know, the one who has every shade of washi tape, all the stickers, and a big planner? The one who records every appointment and adventure in her book? If so, here's twenty gift ideas for your planner addict.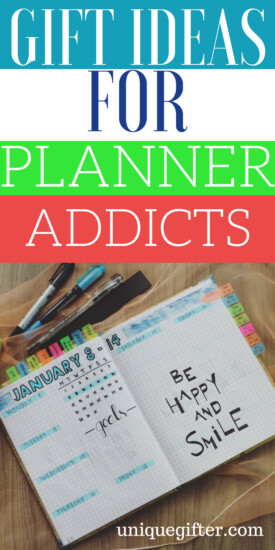 Reminder Binder
A hard covered spiral-bound planner journal that comes with 361 stickers, and a gift box. A great gift for someone starting on the road to planner addict!
Multi-Coloured Stickers Beach Theme
Erin Condren planners are a common size used when creating stickets. This store offers beach themed planner stickers for the elusive Beach Days we all strive for. Add a date, and this makes a great surprise for your planner addict.
BUNDLE Full Year Monthly View Kit Planner Stickers Kit
Add some bling to your gift! These stickers are for a full year of monthly headings, complete with sparkles and colours matching each month's holidays.
Classic Happy Planner
The Classic Happy Planner is a phenomenal planner for the planner addict. With removable pages, monthly calendars and weekly spreads, this planner is truly one of the best.
Happy Planner: Fitness Goals
A great gift at any time of year: this undated package fits into a Classic Happy Planner and helps track fitness goals for a full four months. Start it anytime, and use as a stand-alone, or with a full planner. Can fit into any A5 rings as well.
Undated Coloring Day Planner (8.5 x 11 inches) Large
Weekly & Monthly Organizer, Appointment Schedule, Goals and Notes
Get your relaxation on! This is a planner with colouring pages! Pair with a set of Stadtler markers, and it's a gift for a king or queen. This planner has two monthly pages and weekly spreads, includes times for appointments and more. Colouring therapy plus organization can't go wrong!
Undated Minimalist Day Planner –
A planner without all the bells and whistles – Functional tool to manage your time
Is the recipient a minimalist? This planner has clean lines and is made for the one who hates clutter. Uniquely having a 13 month plan, it's undated and can be enjoyed at any time. Even if the recipient is not a minimalist, this planner allows for ultimate expression.
UNIQOOO Bullet Journal Accessories Kit-Metallic Collection
Gold Silver Geometric Masking Washi Tape 8 Rolls, Little Bee Wax Seal Stamp,Metallic Binder Clips – Perfect for Planner, Scrapbook, Crafting
Silver and Gold are nearly as great as diamonds! This accessory kit includes washi tape, a wax seal stamp, and metallic binder clips, which are perfect for the planner who plans between the lines OR between the dots!
Staedtler Johanna Basford Triplus Fineliner Pens for Adult Coloring Books (Set of 36)
You will be hard-pressed to find a more elegant, or useful set of markers. These fineliner pens are perfect for colouring or writing, and will not bleed through the page. Every planner addict knows about these and covets them for special projects as well. With 36 different colours, it goes well with any planner!
Diamond Ballpoint Pen – (5 Pack)
Rose Gold Pens with Big Diamond/Crystal and Metal Ball-Point Fun Bling Crystal Pen for Stylish Fancy Office Supplies, Black Ink
This 5-pack of diamond-topped pens is a fun way to celebrate planning and writing. These pens would be a special gift to any recipient, to your Grandma or your boss, best friend or daughter. The black ink makes it ideal to carry for use anywhere. Who doesn't love diamonds?
10Pcs Pen Elastic Loop –
Self-adhesive Back – Leather Pen Holder Clip for Notebook, Journals, Planners and Calendars
Accessories Rock! Check out these multi-purpose pen holders
– perfect for the planners, calendars or whatever form your planner addict keeps track of life. (Makes a great add-on gift as well!)
OFFIDIX Kraft Paper Collection, Desktop Organizer, Stationery Storage Box Collection with The Labels, Khaki Color (A4 Size)
A planner needs somewhere to store all the planners they aren't using right now, or planners they've used in the past. These upright folder holders are perfect for storing planners for future reference.
DIWI Large Sizes 7 X 10 X 2 Inches Genuine Leather Cover
This case is the perfect protector for the serious planner. Get them something to hold the planners in for travel, and keep the coveted planner safe from bent corners and lost sheets.
All of these wonderful gifts for planner addicts are sure to bring joy to your fellow organizer! Your planner addict will love anything from this list.