Disclosure of Material Connection: Some of the links in this post may be "affiliate links." This means if you click on the link and purchase an item, I will receive an affiliate commission. Disclosure in accordance with the Federal Trade Commission's 16 CFR, Part 255. This site is a participant in the Amazon Services LLC Associates Program, an affiliate advertising program designed to provide a means for sites to earn advertising fees by advertising and linking to Amazon.
Gift ideas for bird box fans that are mind blowing awesome! Bird Box is a movie that people love, hate, and love to hate. Whether you are someone who loves or hates it, if you know someone who really loved it and just can't get enough of it, then you should definitely consider getting them a gift based on the movie for their next special occasion. There are some great ideas here!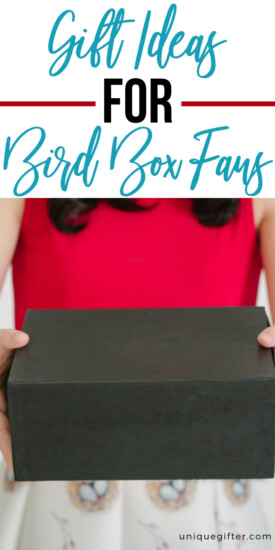 Unique Gift Ideas For Bird Box Fans
Get creative with any of these terrific presents.
Handcrafted Wooden Bird Feeder
While it doesn't actually have a lot to do with the movie, it is a wooden bird feeder so they can watch birds come and go on their own porch.
"Don't look, don't open your eyes" Super Soft Sweatshirt with Malorie and kids on a boat
In the movie, keeping their eyes covered was imperative to keeping them alive, but this sweatshirt could also mean "don't look at me" or "leave me alone" too.
A Quiet Place DVD
So many people were comparing Bird Box to A Quiet Place, and regardless if they are actually alike or not, this is a great movie for them to watch next.
"This is how I drink my coffee" Mug
Let's face it, when your loved one wakes up, they can't see or hear much going on around them until they've had their coffee.
"Demons: We have pizza. Me: …" Taking off Blindfold Shirt
If they love pizza, this is the way to get them to pull their blindfold off!
Bird Box Nesting House
This is a bird house, rather than a bird box, but it is a box that birds live in so it could go either way.
"How I should shop at Target" SVG File
You can create a shirt or blanket with this SVG for them if they love going to Target, but end up spending too much money whenever they go.
Bird Box: A Novel by Josh Malerman
They've seen the movie, now they should read the book!
Hello Kitty Crochet Keychain
Olympia gave Malorie a Hello Kitty keychain and she gave it to her daughter. This one is unique because it's also crocheted.
"Don't open them eyes" Shirt with Bird in a Box
Sometimes it's important to keep those eyes closed, like when your survival depends on it!
"My love is blind" Mug
Love can be blind, and in the movie, it nearly had to be.
Mulberry Silk Sleep Mask
While it's not the same kind of blindfold they had in the movie, your loved one who is a big fan of it would love to have this relaxing Mulberry silk sleep mask to sleep in at night… and keep themselves safe from the creatures at the same time!
Malorie Chibi Keychain
This little mini version of the main character looks pretty neat, and it's also a keychain!
"If you look you will die" Shirt
This is something Malorie told Boy and Girl many times in the movie, which makes it an excellent gift choice.
Bird on a Branch Wooden Keychain
The birds aided in Malorie and the children's survival, so it's only natural you get your loved one a bird on a branch wooden keychain.
Silk Luxury Eye Mask
Malorie's blindfold was blue, Girl's blindfold was a reddish color, and Boy's blindfold was brown. You can get the various colors that are close to the movie's blindfold colors with these.
Forest River Print
This beautiful forest river print actually looks quite a bit like the river in the movie. You can put it in a frame for them so they can hang it up and it goes beyond just their love for the movie too because it's beautiful to look at.
"Me when my toddler is quiet" SVG File
You never want to know what your child is up to when they are being quiet! Put this on a shirt or other piece of clothing for your friend who loves Bird Box.
TY Beanie Babies Hello Kitty Ballerina Clip-On Plush
Another option for the Hello Kitty clip-on like the one that Olympia gave Malorie in the movie. It's super cute with its ballerina dress too.
Bird Shaped Paper Clips
Birds were an integral part of the movie, keeping everyone safe by warning them of the creatures, so why not give them some bird shaped paper clips, especially if they do a lot of work with paper.
No matter which route you go, subtle or obvious, there are more than enough gift ideas Bird Box fans.