Disclosure of Material Connection: Some of the links in this post may be "affiliate links." This means if you click on the link and purchase an item, I will receive an affiliate commission. Disclosure in accordance with the Federal Trade Commission's 16 CFR, Part 255. This site is a participant in the Amazon Services LLC Associates Program, an affiliate advertising program designed to provide a means for sites to earn advertising fees by advertising and linking to Amazon.
A lot more people than you think out there crochet. You don't have to be old and boring to take up this fun hobby anymore. These delightful crochet gift ideas for crocheters are just the ticket for those young, and young at heart, crochet enthusiasts you're shopping for.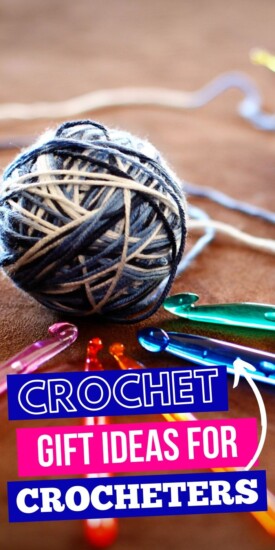 Delightful Crochet Gift Ideas for Crocheters
Sometimes it can be hard to find the perfect gift for someone when you don't know what tools they have at home. These gift ideas for crocheters are both thoughtful, but still general enough that most people will enjoy them.
Yarn
It doesn't matter if they have a room full of it every crocheter will be happy to get more yarn as a gift. You can even splurge and get something they wouldn't normally buy – like wool.
Stitch Counters
There's so many cute options out there! Just make sure you opt for the crochet clips when buying stitch counters.
Crochet Isn't a Hobby Bag
Look, we know that it seems like a hobby. But if the world ends who will make your hat to stay warm? That's right, it's a life skill.
It's Not Hoarding Mug
Something that knitters and crocheters have in common is a love of yarn. Yarn isn't hoarding, it's practical!
Crochet Pattern Binder
This is a great gift idea for crocheters who love to get patterns online. You can print these out and make up a pattern binder for them to add to.
Crochet Hook Organizer
It's important to stay organized with any hobby. An upright organizer like this one helps your crocheter see all their hooks and access them easily.
Crochet Stitch Dictionary
Sometimes it's hard to pick out patterns for crochet gift ideas. This book, instead, just shows all the different types of stitches. Perfect for easy reference when crocheting!
Yarn Bowl
They come in all kinds of designs and yarn bowls are great gift ideas for crocheters because they're also very practical. It feeds the yarn out so it doesn't roll all over the place.
Born to Crochet Tin
Tins are great for keeping all kinds of things inside. For crocheters, this would be perfect for stitch markers or other small tools.
Crochet Ring
This ring helps keep the yarn positioned while you crochet. So handy!
Crochet World Subscription
I love magazine subscriptions as gift ideas for crocheters because they just keep giving all year long.
Custom Labels
If you're gifting to a crocheter who has a hobby business or just likes giving things as gifts this is a perfect gift idea. You can order custom labels to say anything and it will give all their work a special touch.
Crochet Hooks
They probably have a bunch but you can never have too much of a good thing! It's always nice to have backups or extras to start more projects.
I Crochet So I Don't Kill People
Speaking of a sense of humor (or lack of one?) this one is a funny gift idea too. Better to be safe than sorry and let them keep crocheting.
Needle Sizer
Sometimes it's hard to figure out what size needle something is, especially if it's not labeled or the label has worn off. This handy tool will help!
Portable Crochet Bag
Because life's too short to stop crocheting when you're on the go.
Yarn Cutting Pendant
This is another accessory that's great for travel! Instead of carrying scissors, this safe pendant cuts the yarn and looks pretty hanging on a bag.
If I Look Tired Mug
Sometimes you just can't put a project down. This funny mug explains the perfect reason to need a cup of coffee in the morning. #crochet
Whimsical Stitches: A Modern Makers Book of Amigurumi Crochet Patterns
This book is perfect for someone who is wanting to make some adorable gifts or projects.
ArtBin Needle Arts Caddy
This caddy is wonderful for anyone who loves crocheting. It's perfect to take anywhere you go too.
The best part about exchanging gifts with a crocheter? You might just get something handmade in return!