Disclosure of Material Connection: Some of the links in this post may be "affiliate links." This means if you click on the link and purchase an item, I will receive an affiliate commission. Disclosure in accordance with the Federal Trade Commission's 16 CFR, Part 255. This site is a participant in the Amazon Services LLC Associates Program, an affiliate advertising program designed to provide a means for sites to earn advertising fees by advertising and linking to Amazon.
China is a gift you get when you get married, but it is also a gift to celebrate your 20th China anniversary. While it is a traditional gift for this anniversary, it doesn't necessarily have to be a conventional China gift. Celebrate in style with any of these unique 20th China anniversary gifts for her!

Amazing 20th China Anniversary Gifts For Her
She is going to love you, even more, when you give her any of these delightful presents!
Bone China Plate Lieutenant Hare Decorative Plate
This fun China plate with Lieutenant Hare on it would be a gift you both laugh at but put it on display for the pride of reaching your 20th anniversary.
Royalty Porcelain "Gloria" 5-Piece White & Heaven Blue Bone China Dinnerware Set for One
This is the perfect set when she may have to eat meals alone, or likes to fancy her meals up during the day while you are at work. It's lovely, and she will enjoy eating off of her dinnerware set.
Vintage Broken China Floral Heart Necklace
A beautiful flower on this vintage broken China heart-shaped necklace will surprise her with its beauty.
Handmade Soy Candle in Repurposed Mikasa China Cup
You can't get much more unique with China, than a handmade soy candle in a repurposed Mikasa China cup.
Elegant Handpainted Collectable Fine Arts China Porcelain Swan Tea Cup and Saucer
If she enjoys a daily cup of tea, she will love drinking it out of this beautiful swan teacup. It's also great for coffee on days where she doesn't drink any tea!
Gold and White Glitter Vintage China Teacup Candle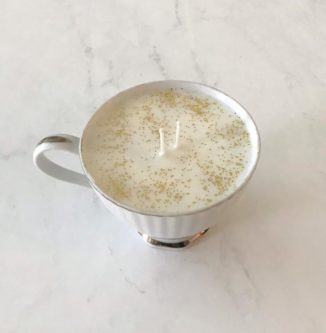 Another lovely candle for the candle lovers, and this one made in stunning gold and white glitter vintage China.
Small Bone China Micro Bottle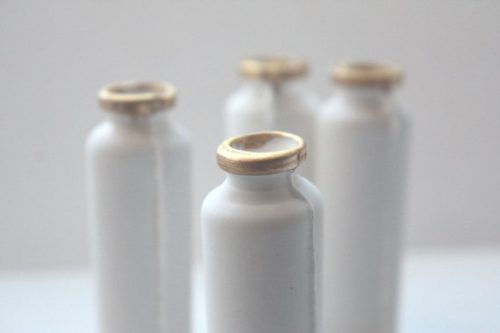 Whether she drinks from it or uses it for decor or flowers, this small bone china micro bottle is a great choice.
Fine English Floral Bone China Mugs, Set of 3
She will be set for mugs for a while, and surrounded by pretty flowers when she drinks her morning coffee or tea!
Blue and White Porcelain Ming China Pattern Earrings
These beautiful blue and white porcelain ming China pattern earrings will look excellent on her ears for whatever occasion.
Stackable Vintage Rose 8" Plates, Set of 2
These beautiful plates are great for appetizers, desserts, salad, and more. If it is mostly just the two of you at dinner, these will surely become a daily staple for your wife.
Cow Bone China Milk Mug
Pouring milk or cream into her coffee in the morning will be more fun with a bone China milk mug with a cow on it.
"Bride" Fine Bone China Hoop Mug
She is your bride forever!
Blue Floral China Heart Necklace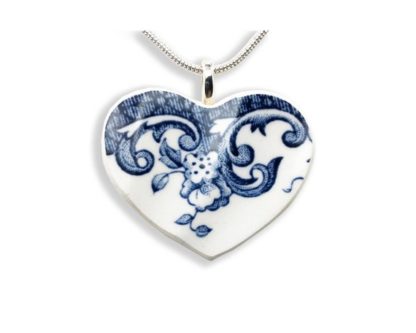 Another lovely heart-shaped China necklace, this one with some beautiful blue floral instead of pink, for the wife who doesn't care for pink flowers.
Royalty Porcelain "Ruby Rose" 5-Piece White and Gold Floral Dinnerware Set for One
For the wife who loves pink or floral designs, you will definitely want to get her this "Ruby Rose" decorative design dinnerware set for meals. Buy her several sets so she can serve all her friends and family.
Personalized Hand-Painted Name Plates in Blue and White Bone China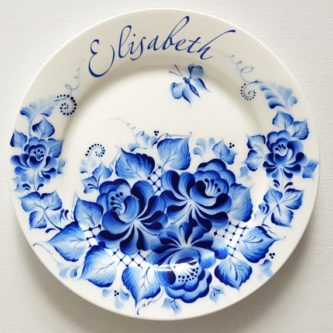 You can put her name on this personalized hand-painted nameplate with blue and white bone China, or your last name as a family piece.
Lenox Brian Gluckstein Clara Aqua 5-Piece Place Setting
Stunning China set that is perfect for entertaining!
Hanging China Pug Heart
A lovely hanging China pug on a heart-shaped ornament.
Blue China Tile Earrings
These stunning blue China tile earrings will make her earlobes look even more elegant when you two go out for a date night.
Red China Rabbit Brooch/Pin
She can wear the red China rabbit brooch, or pin it to her purse, backpack, or other bags she uses daily.
Pink Floral Vintage Broken China Heart Necklace
Another gorgeous heart-shaped vintage broke China necklace with pink flowers for her to wear.
As I started looking for China gifts, I wasn't sure what I would find, but there are so many great gifts on this list, I almost wish I was celebrating my 20th wedding anniversary.