Disclosure of Material Connection: Some of the links in this post may be "affiliate links." This means if you click on the link and purchase an item, I will receive an affiliate commission. Disclosure in accordance with the Federal Trade Commission's 16 CFR, Part 255. This site is a participant in the Amazon Services LLC Associates Program, an affiliate advertising program designed to provide a means for sites to earn advertising fees by advertising and linking to Amazon.
Your friends are finally able to get married and have set a date. Now it's time to get them a wedding gift! Some of these ideas are perfect for the gay couple in your life who are getting married soon!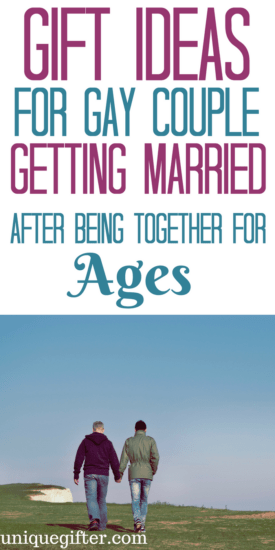 Gift Ideas for a Gay Couple Getting Married After Ages Together
"Better Together" Sign
You know it, they know it, the whole world knows it. They are just simply better together!
"Two Grooms are Better than One" Matching Wine Glasses
Two grooms are better than one in their wedding, get them these commemorative wine glasses to show that fact off!
Worth the Wait Matching Pillowcases
I'm sure they would appreciate these "worth the wait" matching pillowcases for their bed. They waited long enough to get married that they felt each other were worth it!
Mr. Eats it All & Mr. Cooks it All, Matching Aprons
Get them some matching aprons to cook or co-cook in when it's time to cook some delicious dinners together!
"Today I marry my best friend" Wedding Sign
They are marrying their best friend and they want to show it off! This wedding sign is the perfect way to display their love!
"Finally Hitched" Two Grooms, Matching Coffee Mugs
Yay! They're finally married! Get them these "finally hitched" matching coffee mugs with two grooms on them to celebrate in the days to come!
His One, His Only Necklaces with Wedding Date
These necklaces are a lovely way for them to display their love of each other wherever they go, showing off that they are each other's one and only!
"To the world you may be one person, but to one person you may be the world" Photo Album
To each other, they are the one person that is their world! This photo album can be filled with pictures showcasing their love starting from the beginning of their relationship up until the present.
"I'm His", "He's Mine" Matching Shirts
They need these matching shirts! They are each others', now and forever! They can wear these t-shirts anywhere.
Mr. & Mr. Batman and Superman Cake Topper
Are they Batman and Superman to each other? This cake topper is the perfect addition to the top of their wedding cake!
"Take a shot, we tied the knot" Shot Glasses
These shot glasses are lovely, since they tied the knot and now they can take shots of their favorite drinks together for the rest of their lives!
Personalized Envelope Cufflinks
They can write each other notes on their wedding day and put them in these envelope cufflinks to read before the big moment! What a sweet way to make the day even more special!
"A Perfect Fit Since…" Puzzle Piece Keychains
Puzzle piece keychains memorializing when they first got together, are a nice way of celebrating that date!
"This Guy Loves His Husband" Shirt
You can get them each one of these shirts that says, "This guy loves his husband," for them to proudly show off their love of each other as they go about their daily life after the wedding!
"Mr. & Mr." Throw Pillow Cover
These throw pillow covers are a perfect addition to their couch or loveseat!
"A True Love Story Never Ends" Rustic Love Quote Sign
Their love is true and their story will never end, give them the gift of this rustic love quote sign to put up on their wall at home!
Mr. & Mr. Wine Glasses Set with Elegant Flutes
Wine glasses are always helpful, especially for wine connoisseurs. These are perfect as they commemorate their status as Mr. and Mr. now that they are married.
"Do Small Things with Great Love" Wall Decal
To remind them to do small things with great love for each other, give them this wall decal to put up on their wall at home. Every time they look at it, they will remember their love for each other and their big day.
Eat, Drink, & Be Married Sign
Weddings are full of food and drink. This sign will be a nice addition to their wedding and aftewards when they're married.
They have waited a long time to get married, what a better way to show them your love and support of their marriage by getting them a meaningful gift!
We've also rounded up some delightful Mr & Mr gifts that may be just the thing.