Disclosure of Material Connection: Some of the links in this post may be "affiliate links." This means if you click on the link and purchase an item, I will receive an affiliate commission. Disclosure in accordance with the Federal Trade Commission's 16 CFR, Part 255. This site is a participant in the Amazon Services LLC Associates Program, an affiliate advertising program designed to provide a means for sites to earn advertising fees by advertising and linking to Amazon.
Teapots and Teacups are quite a common gift registry item. I myself may have had not one but two delightful teapots listed. I am happy to report that both were purchased. One was this one – Tea For More Teapot – 48 oz pot,(Teaposy)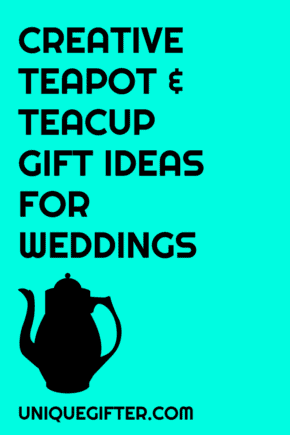 It is quite lovely and came with the little bamboo trivet as well. My only complaint would be the slots in the clear glass infuser have become a bit tea stained and don't come 100% clean, even in the dishwasher.
That said, the generous gift givers paired it with some awesome flowering teas, to look pretty. I think of them every time I sit there and have a staring contest with my teapot.
Tea is treated as a ritual in many cultures, even in North America. You can look into some tea ceremonies on wikipedia: Japanese, Chinese, Korean. According to wikipedia, the Chinese have several rituals involving weddings and tea:
To express thanks to your elders on one's wedding day

In the traditional Chinese marriageceremony, both the bride and groom kneel in front of their parents and serve them tea. That is the most devout way to express their gratitude. In front of their parents, it is a practice for the married couple to say, "Thank you for bringing us up. Now we are getting married. We owe it all to you." The parents will usually drink a small portion of the tea and then give them a red envelope, which symbolizes good luck. Another variant is that the bride serve tea to the groom's parents, symbolizing that she is to become a part of the latter's family.

To connect large families on wedding days

The tea ceremony during a wedding also serves as a means for both parties to meet with each other. As Chinese families can be rather extended, and there may be one or two hundred people, it is entirely possible during a courtship to not have been introduced to someone. This was particularly true in older generations where the patriarch may have had more than one wife and not all family members were always on good terms. As such, during the tea ceremony, the couple would serve tea to all family members and call them by their official title. Drinking the tea symbolized acceptance into the family, while refusing to drink symbolized opposition to the wedding and was quite unheard of since it would result in a loss of "face". Older generations would give a red envelope to the matrimonial couple while the couple would be expected to give red envelopes to the unmarried younger ones.
A memorable touch, especially if this is a part of your own culture, would be to include a note on the importance and symbolism of tea and marriage. You could print it out or scrapbook a little notecard. Alternatively, you could talk about enjoying a posh high tea in London, maybe at the Ritz. If you are feeling flush and not frugal, perhaps include a gift voucher for high tea at a local establishment or somewhere that is a honeymoon destination?
Another idea would be to bundle up a teapot and some of the teacups or mugs on the registry. You could put it all together in a nice basket acquired from the Dollar store, Winners, the thrift store, etc. Some further ideas on things to include:
I am always a fan of including a cute little poem, memory or story. A quick google search should provide several adorable poems. Alternatively, read through the poems
listed in this post
, as I found it could be a bit difficult to weed out the depressing poems online!
Assembling a few of these things should make for a unique gift that's appreciated by the recipient! Did I mention cellophane? That environmentally destructive but beautiful product would wrap them up very nicely.
and remember
The #1 Rule – ALWAYS, ALWAYS, ALWAYS give a card. A card with more words than just your name.
If you click on some of those pretty pictures up there, you will link to the sale page on Amazon. Should you choose to purchase any of these items, I will receive a very small % of your purchase. Think of it as a nice way to thank me for helping stir up some creative gift ideas. :-)
Thinking of giving a sugar pot to go with the teapot? Check out another cute gift idea here.
[Photo – Creative Commons Attribution – Averain, Photo2 – starrynight_012, Photo3 – Naval History & Heritage Command]