Disclosure of Material Connection: Some of the links in this post may be "affiliate links." This means if you click on the link and purchase an item, I will receive an affiliate commission. Disclosure in accordance with the Federal Trade Commission's 16 CFR, Part 255. This site is a participant in the Amazon Services LLC Associates Program, an affiliate advertising program designed to provide a means for sites to earn advertising fees by advertising and linking to Amazon.
Instead of waiting years and years to celebrate your China anniversary, the modern anniversary gift choice makes it possible to celebrate it on your 2nd anniversary! Not only that, but there are some pretty cool China gifts you can give your husband this year too. Check out these interesting ideas below.

20 Creative 2nd China Modern Anniversary Gifts For Him
Show him how much you love and adore him with these terrific presents.
Personalized Bone China Mug
Personalize his own bone china mug with his name, and now no one else can claim it as their own, whether that is at home or work.
Royalty Porcelain Premium Gold Bone China 57-Piece Banquet Dinnerware Set for 8
If your husband hosts dinners often, or likes to have fancy dishes for meals, this 57-piece set is perfect for those meals!
Owl Fine Bone China Mug
Owls are cool, especially ones that are on his beautiful bone china mug that he will be drinking his coffee from each morning.
Blue and White China Pottery Delftware Cufflinks with Bird
Nothing shouts China more than blue and white China pottery cufflinks with birds on them.
Dowan 10-ounce Bone China Dessert Bowls
These are great for nightly bowls of ice cream, dips, sauces, small sides of salad at dinner, and more
Birds on a Line Bone China Dipping Sauce Dishes Set of 2
These beautiful birds sitting on a line on these dipping sauce dishes are a great way to symbolize that you will always be by his side, and they are something that he can regularly use too.
Harbor Fine Bone China Mug
If he loves the water and boating, he will love this harbor fine bone China mug with boats and harbors.
Animal Design Bone China Appetizer Salad Plates Set of 4
There is just something a little bit silly about the animals wearing flowers on their heads on these plates, which makes them an excellent choice for appetizers or salads before dinner! They may not cause your husband to laugh out loud, but they may put a smile on his face as he eats his appetizer.
Green and White Frosted Hand Blown Glass China Bracelet
For the husband who loves bracelets, or at least tolerates them, a green and white frosted hand-blown glass China bracelet makes a lovely gift. If he has green eyes, even better, they will bring out his eyes.
China Mug
His heart will be full of love every time he sips his coffee.
Irish Claddagh Ring Bone China Mug
Your marriage is built on love, loyalty, and friendship, just like it says on this mug.
Set of China Plates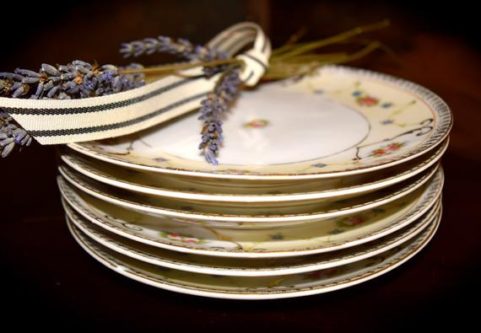 These plates are more for decoration than to eat on, but that makes it extra special.
Wolves Watercolor Bone China Mug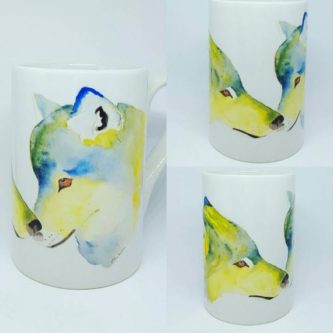 Your husband is like a wolf!
Robin Teabag Tidy Bird China in Shape of Teapot
The robin bird tea bag tidy will help keep the kitchen counter free of tea bag mess.
Green Hand Blown Glass China Handmade Bracelet
If green and white don't seem fitting, like the one above, a solid green hand blown glass China handmade bracelet is better.
Triathlon Bone China Mug
For the husband with dreams of doing a triathlon, or perhaps he has already completed one, a triathlon bone China mug is a great way to remind him of all he can accomplish daily.
Mikasa Bone China Dinner Plate
The design on the Mikasa bone China dinner plate is serene and calming, and it will become an excellent addition to your dinnerware.
Winter Squirrel Design Small Square Bone China Plate
Who wouldn't love to eat their salad or appetizer off of this plate with the adorable winter squirrel on it?
"Hubby" Personalized China Mug
He is your hubby, and you are his wifey.
Yellow Hand Blown Glass China Ribbon Design Bracelet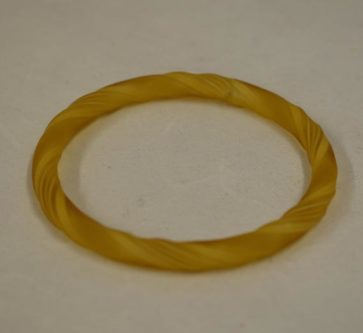 If green is just really not his color, perhaps a yellow hand-blown glass China ribbon design bracelet is a better choice!
While most of the China gifts for your husband may be mugs, there is quite a variety in this list, along with many other choices. He will love the gift you choose for him this year!