Disclosure of Material Connection: Some of the links in this post may be "affiliate links." This means if you click on the link and purchase an item, I will receive an affiliate commission. Disclosure in accordance with the Federal Trade Commission's 16 CFR, Part 255. This site is a participant in the Amazon Services LLC Associates Program, an affiliate advertising program designed to provide a means for sites to earn advertising fees by advertising and linking to Amazon.
Linen might seem like just some type of cloth, not anything nice or exciting, but there are some lovely and unique gifts to choose from for your wife. As you celebrate your 4th linen anniversary this year, check out these gift ideas for her. Chances are that there is something she will absolutely adore!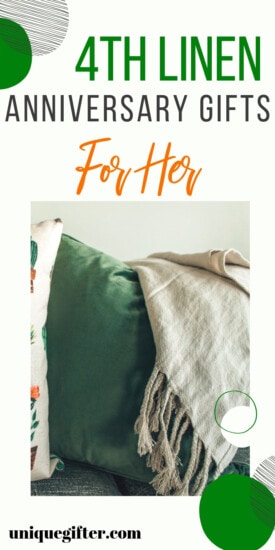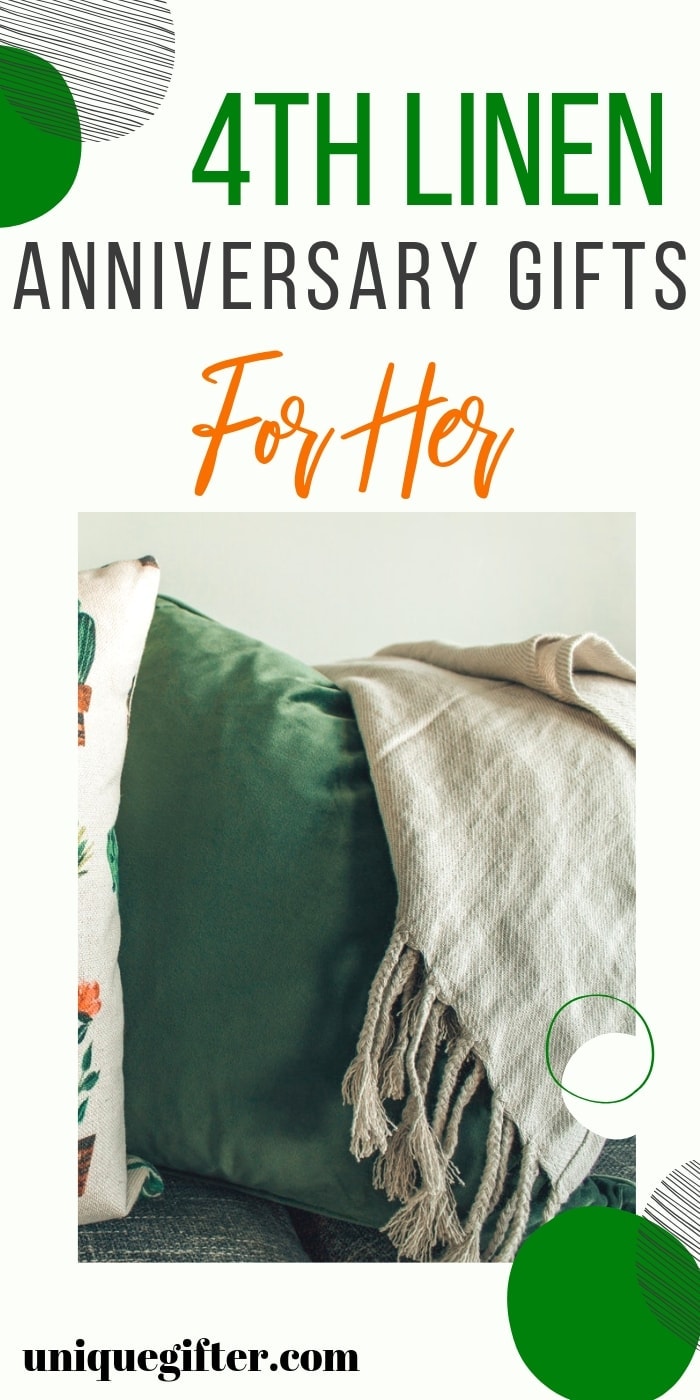 Creative 4th Linen Anniversary Gifts For Her
Surprise your loving wife with a terrific gift that she is going to go crazy for! (If you are looking for linen gift ideas for men, we have you covered there too!)
Graphite Linen Dress
This graphite linen dress is great for wearing around the house, or for those midnight trips to the store.
Linen Fitted Sheet
She will love the look of her bed with a fitted linen sheet on it which also goes with any color comforter or pillowcases she might already have. The fitted sheet will feel absolutely luxurious.
Custom Linen Tray
Have your vows, some song lyrics, or a message put on this custom linen tray for her to set her things on top of her dresser. Each time she looks at what is written on it, she will be filled with a sense of love and belonging.
Linen Nightgown
This linen nightgown is beautiful, something that both of you will enjoy.
Linen Sham Pillowcase with Ruffles
Dress up the bed with some linen sham pillowcases with ruffles on them!
Stone Washed Linen Tea Towel
This stonewashed linen tea towel will make a lovely addition to your kitchen, or wherever it ends up being needed.
Linen Wine Bottle Bag
A bottle of wine in this personalized bag is a great way to celebrate your 4th Anniversary!
Undyed Natural Linen Bread Bag
Help her keep the bread she bakes fresher for longer with an undyed natural linen bread bag to keep it in.
Linen Gift Bag with Lawanda Design
If a linen gift itself isn't what you want to go with, you can at least put your other gift choice in a linen bag, and one that even has a beautiful design on the outside!
Bright Orange Linen Scarf
She will catch the eyes of everyone she sees with this bright orange linen scarf, but it will also keep her neck warm!
Charcoal Aged Linen Tablecloth
If she hates a bare table, a charcoal aged linen tablecloth is the way to go.
Personalized "LOVE" Linen Print
Your "LOVE" is stronger than anything else!
Cotton Linen Gift Bags (Party Favors)
These cotton linen gift bags are great for party favors for parties she throws, or for keeping little things in she needs to stay safe and not lost around the house, such as collectible coins or rocks.
Decorative Linen Pillowcase
You can get these decorative linen pillowcases for throw pillows, bed pillows, and more since they come in various sizes!
Linen Wedding Flower Replica
Get a replica done of her wedding bouquet or the flowers that were sitting on the tables at the reception, and she will cherish it forever.
Natural Linen Pajamas
These natural linen pajamas will be some of the most comfortable ones she will ever wear!
Soft Linen Table Runner
This soft linen table runner is softer than most and comes in so many different colors so that you can find the one she will love.
Natural Linen Scarf with Fringes
If your anniversary is in the fall or winter, scarves may be a big thing!
Personalized Embroidered Linen Decor
With your guys' initials on this little piece of decor, it will be her favorite to look at once it is hanging up on the wall at home.
Linen Gift Wrapping Envelope
If you have already chosen her gift and it can fit in this linen gift wrapping envelope, then you will be set, covering the gift part and the linen part without having to have a specific linen gift on its own.
The linen gifts in this list come in all shapes and forms, fun and lovely gifts!