Welcome to the first in a series on anniversary gift ideas, so I'll be starting at the most logical spot, first year anniversary gift ideas. These are great for men, women, or to give to a couple on their first anniversary.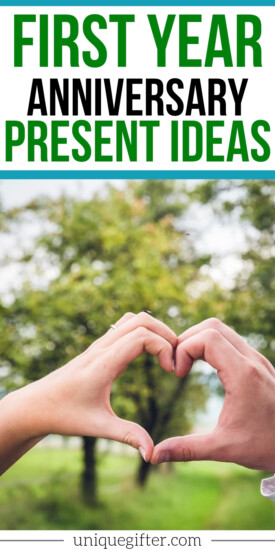 What Should I Buy for a First Year Anniversary Gift?
In the United States and North America, the traditional first year anniversary gifts are based on paper. In the U.K. they are based on cotton and the modern suggestion is a clock.
If you'd rather send floral, the traditional first anniversary flower is the carnation. And for those who want some bling the gemstone is mother of pearl.  That ought to get you a fair list of things.
I ended up having two wedding receptions, one on each side of the country and my spouse has made it a tradition to give me the anniversary flower on the anniversary of the second reception. Isn't that sweet?
We also have anniversary gift ideas for other milestone years.
The Best Paper First Year Anniversary Gift Ideas for Your Partner or a Couple
Romantic Traditional 1st Anniversary Gifts
Stationary as 1st Anniversary Gift Ideas
Travel and Activity Related Paper Gifts for a First Anniversary
Fun Paper Gift Ideas for Your Spouse or a Couple
More Unique First Year Anniversary Gift Ideas:
Hopefully you've found some inspiration for paper themed first anniversary gifts for a couple! If you're still stumped for ideas, you can never go wrong with a thoughtful note or card.