Disclosure of Material Connection: Some of the links in this post may be "affiliate links." This means if you click on the link and purchase an item, I will receive an affiliate commission. Disclosure in accordance with the Federal Trade Commission's 16 CFR, Part 255. This site is a participant in the Amazon Services LLC Associates Program, an affiliate advertising program designed to provide a means for sites to earn advertising fees by advertising and linking to Amazon.
Platinum might not be your idea of a symbol of a long time marriage, but it is time to celebrate your 20th anniversary with a platinum gift for her. You might think that there wouldn't be many interesting gifts you could get her, but there are plenty. Check out some of these unforgettable 20th Platinum Modern Anniversary Gifts for Her. They're timeless just like her and she's sure to love them too.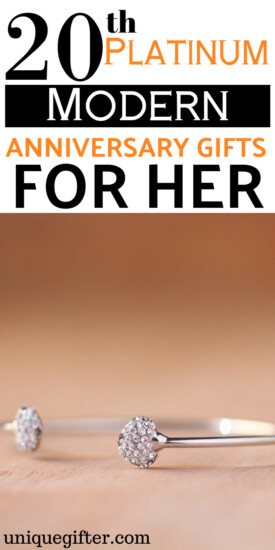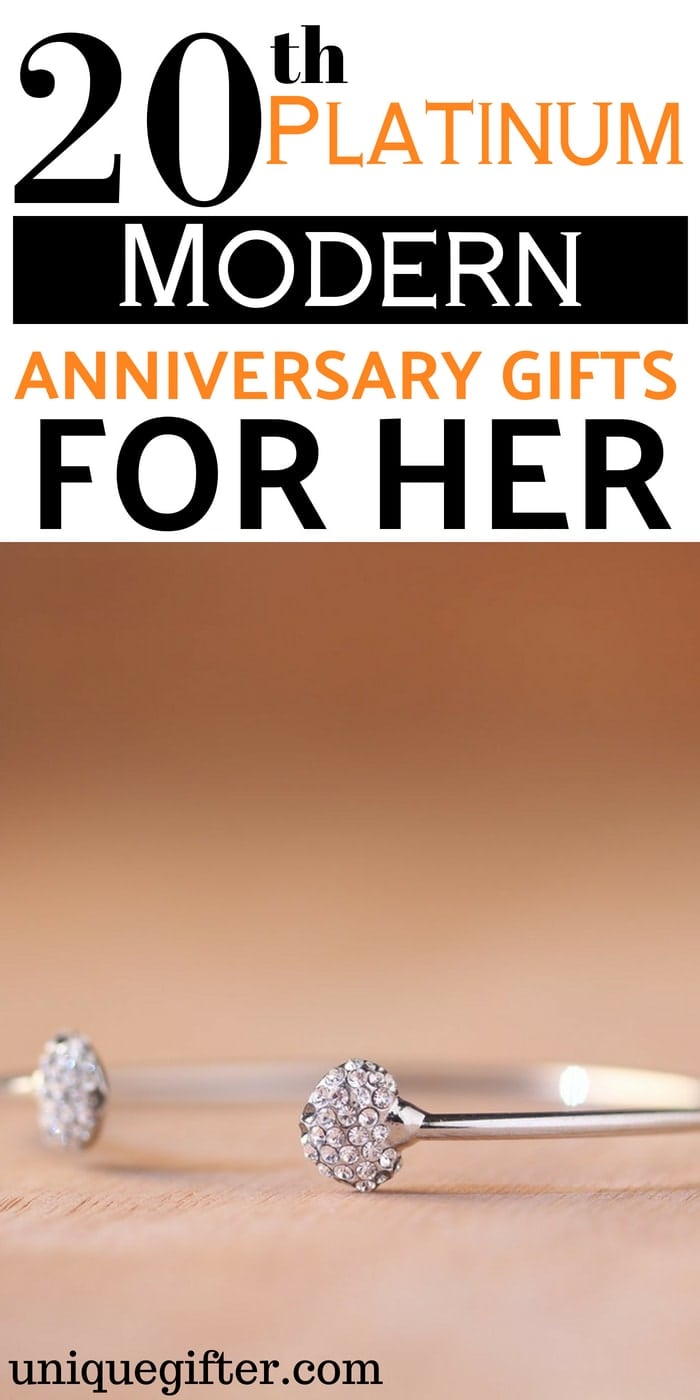 Gift's she'll love for the next twenty years
We promise.
Purple Platinum Rose
A purple platinum rose is something she can hold onto for a long time, and every time she looks at it, she will be reminded of the time you have spent together.
Braided Platinum Twist Band Ring
This braided platinum twist band ring is simple, yet stunning at the same time!
BeMine Heart
Made partly from platinum, a BeMine heart is a cute little keepsake that she can keep stored in her jewelry box, dresser, or somewhere else safe where it can remind her of you every single time she looks at it.
Monogrammed Platinum Heart Shaped Ring Dish
A woman always needs a safe place to store their rings and keys, and a monogrammed platinum heart-shaped ring dish is the perfect place to do so.
Platinum Metallic Bar Leather Earrings
Platinum metallic bar leather earrings will make her feel classy and fancy, wherever she wears them.
Platinum Ball Bracelet
Another beautiful option for a platinum gift is this ball bracelet.
Curved Platinum Ring
Your wife will love this curved platinum ring to wear and think of all the time you have spent together so far, and how much time you will be spending time together in the future.
Mid-Century China Set 8oz Creamer with Platinum Trim
China is a classic gift, and this creamer has a platinum trim on it, making it perfect for your twenty-fifth platinum anniversary. Get her some more coffee goodies too.
Emerald Infinity Necklace in Platinum
Something a little more interesting than just platinum, this emerald infinity necklace is a great symbol of forever for the both of you.
Personalized Two Initial Bypass Ring
With both of your initials bypassing each other on this personalized ring that comes in platinum, it is something she will hold dear for a long time.
Solid Gold Open Heart Earrings
Solid gold open heart earrings that come in a platinum option to keep with the twenty-fifth-anniversary platinum theme.
Modern Finish Traditional Double Hinged Platinum Photo Frame
Wives always need more frames to put pictures of loved ones in, and for this anniversary, a platinum photo frame makes a wonderful gift. Put your first photo in it for an even better surprise.
Diamond Starburst Pendant Necklace in Silver with Platinum Overlay
No one could possibly resist this beauty of a necklace, a diamond starburst pendant necklace with a platinum overlay.
14K Gold Infinity Knot Promise Ring
Promise rings aren't just for when you're dating, they are a wonderful way to express your love and promises as a married couple as well. This gold infinity knot promise ring also comes in platinum.
Febe Lightweight Leather Hobo Tote Bag Silver Platinum
There's no doubt about it, women love bags and purses. They often have so many things to carry with them. For your platinum anniversary, a silver platinum lightweight leather hobo tote bag is pretty and will come in handy.
Platinum Metallic Fans Geometric Triangle Leather Earrings
Geometrically patterned earrings are awesome for someone who loves math or shapes, and these come in platinum as well.
Platinum Druzy Pendant Necklace
If she is into crystals and rocks, she will really enjoy wearing this platinum Druzy pendant necklace.
Noritake Platinum Wedding Colony China Cup and Saucer
Another piece of China to celebrate your platinum anniversary, a platinum wedding colony cup and saucer for extra special tea.
Scratch Off Map Platinum Edition
Travel tracker map for your wildest travels together as a couple since you started dating.
Wedding Cake Server and Knife Platinum Tone Crystals, Engraved
Have the date of the wedding on this wedding cake server and knife set to keep as a keepsake.
Twenty years as a married couple is a big anniversary to celebrate. Giving platinum gifts might may even make it more special for the two of you.