Disclosure of Material Connection: Some of the links in this post may be "affiliate links." This means if you click on the link and purchase an item, I will receive an affiliate commission. Disclosure in accordance with the Federal Trade Commission's 16 CFR, Part 255. This site is a participant in the Amazon Services LLC Associates Program, an affiliate advertising program designed to provide a means for sites to earn advertising fees by advertising and linking to Amazon.
Looking for the perfect 50th Gold Anniversary Gifts For Him? As the two of you approach your 50th wedding anniversary, you may be wondering how you got this far. Your marriage has survived a lot, and you two are stronger together than you have ever been before. This is the golden anniversary and finding gifts for your husband that fit in may not be an easy task, but guess what, we have so many ideas for you right here in this list: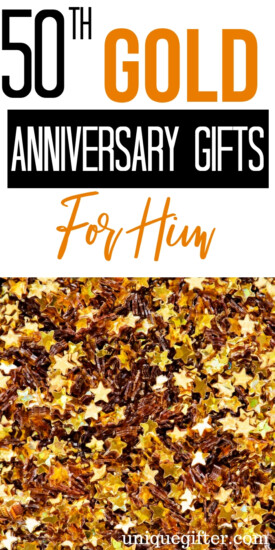 Creative 50th Gold Anniversary Gifts For Him
Gift giving won't be dull with this terrific list of presents for your husband!
Dapper Gold Honeycomb Style Tie
He will be the most stylish husband around with a dapper gold honeycomb style tie around his neck.
Thin Hammered Gold Brass Cuff Bracelet for Men
This thin hammered gold brass cuff bracelet will look handsome on his wrist.
Engraved Gold Tactical Knife
If he is into tactical knives, he will love having an engraved gold one added to his collection.
Gold Custom Engraved Tie Clip
This gold tie clip can be customized and engraved specifically for your husband, which makes it even more special for both of you.
14K Gold Plated Engraved Bottom Flask
Every husband needs a gold plated flask that has a personalized engraving on the bottom, right?
Engraved Compass in Gold
He will always be able to get back to you with this engraved gold compass at hand.
Gold Men's Wedding or Engagement Band
You have been married so long, that you just may be considering to get new wedding bands!
Rose Gold Cufflinks
These rose gold cufflinks will leave him feeling super handsome whenever he needs to put on a suit.
Gold Arrow Charm Bracelet
This gold arrow charm bracelet will remind him that you two are headed in the right direction.
Yellow Gold Wedding Band
If you are considering new wedding bands, or he has lost his ring, then the yellow gold wedding band is another great option for him.
Leather Wrap Bracelet with Gold Clasp
If flashy gold jewelry isn't his thing, you can get him the leather wrap bracelet with a gold clasp.
Personalized Gold Foil World Map
When you have traveled the world together, a personalized gold foil world map is a great gift, as it represents all the places you have gone.
Modern Circular Gold Cufflinks
Even if he doesn't like dressing in suits, he might want to spice them up with some handsome modern circular gold cufflinks.
Gold Initial Keyring
Perhaps he will stop losing his keys if he has them on this beautiful gold initial keyring.
Gold Personalized Dog Tag Necklace
Dog tag necklaces are a thing of both the past and present, and you can personalize this one for him.
Labradorite and Gold Pyrite Crystal Healing Bead Bracelet
If he needs a little healing, the labradorite and gold pyrite crystal healing bead bracelet is the gift to get.
Gold Cactus Mug
He may be prickly like a cactus, but you love him for it!
Gold Skulls Bracelet
For the husband that likes more manly things, a gold skulls bracelet might be to his liking for your 50th gold anniversary.
Black and Gold Bow Tie
He will look sharp and dapper in his black and gold bow tie, no matter the occasion.
Gold Dinosaur Magnets
How cool are these gold dinosaur magnets, when it is only part of their bodies? He can pin things up on the fridge with a laugh each time.
Your 50th wedding anniversary is nothing to gawk at! Any gift you choose, he will likely enjoy because it comes from you.