Disclosure of Material Connection: Some of the links in this post may be "affiliate links." This means if you click on the link and purchase an item, I will receive an affiliate commission. Disclosure in accordance with the Federal Trade Commission's 16 CFR, Part 255. This site is a participant in the Amazon Services LLC Associates Program, an affiliate advertising program designed to provide a means for sites to earn advertising fees by advertising and linking to Amazon.
Skull Gifts For Anyone's Inner Goth
Are you looking to buy the perfect gift for someone that seems to never own enough black clothing? Sometimes, it isn't -just- a phase, and we can't say we blame them! Sure, they may technically be "too old" to shop at Hot Topic anymore, but that doesn't mean they can't still get what they really want!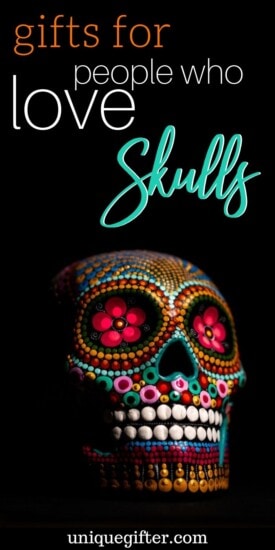 Skull Gift Ideas For Spooky Humans
Let's dive in with these fantastic skull gift ideas!
Skull Ice Cube Mold
What do you buy someone that has everything with skulls on it, really? Why, this ice cube tray of course!
Skull Logs
These skulls are heavy duty! They last quite a while and add a bit of eeriness to any grill or campfire!
Skull Ashtray
Sure, it's a nasty habit, but I'm not here to judge! And who says it has to be used for smoking? We think it would also make a great way to hold rings and keys!
Skull Coffee Mug
This cup has a surprise at the bottom and is a great gift for their daily caffeine intake!
Skull Decanter and Shot Glass Set
This set is the perfect example of never being too old to enjoy the spooky things in life! It's absolutely stunning!
Deadly Skull Hot Sauce
Does your skull lover also love spicy things? Melt their face off with this delicious gift!
Cat Eye Sunglasses
Your skull lover needs these. How else are they going to keep their eyes from burning out of their head while out in the sun?!
Leather Hobo Tote
This purse is big enough to live out of, which most of us ladies require in an everyday bag. It also comes with a pretty skull scarf as an extra gift!
Wine Bottle Holder
Add the finishing touch to any skull lover's spooky bar with this heavy-as-heck wine bottle holder!
Women's Skull Ring
This is a beautiful and tasteful ring! Any skull-loving lady would absolutely die for this piece of jewelry!
Sugar Spoon Set
There's no such thing as too many skulls, and these awesome spoons are proof of that!
Makeup Brush Set
These high quality brushes are perfect for any level of skill when it comes to makeup application. You can't beat cute, a good price, and high quality!
Stack the Bones Game
It's like Jenga, only spookier! The perfect gift for children and adults alike!
Skull/Pineapple "I Hate People" T-Shirt
Me too, skull shirt. Me too.
Skull Apron
If your skull fan loves to cook, then we found the perfect gift! Impress them with this awesome find!
Flatware Set
We've done it. We've found the perfect gift for every skull lover in the world. These are amazing and currently sporting a perfect 5 star review on Amazon!
Himalayan Salt Lamp
This gift is on-point for those friends and family members that are a little bit goth, a little bit hippie.
Skulls and Roses Rolling Pin
Perfect for your spooky chef or baker. Who says it can't be Halloween 365 days a year?!
Polygon Skull Candle
This candle is perfect for those dark, cold nights. Or for summoning spells.
Kayaker T-Shirt
Not all skull lovers are made the same. If yours is the outdoorsy type, they'll love this shirt for sure!
Black Skull Picture Frame
This frame is nothing short of stunning. The perfect addition to a spooky art print!
Skull Leggings
It doesn't look like this fashion trend is going anywhere anytime soon, so go ahead and grab this comfy pair of leggings!
Skull Pendant and Necklace
This pendant is the perfect size for anyone! A must-have for any skull lover!
We worked our hands to the bone while curating this list and we hope you found an item or two that will spark the interest of your skull lover for their special occasion! If you grabbed something off this list, give a shoutout to Unique Gifter over on Twitter (@ugifter) or Instagram (@uniquegifter) and let us know what you grabbed!