Disclosure of Material Connection: Some of the links in this post may be "affiliate links." This means if you click on the link and purchase an item, I will receive an affiliate commission. Disclosure in accordance with the Federal Trade Commission's 16 CFR, Part 255. This site is a participant in the Amazon Services LLC Associates Program, an affiliate advertising program designed to provide a means for sites to earn advertising fees by advertising and linking to Amazon.
It is a momentous occasion when a friend or family member's baby girl gets baptized. You may be tempted to just send flowers or a card, because finding a gift that is meaningful can be hard. It doesn't have to be though. This list is full of meaningful gift ideas that you can personalize, which makes it even more special for the parents and child!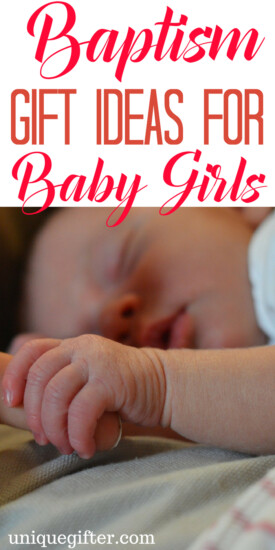 The Perfect Baptism Gift Ideas for Baby Girls
Personalized Round Keepsake Box
This personalized round keepsake box is perfect for keeping the baby's jewelry or any other small mementos in from their baptism.
Personalized 11×7" Baptism Cross
A baptism gift that can sit on her dresser or bookshelf, long after her baptism. Being able to put her name on it makes it even more special.
Flower Tree Art Print, Personalized with Name, Flower Color, and More
Something that her parents can frame and hang up on the wall, with her name, a personalized flower tree color, and more details about her and her baptism. It will serve as a continuous reminder of a significant occasion in her life.
Custom Baby Name Bracelet
Baby jewelry is one of the cutest things and you can even customize this bracelet with her name!
"Now I lay me down to sleep…" Wood Sign
A wood sign with a famous prayer on it is something that can be hung up on the wall as well, and be something that her parents read to remind them of God's place in their baby girl's life.
Baptism Booties with Embroidered Date on the Bottom
These baptism booties might be something you want to order before the baptism happens, so that she can wear them for the baptism itself. Or, it can also be something she wears from here on out to keep her feet warm and serve as a reminder of her baptism at the same time.
Personalized Prayer Box
You and her parents, and other friends and family as well, can place little prayers in this prayer box for her to read when she gets bigger. She can see the power behind those prayers and what she means to so many people in her life.
Silver Cross Necklace
You can't go wrong gifting a classic silver cross necklace for her baptism. This is something her parents can keep safe until she is old enough to wear it.
Mini Leather Bible Case Personalized Cover
For those itty bitty kids' Bibles, she needs a mini leather Bible case with her name on it.
Frog Girl Melamine Plate Personalized with Name
She will be able to eat off of this plate for her whole childhood, and it will feel special for her because it has her name on it.
Small Heart Bowl with Name and Cross
When she is older, she can set her rings or other jewelry in this small heart-shaped bowl with her name and a cross on it.
First Holy Communion Personalized Rosary Cross Box
A great way to memorialize her first Holy communion is with this personalized rosary cross box.
Wooden Personalized Baptism Ornament
Even if it is not close to Christmas when she gets baptized, this wooden baptism ornament, personalized with her name and the date of her baptism will forever symbolize this date for her family during the holidays.
"I am a daughter of the King" Customizable Print
A continuous reminder that she is the daughter of a king, and it can be hung up on the wall in her nursery. It is something that will be relevant even as she gets older.
Personalized Stuffed Elephant with Quote, Name, and Date of Baptism
Personalize a stuffed elephant with a short quote, as well as her name and the date of her baptism. She can cuddle with it or her family can use it as a decor piece, but either way it is a lovely keepsake.
Cross Infinity Necklace with Quote
Congratulate her on her baptism, and give her a gift she can open when she is older, a cross infinity necklace with a special quote on the box.
Customizable Sound Wave Art
Using a hymn that represents baptism, or something you consider special to her life so far, have soundwave art created from the sounds of the song.
Baptism Dress with Poofy Skirt, Personalized with Name and Date of Baptism
This doesn't look like a traditional baptism dress, and might be something she can "play" in afterward, with her name and date of baptism on it to be a reminder of the special occasion and something only she can wear.
"All of God's grace in one little face" Personalized Picture
All of God's grace is within her. Personalize this picture for her with this honest quote on it as something her family can look at for a long time to come.
Baptism Candle Holder
Personalized with her name, this baptism candle holder is another gift that can last a long time. Every time her family lights a candle inside the holder, they will be reminded of her baptism and what that means to all of them.
Buying gift for babies can be fun, yet a baptism gift is a little more specific and can be difficult to find just the "right" gift for the baby girl. This list is a great place to start and all of these gifts are so lovely that her family is bound to love whatever you choose!