Disclosure of Material Connection: Some of the links in this post may be "affiliate links." This means if you click on the link and purchase an item, I will receive an affiliate commission. Disclosure in accordance with the Federal Trade Commission's 16 CFR, Part 255. This site is a participant in the Amazon Services LLC Associates Program, an affiliate advertising program designed to provide a means for sites to earn advertising fees by advertising and linking to Amazon.
Growing up I remember counting down the days until my birthday because each year it was so special and memorable. I think as parents we strive to make our child's birthday memorable and one that will last forever in their hearts and memories. If you are looking for special ways to make your child's memorable forever, then check out these awesome ideas below.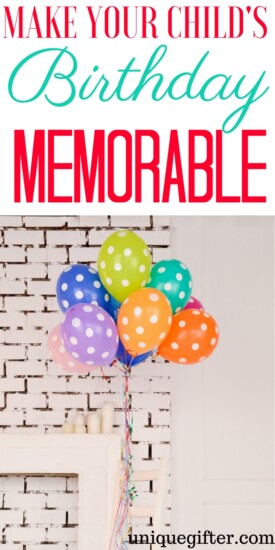 Fun Ways to Make Your Child's Birthday Memorable Forever
Try out some of these fun and memorable suggestions to make your child's birthday totally unforgettable!
Car Windows

Buy Now
Grab some glass chalk paint and write your child's name, how old they are, and more on the car windows. It might embarrass them a little but it is fun too!
Balloons

Buy Now
Fill your child's bedroom full of balloons so when they wake up the floor is covered in balloons! The perfect way to wake up if you ask me!
Waffles for Breakfast

Buy Now
Make fun shaped waffles for breakfast, add sprinkles, whipped cream and syrup. A fun treat to a perfect birthday "day" ahead.
Streamers

Buy Now
Take streamers and cut into strips and tape on the outside of your child's bedroom door. When they open it they will see all the streamers and have to walk through making them feel extra special.
Party Hats

Buy Now
When you sit down for any meal of the day, have everyone wear party hats. Makes it a bit more fun, and your child will feel like the prince or princess that they are.
Yard Sign

Buy Now
Find a yard sign that says it is your child's birthday, so your neighbors can see and wish them happy birthday as you head out the door for school.
Message on Mirror

Buy Now
Write or draw a picture on your bathroom mirror so your child can see it when they wake up. Do this each year to make it a lasting memory!
Birthday Cake Bath Bomb

Buy Now
Make your child's bath feel like a party with this fizzing bath bomb that will change the color of the water and offers a fun smell.
Birthday Countdown

Buy Now
Don't let your child miss out on having the fun of counting down to their birthday each year, here is a fun block counter they will enjoy changing the day!
Ceramic Birthday Plate

Buy Now
Give your child a birthday plate that they can use each year, and when they are old enough to move out they can take the plate with them.
Birth Story

Buy Now
Grab your baby book and share your birth story and go through all the special milestones your child has accomplished in their life so far!
Birthday Outfit

Buy Now
Each year let your child pick out a fun birthday outfit that lets the world know it is their special day.
Measure Height

Buy Now
Each year when your child gets a year older go to your measuring board and see how much they have grown from last year. I love these sticks, cause you can save them forever.
Wrap Lunch


Buy Now
Individually wrap each item in their lunch if they are heading out to school. So when they sit down to eat they have to unwrap their sandwich, and sides, to make it extra special.
Birthday Chair


Buy Now
Cover the chair that your child sits in to make it special for them when they sit down for meals.
Scrapbook Album

Buy Now
Make their birthday extra special with this scrapbook album. Capture all the memorable moments from the past year and write little notes to your child.
Personalized Book

Buy Now
I love giving books as gifts, but giving them a personalized book makes it extra special and they can treasure it forever.
Crown

Buy Now
Present your kiddo with a crown they can wear for the day, so the day is fit for the little prince or princess.
Write Why You Love Them

Buy Now
Have each person in the family write out why they love them, this is a fun way for them to look back over the years and see what each family member said.
Birthday Time Capsule


Buy Now
Create a time capsule with your whole family and then find a place to store it until later on where they can open it up when older to see what all you put inside.