Disclosure of Material Connection: Some of the links in this post may be "affiliate links." This means if you click on the link and purchase an item, I will receive an affiliate commission. Disclosure in accordance with the Federal Trade Commission's 16 CFR, Part 255. This site is a participant in the Amazon Services LLC Associates Program, an affiliate advertising program designed to provide a means for sites to earn advertising fees by advertising and linking to Amazon.
Check out this fantastic guide to gifts for dinosaur lovers! Dinosaurs have always figured largely, no pun intended, in our culture. The thrill of discovery that paleontologists share with us, the probably unwise experimentation with reviving ancient and extinct species using fossil DNA, we are fascinated with who and what roamed the earth ages before our time. Jurassic Park came out in 1993 and continues to be hugely popular today (although the movie Ice Age made the wooly mammoth cool again). Children viscerally engage with the idea of dinosaurs, mimicking them and stampeding herds together.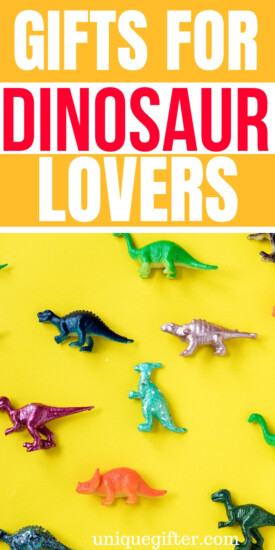 This love clings with us even into adulthood. Though I don't want to come face to face with current wildlife (bears, moose, wolves), much less a velociraptor that can open doors, even I enjoy almost everything dinosaur themed and loved pulling together this list of gifts you can share with your loved ones.
Thrilling Gifts For Dinosaur Lovers You Must See
Take a walk on the wild side with these playful and fascinating gift ideas. We have more if you still need em' too!
T-rex Costume
We see a trio of this T-rex at every Comic-Con, and they're always waddling around being friendly. Or maybe they just seem friendly because they can't do more than waggle their forearms? Whatever the reason, both kids and adults can be the Monarch of Dinosaurs this year!
12-pack of Dinosaurs
Twelve sturdy large dinosaurs come with a booklet describing each of the dozen: monoclonius, allosaurus, pachycephalosaurus, corythosaurus, bayonyx, spinosaurus, t-rex, stegosaurus, triceratops, apatosaurus, ankylosaurus, diplodocus. This means hours of fun for the imaginative.
Dinosaurs Rumble Sound Book
We love these board books that include sound buttons, even if we might get tired of the continual roars. It's an excellent way to bring the Mesozoic Age to life.
T- Rex Necklace
There's something entertaining about featuring the mighty Tyrannosaurus as a delicate pendant necklace. The tagline is silly but endearing, making this an appropriate gift for any loved one: "A T-Rex has short arms so that everything it holds is close to its heart."
Haribo Dinosaurs
I had no idea that the classic Haribo brand was this cool! Our family has a mild obsession with the gummy bears, and separately dinosaurs, so these will blow their minds this Christmas.
Dinosaur Print Flared Mini Skirt
This casual elastic waisted skirt is made of polyester and spandex, featuring a fun, colorful print. This is machine washable – a must for any clothing item in my wardrobe.
Mega Fossil Mine
This kit satisfies both the visual and kinesthetic learners. A booklet tells kids how fossils are formed and a brick packed with fossils is provided with a chisel and brush to let the young ones excavate with their own two hands.
Dinosaur Collector Toy Box & Playset
This toy box unzips to become a play mat with a full background, then zips back up into a box. This set comes with two five-inch dinosaurs and has plenty of room to hold more than a hundred more dinosaurs.
Dinosaur Bubble Gun
I firmly believe that bubbles are for all ages – and even for canines. We fill the air with bubbles and entice the dogs into popping them. They're even better if they issue from the mouth of a dino, no?
Dinosaur Tunic
It's hard to tell what my favorite thing about this tunic is: the print, the pockets, the variety of designs?
They're all my favorite! These span size 2T to 6T and don't think I'm not sad that it doesn't come in adult sizes too, because I am.
Dinosaur Baby Bath Toys
Once upon a time, I struggled to think of a good bath toy for my kiddos who had outgrown their simple infant toys. This set was the perfect answer for everyone.
Dinosaur Tee
This is labeled a boy's tee, but I think that's unfair to the girls who would equally enjoy sporting spines on their shoulders to emphasize their roars.
Dinosaur Backpack
All the color combinations of these toddler backpacks frankly remind me of King Koopa but perhaps therein lies the attraction? It's made of a waterproof neoprene for hard wearing and durability.
Dinosaur Phone Stand
This hefty silica gel stegosaurus comes in 17 different colors and happily holds up your phone or tablet with its face.
Dinosaur Stencils
A pack of 12 stencils, approximately 4" by 4", is a great way to help young artists add a hand-drawn dinosaur to their art. It works better if they are at least a little bit experienced with using pencils and holding down their papers firmly.
Dinosaur Pajamas
100% cotton and tag-free, these dinosaur pajamas come as a set with tee and bottoms. They come in three designs and colors.
Waterproof Wristwatch
This quartz watch has a scratch resistant metal case, is water resistant down to 30 meters, and is made of silicone that's safe for chewing on, if your watch wearer is still given to chewing on things like watches.
Sandwich Crust Cutter
If you're not a fan of bread crusts on your sandwiches or make cookies often, these cute cutters are positioned perfectly to transform the standard sandwich bread into an adorable dinosaur.
Taco Holder
Take taco night back in time with these triceratops taco holders – two hard taco shells fit per triceratops. This works well for Waffle Wednesday, too!
1 Inch T-Rex
Share your office space with a T-rex safely ensconced in a terrarium.
What's your favorite dinosaur gear to give or receive? Share with us in the comments!