Disclosure of Material Connection: Some of the links in this post may be "affiliate links." This means if you click on the link and purchase an item, I will receive an affiliate commission. Disclosure in accordance with the Federal Trade Commission's 16 CFR, Part 255. This site is a participant in the Amazon Services LLC Associates Program, an affiliate advertising program designed to provide a means for sites to earn advertising fees by advertising and linking to Amazon.
The first time I was introduced to the Firefly series, the entire family was crowded around to gauge my reaction. NO PRESSURE, GUYS.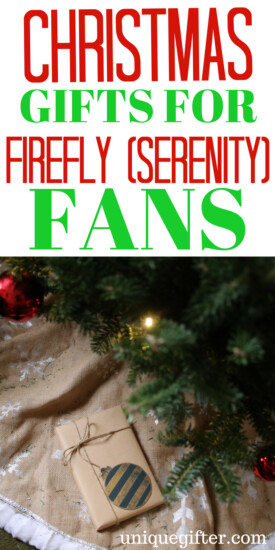 Luckily, I was so enthralled that by the end of the first episode, when Simon expresses doubt about the Captain's trustworthiness, I snorted and replied to him word for word as Captain Mal did two seconds later. I passed the test! Browncoats. For. Life. If they are anything like me, they'll love any of these Magical Christmas Gifts for Firefly (Serenity) Fans. 
Gifts For The Sci-Fi Buff In Your Life
They'll appreciate you for accepting the nerd you are. We also have sci-fi gifts and Sandman if they're interested. 
Firefly Complete Series: 15th Anniversary
Anniversary collections always include some delightful extras from the cast who loved this show as much as we did.
Serenity Movie
For brand new fans – their very own copy of the movie that put the series to bed. (We still want more, though.)
Firefly Key Chain
I have my very own Serenity attached to my keys.
Serenity Blueprint
A blueprint of the Serenity would be right up the alley of an engineering nerd.
Inevitable Betrayal Mug
For Wash fans! This is one of his most memorable lines. One year, a young fan brought the dinosaurs to Comic Con and asked Alan Tudyk to do the scene with him. It was the cutest.
Floral Bonnet Mug
For Captain Mal fans! One of his better comic moments, I think.
Browncoats Serenity Bag
This petite tablet bag fits a modest amount of stuff, so you might opt for the messenger bag if this is going to a Comic Con or the library.
Serenity Woodburned Fabric Lined Box
This is a a beautifully woodburned box that even a non-fan could admire. But give it to a fan, of course.
Serenity Christmas Ornament
Adorn your Christmas tree with its very own spaceship – the best ship in the 'verse!
Inara's Necklace
A lovely replica of Inara's necklace is a lovely accent for a cosplay or just a night out on the town.
You Can't Take The Sky From Me Keychain
If you can't have little fiddly bits on your keychain, this is a better
Kaylee Jumpsuit
If you know a Kaylee fan who loves cosplay, boy this is the gift for you (to give)!
I aim to Misbehave Tee
Start them young
Serenity Crew Infant Sensory Toy
While baby learns about shapes and tastes, they can also pick up the colors that represent the crew of the Serenity.
Sublimated Door Mat
There's nothing like welcoming guests to your home with an earworm of the show's theme song.
License Plate
In the absence of personal spacecraft, we'll have to settle for showing our love for the Firefly in subtler ways.
My Other Ride is a Firefly Decal
In our imaginations, anyway. Much like how my other other ride is a Transformer.
Serenity Coloring Book
Have we firmly established that coloring's not just for kids anymore? Because you definitely won't want to share this one with the kids.
Firefly Magnetic Poetry
How many quotes can be put together using these magnets? There are at least 500 pieces, at least one whole scene should be possible.
Serenity Valley Flask
Don't feel constrained to just give this to whiskey drinkers. Or even drinkers at all. It could hold lemonade for all we care – it's an awesome flask.
Go forth and make your Firefly fan's day with one or more of these neat gifts.