Disclosure of Material Connection: Some of the links in this post may be "affiliate links." This means if you click on the link and purchase an item, I will receive an affiliate commission. Disclosure in accordance with the Federal Trade Commission's 16 CFR, Part 255. This site is a participant in the Amazon Services LLC Associates Program, an affiliate advertising program designed to provide a means for sites to earn advertising fees by advertising and linking to Amazon.
One of the best places to hold a child's birthday party is the backyard, provided there is ample space and the weather permits. Here are some ideas for parents planning to hold a backyard birthday party.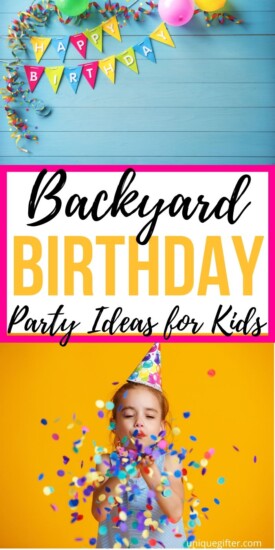 Mini Olympics or Mini Sports Day
Get sporty on the child's birthday. Plan a few small sporting events to get things going. Ask everyone to dress up in sportswear and appropriate footwear. Soccer, mini obstacle races and basketball shooting are great events to hold. If there are many guests, organize everyone into teams and start the match. Older guests can be judges or referees.
Mini Carnival
If there really is a huge backyard and money is not an issue, have a mini carnival in the backyard! If you want to make it a lavish affair, there are many party supply stores to choose from. In addition to party balloons, they will be able to put up a bounce or jumping castle; popcorn, cotton candy or slush machines; a hotdog stand and other games with prizes to win. A couple of clowns will be able to provide great entertainment too.
Other fun activities that can be included are face painting, basketball shooting and goal scoring. And oh, don't forget to set up a pretend ticket booth to spice up the carnival mood too. The tokens will be required to play games or buy food.
Stargazing Party
This will be a sleepover party in the backyard for older children, preferably during summer. Make it educational and fun. Of course, if you are no stargazer yourself, you'll need to give yourself a crash course first. The local library or Internet will be able to give you lots of information about space, the solar system, constellations and the universe. Keep things simple, though. Some trivia may appeal to the kids.
Since it will be held in the backyard overnight, make sure the guests bring their own sleeping bags and insect repellents. They should also have star maps and more importantly, telescope to gaze at the stars.
Water World
Turn the backyard into a water world. This is great on hot days in the summer. Don't worry if there isn't a swimming pool in the backyard. Garden hoses, sprinklers, buckets of water and water guns will be just as great. The kids can splash around and make a big watery mess in the backyard without a care! This option, however, will only work in places with no water restrictions.
Budget Adventure Playground
Younger children and toddlers will enjoy a little adventure playground in the backyard. A trampoline and some cardboard boxes will keep the kids occupied for a while. Get cardboard boxes of various sizes from the local grocer or supermarket. Color them to give them a lively look if you have time before the birthday party. Then get creative and arrange them in different ways to create a mini obstacle path or build skyscrapers with them.
There is a lot of fun potential in the backyard. So use it for children's birthday parties whenever possible. Hold a mini Olympics, small carnival, stargazing sleepover party or turn it into a water world or adventure playground. Whatever the choice is, the kids will have a blast!