Disclosure of Material Connection: Some of the links in this post may be "affiliate links." This means if you click on the link and purchase an item, I will receive an affiliate commission. Disclosure in accordance with the Federal Trade Commission's 16 CFR, Part 255. This site is a participant in the Amazon Services LLC Associates Program, an affiliate advertising program designed to provide a means for sites to earn advertising fees by advertising and linking to Amazon.
This movie was the peak of the early 2000s animated movies. It had it all- a mysterious fantasy world, an underdog main character, an enigmatic love interest, quirky supporting characters, and an unsuspecting villain. What more could you need? Though this movie may be forgotten by mainstream media, it still holds a special place in our hearts. Here are the best Atlantis Gift Ideas for those in your life who appreciate this unique film.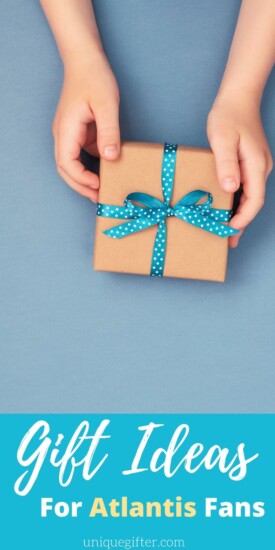 Terrific Atlantis Gift ideas
Check these presents out for inspiration! They are fabulous! 
"Welcome to the City of Atlantis" Throw Blanket
My favorite type of gifts are ones that are cute but serve a function. And this blanket fits that description to a t! Enjoy this while cuddled up to Disney+.
Kida Stud Earrings
Showcase your favorite forgotten Disney princess. A great addition to any outfit.
Atlantis Accessory Pins
Perfect for your pinboard or favorite jean jacket. The necklace pin glows in the dark!
Opalite Kida Crystal Necklace
This stunning necklace is the closest thing to a replica you can find! And who wouldn't want to be the princess of Atlantis?
Atlantis Minimalist Movie Poster
This is my favorite new trend, as the results are gorgeous. Great for any bedroom or screening room.
Kida Cosplay Dress
Comes in sizes XS to 2XL for all shapes and sizes. Perfect for Run Disney, going to the parks, or a cosplay.
Atlantis ID Badge
Pick from 20 different scenes and 15 colors! Or, if you're indecisive like me, pick the one in the example picture.
Kida Color Changing Mug
It appears black when cold, reveals the design when warm. "Welcome to the City of Atlantis!"
Magic Band Wrap Decal
Add a little flair to your plain Magicband! A great way to rep your favorite movie in the parks.
"Starbucks" Atlantis Patch
Comes in plain, iron-on, or velcro styles. Genuine Atlantean alphabet script spells out "Atlantean Coffee".
Kida Iphone Case
Keep your favorite heroine close by! I like this style because it is simple yet elegant.
Atlantis Keyholder
An easy way to add a bit of mystery and magic to your home. A great roommate gift as well!
Milo Cosplay Shirt
What an underrated heartthrob am I right? This and a pair of khakis is all you need to rock his look.
Heart of Atlantis Aluminum Bookmark
Stunning artwork to keep your place in the next adventure. The design is original and the bookmark is handmade! Support this small business from the comfort of your home.
Milo Car/Laptop Decal
Show some love for the man himself, Milo James Thatch. There is also a Kida available from the same store if you want a matching pair!
Custom Made Atlantis Shoes
Though this may be a splurge, it's something that will be used every day! The shoe can be personalized with whatever words or phrases, and the design can be done on the type of shoe you prefer.
Atlantis Doodle Kida Magnet
Great for the fridge, a locker, or even a cruise ship door! This adorable doodle has great reviews as well.
The Lost Empire Matching Shirts
Practically perfect for going to the parks! Milo and Kida are such #relationshipgoals.
Atlantis: The Lost Empire: The Illustrated Script
The reviews have only amazing things to say about this book! Take a behind the scenes look at the movie for yourself.
Kida Inspired Dog Bandana
Absolutely adorable! Who doesn't love a dog in a costume? I love all the little details on this.
Now that you've got your supplies, time for your next adventure! I hope these gift ideas give you some inspiration. Even though this movie is almost twenty years old, it still remains relevant today. I personally would not mind escaping to the city of Atlantis. Comment below and let us know which gift is your favorite!