Disclosure of Material Connection: Some of the links in this post may be "affiliate links." This means if you click on the link and purchase an item, I will receive an affiliate commission. Disclosure in accordance with the Federal Trade Commission's 16 CFR, Part 255. This site is a participant in the Amazon Services LLC Associates Program, an affiliate advertising program designed to provide a means for sites to earn advertising fees by advertising and linking to Amazon.
If you thought buying gifts for teenagers was difficult, wait until you try getting a gift for a teenage boy… Even when they're little, they are sometimes harder to buy for. With girls, you get all the cute girly stuff. With boys, it's slightly harder. On the other hand, though, they do like all the gross stuff such as farts and the like. Check out this list that we put together for gift ideas for your nearly fifteen-year-old.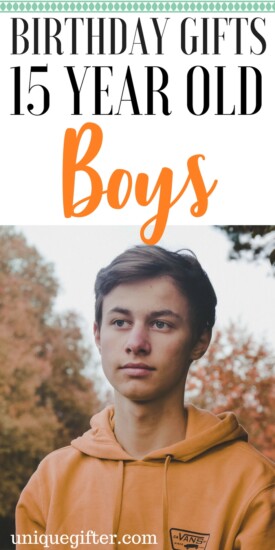 Birthday Gifts for 15 Year Old Boys
Bookmark this list for quick access cause' whoever said shopping was easy? You can check this one out for Christmas.
"I'd flex, but I like this shirt" Shirt
When he's proud of the muscles he's worked so hard to get, or likes flexing, then this is the perfect shirt for him.
Spiderman Notebook
For the fan of superheroes, Spiderman, or Avengers, this Spiderman notebook is awesome. It is unique and artistic, and the perfect place for him to draw or write to his heart's content.
"May the force be with you" Keychain
Star Wars is popular and if your nearly fifteen-year-old loves it, he will certainly love this "May the force be with you" keychain for his keys.
Shark Tail Blanket
They will stay toasty warm in their brand new shark tail blanket. We also have this list any shark lover would dig.
"I paused my game to be here" Shirt
For the gamer who doesn't pause his game for much, they need the perfect shirt to show their feelings about being away from their game.
Crave Box, 50 Pack
Boys eat a lot, we all know it. Keep it simple by getting your nearly fifteen-year-old a whole box of snacks for Christmas and they will be giddy with excitement.
RC Flying Ball
Who wouldn't love a flying and lighting up ball? It will give them hours of fun!
Light Up Basketball
A light up basketball is perfect for late night games, or just because.
"Guess what?" Chicken Butt Shirt
If he likes this particular joke, he will love this shirt.
"Stay wild" Wall Print
Boys are wild, they like tough man-things, which makes this "Stay wild" wall print perfect for them.
"Good morning swampbutt" Coffee Mug
A funny mug to drink their morning coffee from, if they drink coffee, or the occasional hot chocolate.
Lightning Bolt Skinny Tie Clip
For the fan of lightning, or Harry Potter, this lightning bolt skinny tie clip will make the perfect accessory.
"Gaming in progress" Sign
Another gift perfect for the gamer, he can warn others more easily!
Bluetooth Headphones Knit Cap
When it's cold, he needs a cap that keeps his head and ears warm, and also allows him to listen to his music at the same time.
Personalized Hand Stamped Dog Tag Necklace
THeir very own dog tag necklace with their name on it will soon become one of their favorite accessories.
"Best son ever" Shirt
If he's the best son ever, then he deserves this shirt for his birthday!
Sour Gummy Worms
Give him the gift of delicious sour gummy worms to eat for his birthday!
Magnetic Dartboard
He will enjoy throwing darts at his new magnetic dartboard for aiming practice!
Dislike Button with Hilarious Dislike Phrases
A fun dislike button for all his moodiness, and it even talks back!
Poo Emoji Backpack
Hilarious poo emoji backpack just for fun!
Now that you have somewhere to start while shopping for your nearly fifteen-year-old, go have fun with it!