Disclosure of Material Connection: Some of the links in this post may be "affiliate links." This means if you click on the link and purchase an item, I will receive an affiliate commission. Disclosure in accordance with the Federal Trade Commission's 16 CFR, Part 255. This site is a participant in the Amazon Services LLC Associates Program, an affiliate advertising program designed to provide a means for sites to earn advertising fees by advertising and linking to Amazon.
Happy birthday! Now what? Are you feeling like you don't know what to do on your birthday? Have no fear… Inspiration is here! It only comes once a year, and we've got plenty of ideas to celebrate as much or as little as you'd like.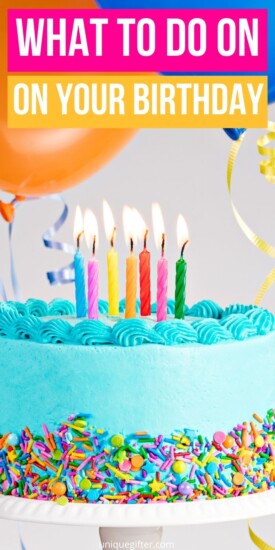 What to do on Your Birthday
The last thing you should be doing is trying to figure out what to do on your birthday. But, many of us end up stuck planning our own birthdays or birthday parties. It's just another part of being an adult, I guess. That's where fun ideas for things to do on your birthday like these ones come in handy!
But sometimes birthdays fall on workdays, holidays, or there are other reasons why they end up being rather uneventful days. That's why there's also plenty of simple adult birthday ideas on this list that you can do even if you're otherwise having a "regular" day.
Have a birthday dinner
This is something that can happen in a few different ways. If you have a group of friends or family members who'd love to celebrate with you, go out together to your favorite place to eat as an easy birthday party alternative.
If you happen to be alone (maybe you're traveling or are a loner), you can always treat yourself to a nice dinner out or order in. Finally, for those on a budget, just cooking your favorite meal at home is nice.
Indulge yourself
You might not be able to order a fancy drink from your favorite coffee shop every day, but your birthday is an exception. Indulge yourself in a treat that you otherwise don't get. Make sure you let the barista know it's your birthday – some places offer discounts or free upgrades. Others might put sprinkles on your drink. How fun!
Don't forget a slice of cake or birthday doughnut to go with that coffee.
Dress like it's your birthday
This is probably my favourite idea for what to do on your birthday. Even if you have to go to work (actually, especially if you do) dress up in a birthday-themed outfit. Wear a party hat all day. Find or buy a shirt that declares it's your birthday. Put balloons in your office. Anything to make it fun!
If you're close with coworkers or have a laid back workplace, you can also bring extra party hats for your coworkers to join in on the "party."
Buy a gift for yourself
It's your birthday. Treat yourself! If you don't normally get gifts for your birthday, why not get one for yourself? After all, you always know exactly what you want. Whatever your budget, pick something you've been wanting, that makes your life better, or is just plain fun!
If there isn't anything, you can think of off the top of your head, take yourself out shopping, and enjoy browsing for something for you.
Go see a friend
Whether they live 2 minutes or 2 hours away, a birthday is a great excuse to catch up with a close friend. If you're far away from your bestie, see if you can get together for your birthday at a fun vacation destination. Or maybe you can go visit them!
You can also invite a close friend to come to see you for your birthday so you can celebrate together.
Check out a show
There's always something playing. Whether it's a play, a concert, or something different (maybe a magic show?), pick something you'd enjoy as a fun birthday idea. Another unique and inexpensive idea is to look for indie or school performances. Often small groups would love a larger audience, and you never know, the show might be more entertaining than you think!
If all else fails, movie theatres are a great fall-back option.
Plan a birthday party
It seems like an obvious answer to "what to do on your birthday"; plan yourself a birthday party. If you take over the planning, you'll get to decide precisely how it goes down and who to invite. Sure, you have the extra pressure of planning and hosting, but you also get the birthday party that you want.
Plus, there are so many adult birthday party ideas out there to inspire you!
Do something crazy
Ever rented a food truck before? How about an impulse weekend away in a new city? Use your birthday as an excuse to do something out of the ordinary. Dye your hair, get a tattoo, sign up for ukulele lessons. It's your birthday, and the sky's the limit.
You can also lookup adrenaline activities in your area for a unique (and crazy) birthday activity idea.
Hire a personal chef
Why cook for yourself on your birthday when you can pay someone to do it for you? By hiring a personal chef, you can have someone come to your home and cook you a delicious birthday dinner. This would also be a nice birthday idea to enjoy with your partner; you could have the chef cook up a romantic dinner.
Make sure the chef you hire can (and has the tools to) make whatever special meal you choose for your birthday.
Pick out a great cake
On your birthday, the one thing you deserve is cake, if nothing else. Everyone has a favorite! Whether your taste is for the fancy ones at a local bakery, a Costco sheet cake, or something you make at home, one thing you must do on your birthday is eat cake.
If you're not inviting anyone to join you for birthday festivities, many places also sell cake by the slice. Pick up one or a few to sample and enjoy!
Roll out the red carpet
If you don't want to celebrate or party, then you're probably still stuck wondering what to do on your birthday. Well, you can still treat yourself to some pampering! This is best celebrated with a close friend, a partner, or even alone. Book yourself into a fancy hotel and enjoy a night of luxury. Or consider a spa day complete with massage.
Little touches on your birthday can have a big impact. If you're going and need a cab, get an Uber Black (or better) or even hiring a limo for the evening.
Invent a new cocktail or recipe
What starts as something to do on your birthday will become part of your legacy. Browse online for ideas and then pick up some fun ingredients to experiment with. Once you're created a concoction, you're happy with write down the recipe so you can make it again.
Don't forget to give your new creation a name!
Go to the library
Are you a bookworm or a bit of an introvert? Skip the birthday party and socializing, and instead opt for someplace quiet and solitude. Like the library! Spend the day or evening reading some new books or really take your time to explore some new authors nonfiction topics.
Check out all the books for a gift that keeps on giving.
Force your friends to do something you want to do
This is one of my personal favorite things to do on my birthday. Sometimes it's hard to get your friends into the things you like. Whether it's checking out a new venue, going to the restaurant you like, or inviting your friends over for a game night, your birthday is your day.
Take full advantage by using it as a way to convince your friends to do what you want to do.
Hire out your chores
No one wants to clean or do chores on their birthday. Or any day for that matter. As a birthday gift to yourself, hire someone to do some of your chores. You could pay someone to clean your house (or even book a regular cleaning service), hire a service to clean up your lawn, or get a handyman in to do those small repairs you've been putting off.
This one might not be terribly fun, but it will definitely make your life better.
Take the day off and enjoy it
Still don't know what to do on your birthday? How about nothing! Or everything! You get to choose if you take your birthday off of work. Use a vacation day or switch shifts with a coworker. The catch is you have to actually do something you want to do. Whether it's visiting a zoo or binge-watching that show you've been dying to see, make your birthday all about spending the day how you want it.
You can even try and cram as many fun activities that you love in as possible! The best part about this is you can enjoy it with company or alone.
Make a time capsule
You could either make a real one that you bury for someone in the future to dig up or make one for yourself to open on a future birthday. If you choose the latter, include a letter to yourself and some information about your life. Favourite show right now, best friends, romantic partners or crushes, problems at work, etc.
It will be interesting to look back in a few years and see how your life has changed.
Treat it like New Year's, version 2
I don't know about you, but I struggle with getting anything done on January 1st, let alone making and keeping resolutions. Your birthday is truly the beginning of a new year for you, so why not treat it similarly? Set some goals for yourself or look back at your accomplishments for the past year.
This is a great time to set goals for yourself or consider major life changes.
Bask in all the attention
Although most of us don't expect it, it sure is nice to get all those birthday well wishes. Whether it's from your coworkers or friends and family on Facebook, you're probably getting a lot of "happy birthday" s today. Don't fight it! Instead, just enjoy the attention. You only get this one day a year, after all.
You can also try and find some free birthday things to enjoy. Some places offer free drinks or treats, others free admission.
Try something new
Have you been dying to try out paintball? Or maybe skydiving is more your speed? Birthdays are a great excuse to explore some of those fun activities that we spend every other day saying, "I'd like to try that sometime." Sometimes is here! Gather some friends together and be ready to have some fun.
If you want to do something fun, ask them about party packages. Most of these venues cater to kids but they'll usually have something adult-friendly too.
Visit a museum
If you want something more low key, a day (or evening) at a museum is always a great thing to do on your birthday. Check out one you haven't been to. Small towns often have local museums to explore for relatively low admission costs. Or spend the day at one that you enjoyed as a kid but haven't been back to in a while.
Some museums, and even children's museums, have adult-only events that would make awesome birthday activities.
Have a do nothing day
Instead of trying to find out what to do on your birthday, it's about what not to do. The answer is anything! Don't get out of your pajamas and snuggle up on the couch while you watch TV or play video games. If you have someone who will bring you snacks, lucky you! If not, at least order in for birthday dinner. Don't forget the dessert! Since it's your birthday, you can enjoy relaxing guilt-free for a change.
This is a great birthday idea for busy adults who never get time to just do nothing.
Book a birthday photoshoot
Have you seen those adult birthday cake smash photo sets? Well, why not do one too! If you'd rather not, a birthday photoshoot might still be a fun idea. Get the family together or take romantic photos with your partner. Single? Get a photoshoot done with your friends instead! Or you can just get some pictures done of yourself for fun.
If you're not into the cake smash, another silly birthday photoshoot idea is taking "awkward family photos" with your pets.
Have you decided what to do on your birthday?
It's a tough decision, but you definitely don't need to pick just one thing off this list. Whatever you choose, though, at least do something you enjoy on your birthday. You're worth celebrating!