Disclosure of Material Connection: Some of the links in this post may be "affiliate links." This means if you click on the link and purchase an item, I will receive an affiliate commission. Disclosure in accordance with the Federal Trade Commission's 16 CFR, Part 255. This site is a participant in the Amazon Services LLC Associates Program, an affiliate advertising program designed to provide a means for sites to earn advertising fees by advertising and linking to Amazon.
Essential Books For Horror Fans
There aren't many things in this world as relaxing as curling up with a good book and just losing yourself in the pages but there are some people in this world that take a different route in their literary adventures. We all have the people in our lives that decide to be page-turners of a different breed. These are the people that choose to be awake all night with the pleasant anxiety that comes with being creeped out by their favorite authors and this list is for them.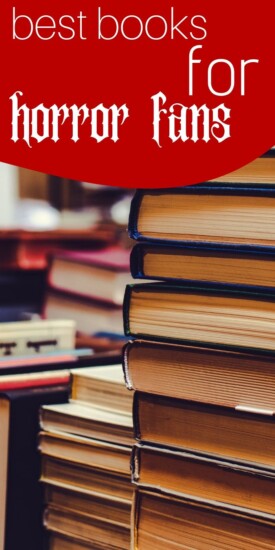 Horrifyingly Good Books
There is a neverending world out there when it comes to horror novels and considering there have been horror books written for hundreds of years, it's going to be tough to find the diamonds in the rough. Speaking personally as a horror reader myself, it's really hit or miss sometimes with horror books so finding the ones that are genuinely good reads is a fairly arduous task. We've taken all of that burden off of you and done the legwork to bring you the best of the best with these 40 essential books for horror fans!
Robert McCammon's Swan Song
I'm going to start this list out with the one I'm currently reading and have read many times in the past: Swan Song. I'm a big fan of post-apocalyptic novels and this one shows the terrifying reality of nuclear war and the devastating aftermath with a dash of unsettling supernatural presence.
Stephen King's It
No horror list is complete without Stephen King and this is one of his most famous novels of all time for good reason. Some of the situations in this novel are so unsettling, they're likely to stick inside your mind long after you've closed the book and walked away from the story.
Bram Stoker's Dracula
The novel that single-handedly created a vampire culture. It's an iconic novel that should be read by anyone who considers themselves a horror fan and contains some of the most harrowing scenes in a classic novel that you can come across. If the horror lover in your life hasn't read this one yet, they definitely need to!
Paul Tremblay's A Head Full Of Ghosts
Paul Tremblay really nails it with this novel. A fourteen-year-old with schizophrenia that descends into madness and gets diagnosed with demonic possession? Check. The nightmare of involuntarily becoming the new stars of a well-known reality series about the supernatural? Double-check. This one is sure to keep your favorite reader up for hours!
Bret Easton Ellis' American Psycho
Most people have seen the film based on the novel but if you're a fan of the film, you should definitely experience the book. Unsettling and slightly terrifying, climbing inside the mind of Patrick Bateman is the perfect mixture of insanity and capitalism. I couldn't put this book down once I started!
Max Brooks' World War Z
Nearly every fan of the horror genre daydreams about the zombie apocalypse and all the fun they could have in it but few really stop to think about the actual reality of the situation. Max Brooks brings things into a terrifying light and really makes you focus on just how awful things would be from a civilian and military standpoint.
David Wong's John Dies At The End
It's not often that an author manages to really pull off comedy and horror but David Wong manages to do it magnificently. John Dies At The End is full of witty and hilarious dialogue and situations but still manages to pull off insanely disconcerting scenes that are sure to make you squirm in your seat. A novel that everyone is sure to enjoy!
Clive Barker's The Great And Secret Show
The battle between good and evil. The oldest of premises for a book gets a fresh twist with this novel. I've personally read it dozens of times and love it every single time that I take this journey again. Clive Barker is a well-renowned author for a reason and this novel showcases that with gusto.
Anne Rice's Memnoch The Devil
Anne Rice is a very well known and well-respected author within the horror community and this is definitely one of her masterpieces. This book will turn everything you've thought about religion on its head when the protagonist gets a chance to have a conversation with the devil and learns that Heaven and Hell aren't all they've been shown to be.
Thomas Harris' The Silence Of The Lambs
Hannibal Lecter is one of the most iconic horror characters of all time and this novel truly showcases the horror of this human. With this book, you really get a double order of the truly insane as you get inside the head of two different serial killers. Buffalo Bill is absolutely unsettling and by the end of the novel, you find yourself wondering about the human mind and what people are really capable of.
Henry James' The Turn Of The Screw
Ever read a book that kept you anxious because you never really know what's going on within the pages? Even after reading this book, the question is open-ended on whether there's actually supernatural events going on with the two children or if the governess is just going whacko. Personally, I love books that keep you wondering and drive you a bit crazy in the process and I have no doubt that you know someone that does as well.
H.G. Bells' Sleep Over: An Oral History Of The Apocalypse
In the vein of Max Brooks, H.G. Bells presents multiple oral reports on the events of the apocalypse and really nails it. Presenting a pandemic that sweeps the world that causes sleeplessness within human beings, Bells paints a terrifying world without sleep and how quickly things descend into chaos when the world never rests.
Jack Finney's Invasion Of The Body Snatchers
Jack Finney wrote one of the earliest and scariest sci-fi novels with this one and it instantly became a classic among readers. Most people have seen the film but has the horror fan in your life read the novel? Presenting the truly unsettling situation of alien life forms slowly invading and taking over human hosts and integrating into society, the reality of subtle encroachment is absolutely horrifying.
Robert Bloch's Psycho
Another novel on the list that became a widely acclaimed horror film, the novel Psycho is an intense read. Following Norman Bates and his creepy behavior, things get weirder and weirder as you find out that not only is Bates a killer, he is absolutely out of touch with reality in a way that you'd never predict.
Zoje Stage's Baby Teeth
What happens when you're a new mother and your daughter is a bit….odd? This novel explores the world of a mother with a daughter that is absolutely obsessed with her father and really doesn't enjoy sharing him. A book that will keep you turning pages well after midnight, racked with anxiety and eager to find out what young Hanna is really capable of.
Richard Bachman's The Long Walk
Alright, it's a subtle way of sneaking another Stephen King novel onto this list but, in my defense, this novel is a killer! It starts out innocently enough: A contest that has young boys walk for as long as they can with the winner getting whatever they want. It doesn't take long reading this novel before you realize that things aren't that simple and the concept of this dystopian society is very terrifying.
Dean Koontz's Phantoms
An Abandoned town. Nearly 200 people dead and over another 300 missing. There is definitely something strange going on in the town of Snowfield, California and while the protagonists have a few theories in mind, by the time they find out what is actually going on, it's a bit too late and it's far more horrifying than they could have imagined.
M.R. Carey's Someone Like Me
When a divorced mother decides to fight back against her abusive ex-husband, things get interesting as you find out that she's actually two personalities in the same body. As she goes to her psych appointment, we get drawn further down the rabbit hole as we are introduced to a young lady who can actually see her other personality and it turns out the two women are more connected than they previously realized.
Koji Suzuki's Rings (The Ring Trilogy)
We're sure that everyone has at least heard of The Ring films but the novels are a completely different experience. The cursed videotape is present and just as deadly as ever but this novel leans more towards medical than supernatural, intertwining the smallpox virus within things as well. Definitely a wonderful introduction into Japanese horror!
Ira Levin's Rosemary's Baby
Rosemary's Baby is a horror classic and I highly doubt that any reader is going to dispute that. Why do Rosemary and her husband's new elderly neighbors have such an interest in them? There seems to be something wrong with her offspring and she's beginning to think that it's not of this world. This iconic tale of the devil's offspring is sure to keep any reader's nose in the book long after bedtime!
Josh Malerman's Bird Box
Again, I'm a huge fan of post-apocalyptic environments and the novels that tackle these settings so Bird Box is naturally going to be on this list. Malerman puts a unique twist on this classic literary scene with this novel, however: Anyone who even glimpses the creatures that cause the downfall of humankind becomes insane and is driven to deadly violence.
Joe Hill's Heart-Shaped Box
An aging death-metal rocker buys a suit for his creepy collection. Simple enough, right? Turns out that the suit is haunted by the previous owner and Judas Coyne starts seeing the elderly man around his mansion wielding a razor blade on a chain. A fresh take on the classic ghost scenario!
Thomas Tyron's The Other
Two twin thirteen-year-old boys? That's creepy enough as it is. Toss in the fact that one is a total sweetheart and the other becomes more and more of a sociopath as the book continues? Guaranteed to keep you reading and wondering if the father's death that brings the family together was truly an accident.
Ray Bradbury's Something Wicked This Way Comes
A true literary classic. Ray Bradbury's iconic novel about Cooger & Dark's Pandemonium show and its effect on a small town in Illinois should be enjoyed by anyone who considers themselves a fan of the genre if they haven't read it by now!
H.P. Lovecraft's The Complete Fiction Of H.P. Lovecraft
The grandfather of horror. H.P. Lovecraft himself. This author has likely inspired more nightmares than every other horror author combined and if the horror fan in your life hasn't read anything by him, there's really no time like the present. This book has everything by the master of terror.
Edgar Allen Poe's Complete Tales And Poems
You really can't create a horror list without including Poe, right? This book contains the entirety of his work and if you have someone in your life that is younger and hasn't experienced the joy (or lack thereof) of his works, it's about time that they do.
Jack Ketchum's The Girl Next Door
Child abuse is a horrifying subject in the first place. This story truly shows the depravity that human beings find themselves capable of. Based on a true story, this book follows Ruth as she takes in (and mercilessly abuses) her two nieces after their parents' death in a car accident.
Jeremy C. Shipp's Bedfellow
This is one of those books that you really have to read to understand exactly what it's about. One of those books that are so hard to put into words just how odd and captivating it truly is. A book featuring a mind invading creature with a shifting face that doesn't truly have a name, it's Bizzaro horror at its finest.
Robert Louis Stevenson's The Strange Case Of Dr. Jekyll And Mr. Hyde
In this age of gore and extremely shocking horror, maybe this classic is a bit tame but it's still an outstanding horror read. Tackling the subject of multiple personalities, Stevenson really shows the duality of man, the atrocities that people are capable of and questions sanity in general.
Jason Hrivnak's Mutilation Song
Having a demon as a narrator is an original concept. Having a demon that's actually a voice that a character is hearing inside of their head as a narrator? That's a game-changer. I didn't even have to get halfway through the description to want to read this one and neither should the horror fan in your life.
Alma Katsu's The Hunger
Everyone is familiar with the Donner Party, right? How about a supernatural twist on the historical events? This book follows the events of depleted rations and the grim reality of cannibalism and intertwines an unnatural presence with history.
Guillermo Del Toro's The Strain
Humans versus vampires. It's an age-old tale and Del Toro manages to put a fresh and modern twist on it with his trilogy. In book one, we're introduced to the beginning of the vampiric pandemic and the horrors that follow.
Richard Matheson's Hell House
I'm not going to sit here and pretend like there's anything new about the haunted house premise when it comes to horror novels but I'm also not going to sit here and pretend that Matheson didn't write the best one of all. Horror buffs are sure to have their eyes glued to the book as they find out along with the group of men staying in the mansion why it has the nickname "Hell House".
Peter Straub's Ghost Story
Four elderly men get together and tell each other some stories. It sounds like a simple and enjoyable read. What happens when one of the stories is true and it comes back to haunt them? This book gets more complex and compelling with every page that you turn.
Ellen Datlow's The Best Of The Best Horror Of The Year
The title is fairly self-explanatory. Ellen Datlow has been entrenched in the horror genre for over 30 years and definitely knows her stuff. She's been releasing compilations of the best horror books for years and this amazing book is a compilation of the last decade of these. It is truly the best of the best!
Octavia E. Butler's Fledgling
This is one of the most unique concepts for a book that I've ever come across and I've been reading horror since I was a child. Fledgling tackles the story of a young girl with amnesia with unsettling needs and odd abilities and the story really takes a turn into left field when the twist in the story comes: She's actually a 53-year-old genetically altered vampire.
Neil Gaiman's Coraline
I'm aware that this is a children's novel but it's absolutely one of the creepiest children's novels that have been written and should be read by adults also. You really can't call a book where a matronly creature that wants you to take out your eyeballs and sew buttons in their place a fun and childish romp!
Tom Piccirilli's A Choir Of Ill Children
Another entry on this list that you can only truly understand after you've read it. There's no real plot here and the only way that I can describe it is telling you that it's a tale about ghosts that haunt Thomas and his family. It's a tale about loss, curses, and deformities. It's a book about horror.
Jay Anson's The Amityville Horror
This is definitely one of the most iconic horror tales of all time. The tale of a household possessed by demonic entities that has been the scene of multiple murders, including parricide. Nearly every family that moves into the house is accosted by strange and violent events. The most terrifying part of the story? It's based on real events.
Victor Lavalle's The Changeling
This story has been heralded as a modern-day Grimm fairy tale type of book and it's definitely worth a read or two for sure. A man chasing his wife and daughter that have vanished, Apollo finds himself chasing them to a place that he would have never thought possible in his wildest dreams. A wild adventure for any horror fan!
Thomas Liggoti's The Conspiracy Against The Human Race: A Contrivance Of Horror
I'm going to end this list with the most terrifying thing that you can imagine when it comes to horror: Humankind and nonfiction. Liggoti focuses on philosophy, literature, and neuroscience and wrestles the reader into a mindset that tells them that they are living a meaningless nightmare. Liggoti makes us realize that the scariest monsters are the ones that live inside of ourselves.
It's been a long and horrifying journey but we've reached the end of the literary road! I'm sure that I've brought more than one great gift to the table with this list and if you're a horror reader yourself, you should pick up a couple of these books. There isn't a single one on here that isn't a fantastic read! Have you read any of these before? Did you love them? Let us know on Twitter (@ugifter) or Instagram (@uniquegifter) and thanks for checking out 40 Essential Books For Horror Fans!