Disclosure of Material Connection: Some of the links in this post may be "affiliate links." This means if you click on the link and purchase an item, I will receive an affiliate commission. Disclosure in accordance with the Federal Trade Commission's 16 CFR, Part 255. This site is a participant in the Amazon Services LLC Associates Program, an affiliate advertising program designed to provide a means for sites to earn advertising fees by advertising and linking to Amazon.
Pineapples are both a delicious fruit and a trendy gift idea. If you're looking for something to give that's bright, cheery, and standing tall, these pineapple themed gifts have you covered. Unlike the tropical fruit they're inspired by, though, these pineapples won't go bad (or out of style).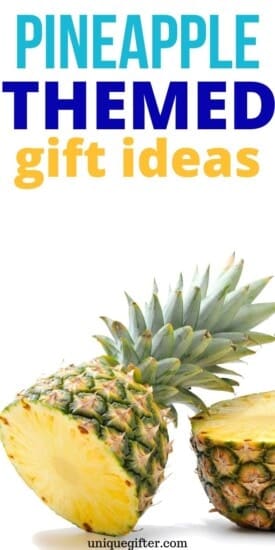 Pineapple Themed Gifts
These adorable gift ideas are perfect for someone who loves pineapples. After all, pineapples are the third most popular fruit in the world! But in this case, pineapples aren't just a fruit, they're a trendy design that looks great on all sorts of cool gifts.
Pineapple Measuring Cup Set
This deceptive pineapple is actually a stacked set of four measuring cups. If you're looking for a gift idea for someone who likes to bake, this will look great in their kitchen while still keeping measuring cups handy.
Minimalist Pineapple Necklace
The simple design of this necklace is still unmistakably a pineapple, but it will look fashionable with any outfit. Who knew pineapples looked so good gold!
Adult Coloring Book
It's important to practice mindfulness and adult coloring books are a great way to relax. This one encourages you to be a pineapple. Just stand tall, wear a crown, and be sweet on the inside!
Pineapple Wooden Door Stopper
If you (or someone you know) has been using an actual pineapple as a door stopper, now is the time to stop. This door stopper helps keep doors open without risking any squashed fruit! Or, it could just be a practical gift idea for someone who enjoys pineapples.
Pineapple Pens
If you have to write something it should be done in style. Not only are these pineapple pens pretty shades of rose gold, silver, and gold, they also come with some extra ink refills.
Pineapple String Lights
Get your backyard summer-ready with these adorable pineapple lights! Or give them to a teenager who wants to brighten up their bedroom or dorm room.
Welcome to Our Home Doormat
I love personalized products as gift ideas. Give everyone who comes to the door a warm sunny welcome with this pineapple mat. Don't forget to add the family's name!
Pineapple Peeler
Pineapples aren't just for looking at! If you want a gift idea for someone who enjoys eating pineapples, a dedicated peeler is a must. It will save so much time and effort in the kitchen!
Be a Pineapple Word Art
Inspiration comes in all shapes and sizes. Even tropical fruit! When it doubt, be a pineapple.
Pencil Holder
Another idea for practical pineapple themed gifts. This pencil holder will be pretty on a desk and can hold all their important writing utensils. It would also make a great teacher's gift idea!
Pineapple Shirt
Nothing tells the world "I'm into pineapples" like a pineapple shirt. This one has a simple design and great shirt color options. Wear it everywhere you go!
Cutting Board
There is no better surface out there to cut up a pineapple on than this pineapple-shaped cutting board. Plus it will look nice just sitting on the kitchen counter between uses!
Pineapple Lip Scrub
If they like the smell of pineapple they'll love receiving this pineapple lip scrub as a gift. Since it's an edible lip scrub your gift recipient can use it to scrub their lips clean and then lick off the excess. Easy!
Squishable Pineapple
It's so cute and squishy! Pineapples aren't supposed to be this soft and fluffy but we'll make an exception for this adorable pineapple themed gift idea.
Pineapple Socks
They're stylish. They're yellow and green. They're pineapple socks! And they'll keep your feet warm and cozy all day long.
Gratitude Journal
Features of this gratitude journal include the ability to rate your day in pineapples, inspiration quotes, and guided sections. Oh, and it's undated, making it great to give as a gift all year long.
Pineapple Phone Case
If you have to put a case on your phone it should be stylish. This pineapple inspired phone case, with its pink and marble background and glittery pineapple design, is the trendy gift you didn't know you needed.
Brass Pineapple Door Knocker
You'll be the envy of the neighborhood with this brass door knocker on your front door. It brings back an old fashioned product (door knockers), but with a trendy and modern twist. After all, you never know who might come knocking!
Pineapple Preserve
Yummy! This pineapple preserve is just what someone needs to make their breakfast routine more awesome. Try it on toast, bagels, or scones!
Heartbeat Shirt
What beats in their heart? If it's pineapples, this shirt will be a welcomed gift idea. The little slices on each side are an adorable design touch!
Custom Face Pineapple Swimsuit
Some gifts just keep on giving. Will you choose your face? Theirs? A mutual friend? The cat's? No matter what you choose from the limitless options, the final result is definitely going to be a hilarious gift idea. Maybe get one with your spouse's face and surprise them on your honeymoon?
Welcome Pineapple Metal Art
What warmer welcome can you extend than with a tropical fruit? You can customize the size and color making this a more personalized (and thoughtful) gift idea for someone who loves pineapples.
Handmade Ceramic Planter
It's handmade and therefore one of a kind! Add a succulent to this ceramic planter for a lovely gift idea.
Pineapple Shirt
This would be a perfect gift idea for someone embarking on a tropical vacation. Or just give it to someone who likes hawaiian shirts.
Soap Dispenser
This is super cute on its own or you could make up a whole bathroom gift basket. Wrap it up with a liquid hand soap refill (preferably tropical scented) and a coordinating hand towel.
Pineapple Baby Shoes
Babies don't actually need to wear real shoes when they're small, but soft soled ones like these make super cute accessories. Plus they're designed to stay on baby's feet – no more missing booties!
Cookie Cutter Set
You could either gift them this pineapple cookie cutter and stamp set or make some super cute pineapple cookies as a gift idea. Either way, this pineapple themed set will lead to tasty treats!
Willow Tree Statue
This series of statues are made for giving. This one symbolizes "gracious" with the figure holding the pineapple as a welcoming symbol. It would make a nice housewarming gift.
Pineapple Bracelet
It's all about the accessories! Pineapple themed jewelry makes great gifts. Especially for someone heading off to a tropical vacation or destination wedding.
Pineapple Drink Cozy
Make sure you have one of these in your suitcase as you head to your favorite tropical resort. Thanks to this can cozy your hand will stay dry, your drink will stay cold, and everyone at the beach or pool will know you like pineapples.
Collapsible Organizer
You might be able to keep your pineapples in here but it would probably be a more practical gift idea for someone who wants to add some pineapple inspired accents to their home. Or give it as a baby gift for the nursery!
Pineapple Paper Clip
You probably wouldn't use this pineapple themed paperclip on just anything but it does make a great gift idea. It could be used as a page marker for a planner or just a cute home office accessory.
Pineapple Drink Glasses
These pineapple drink glasses would be an awesome gift idea for someone who has a tiki themed bar in their home. Pair with a bottle of their favourite beverage to enjoy inside.
Wooden Pineapple Sign
This rustic sign comes pre-stenciled with a pineapple. Gift it just like that or add some hooks for a personalized touch.
Pineapple Bandages
These would be a fun gift on their own or as part of a DIY first aid or emergency kit. Especially if your gift recipient is planning a tropical getaway or there's kids around.
Welcome Door Decal
This pineapple inspired door decal would look welcoming and cheerful on a brightly painted door! And what better way to let all the pineapple lovers in the neighborhood know they're welcome at your place?
Potted Succulent
If you're looking for pineapple themed gifts for someone who isn't great at keeping plants alive, choose this. The pineapple pot comes in your choice of bright colors and the plastic succulent will outlive us all.
Pineapple Swimsuit
The cute ruffle top matches these pineapple themed bikini bottoms perfectly. Give this swimsuit as a gift or treat yourself before summer or a vacation.
Pineapple Whip Melts
If you, or your gift recipient, have one of those wax warmers in your home then scented melts are a welcomed gift idea. This one comes in a pineapple scent that's reminiscent of Dole whip on a hot summer day.
Leather Pineapple Bag
This cute bag would be adorable with any outfit! Or gift it to someone who's going on vacation to keep their wallet, keys, passport, etc. inside throughout their travels.
Pineapple Colander
Just give up and buy pineapple everything! These colanders, which have pineapple shapes for the drain holes, make cooking a little more fun.
Opal Earrings
A high-end pineapple themed gift idea for someone special. The pineapple shapes are made from opals and the tops are 14k gold! Perfect for wearing every day or a night on the town.
Pineapple Cookbook
If they enjoy the taste of pineapple makes their life even better with all kinds of pineapple themed recipes. This cookbook will help inspire new ways to enjoy this tasty tropical fruit.
Reusable Cleaning Wipes
Ecofriendly can be cute and fun! These little reusable wipes are perfectly sized for removing makeup. Then just toss them in the wash to use again and again!
Pineapple Wine Stopper
Eventually, the party has to come to an end. If that end happens to be in the middle of a bottle of wine then you'll need to have a wine stopper on hand to keep it fresh. Gift this alongside a favorite bottle of wine for a cute pineapple themed gift idea.
Pineapple Print Bedding
Help someone take their love of pineapple to the next level. This bedding's colors and pineapple print will brighten up their room. And for a little bit of inspiration in the morning, it also says "peace, love, pineapples" between the pineapples.
Skinny Pineapple Tie
Skinny ties look great, especially when dressing more casually like on vacation. Or give it to your spouse to be to wear to your destination wedding!
Stainless Steel Tumbler
You can never have too many travel mugs around the house. Not only are they great for their morning coffee, but they're also practical for keeping cold drinks cool in warm weather. Give this pineapple inspired tumblr on its own or with a drink-related gift card tucked inside.
Pineapple Watch
What time is it? Party time! No wait, it's pineapple time! Well, whatever time it is they'll know if you gift this pretty pineapple themed watch.
Pineapple Printed Wallpaper
Wall to wall pineapples! This wallpaper can add a pop to an accent wall or make an entire room amazing. The best part? It's peel and sticks so there's no gluing required.
Pineapple: A Global History
Did you know pineapple cultivation was introduced to Europeans in the 17th century? Well, you would if you read this book! It covers the global history of this seductive tropical fruit.
Pineapple Shaped Condiment Dishes
A unique pineapple inspired gift idea for hostesses or a housewarming party. Small dishes like these can be used in all kinds of imaginative ways so they're a practical gift idea. What's better, they come tied in jute twine with a linen 'welcome' tag.
Cast Iron Welcome Sign
If you want a pineapple themed gift that can withstand everything the outdoors throws at it, this is it. Made from iron, this sign welcomes the neighborhood while showing off some pineapple loving spirit all year 'round.
Whether they're avid fruit eaters or just like the trend, there are pineapple themed gifts for everyone on your list. Consider them as an idea for someone heading on a tropical vacation, or 'just because' for pineapple loving friends and loved ones. And don't forget to be sweet and stand tall just like a pineapple!