Family gift exchanges are an inevitable part of the holidays. Whether you love or loathe family get togethers, you still need a gift to make everyone look bad show your family how much you care. These family gift exchange ideas will knock their socks off and keep them talking about your awesome gift all year long.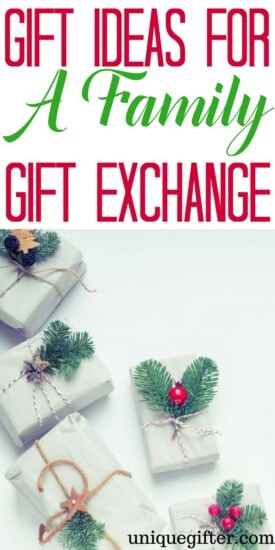 What Do You Buy for a Family Gift Exchange?
I've been to way too many family gift exchanges to know that the best gifts are the ones that can be enjoyed by a variety of people. These gifts are great for a family gift exchange where you don't know the relatives you're shopping for that well, are playing some gift exchange game like pass the parcel, or are looking for something to give to an entire family rather than individuals.
Hopefully what you get back back out of this family gift exchange is equally as exciting as everything on this list. At the very least you're going to be the life of the party thanks to these gift ideas for a family gift exchange!