Disclosure of Material Connection: Some of the links in this post may be "affiliate links." This means if you click on the link and purchase an item, I will receive an affiliate commission. Disclosure in accordance with the Federal Trade Commission's 16 CFR, Part 255. This site is a participant in the Amazon Services LLC Associates Program, an affiliate advertising program designed to provide a means for sites to earn advertising fees by advertising and linking to Amazon.
As Mother's Day approaches, you might be at a loss what to get your grandma for Mother's Day. Shopping for her does not have to be hard. That's why these handy lists exist. Show your grandma love for helping you come into the world with one of these meaningful and beautiful gifts!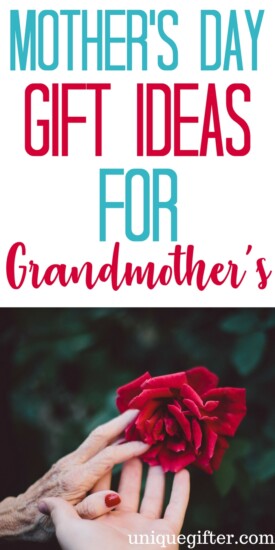 Mother's Day Gifts for Grandmothers
"My favorite people call me grandma" Shirt
Cliche, maybe, but very true. Her favorite people are the ones who call her grandma!
"Glam-ma" Glittery Wine Glass
Every grandma needs a glittery wine glass to drink her wine from, right?
Set of 2 Personalized Etched Casserole Dishes
If your grandma loves to cook, and especially if she has signature dishes, she needs these personalized etched casserole dishes to cook and serve her casseroles and desserts.
"Gram's Book" Owl Bookmark
Help grandma keep her place in her favorite books with this adorable and personalized owl bookmark to mark her spot.
Flowers & Gardening Cookies
When grandma loves to garden, she will also love these tasty flowers and gardening cookies for Mother's Day.
"Just promoted to grandma" Shirt
For the new grandma, she needs a shirt to show off that promotion!
"World's Best Grandma" Coffee Mug
Simple, but so meaningful at the same time. She will smile so big when she sees her "World's best grandma" coffee mug.
"No one could fill your shoes" Shoe Keychain
Let's face it, no one could possibly take her place!
"Grandkids make life grand" Picture Frame
Her grandkids make her life so much better, more exciting, and more full of love. Place a memorable picture in the frame and give it to her for Mother's Day this year.
"Grandma" Necklace with Birthstones on a Tree
Every one of her grandkids are cherished, and placing their birthstones on this tree necklace is the perfect way to keep them close to her heart.
"Grandma is my name, spoiling is my game" Shirt
Grandma loves spoiling her grandchildren, no doubt about it!
Heart Infinity Necklace
Show that you love your grandma forever with this beautiful heart infinity necklace for Mother's Day.
"Greatma" Socks
Grandma is great, so her socks should reflect that about her!
Family Tree Floating Charm with Birthstones Necklace
A little bit of a spin on the other necklace above, this family tree necklace is unique in that the birthstones float within the necklace. No one will be able to keep their eyes off of this necklace.
"I love you to the moon and back" Heart Shaped LED Figurine
If "I love you to the moon and back" is your grandma's favorite way to say I love you, she needs this heart shaped LED figurine with that quote on it.
"I'm lucky to call you grandma" Picture Frame
You are lucky to be able to call her grandma. It is such an honor. Give her the gift of this picture frame and put a beautiful picture of the two of you inside.
Floral Infinity Scarf
She needs this floral infinity scarf to keep her neck warm, and to make a fashion statement!
"It's going to be OKAY, GLAMMY is here" Tote Bag
Everything is better when grandma is there, especially if she brings some goodies in her new tote bag.
"Much loved grandma" Keychain with Birthstones
You love your grandma beyond measure, show her with a keychain with you and your siblings (and possibly cousin's) birthstones on it!
Wonder Woman DVD
Since grandma is wonder woman, she needs the Wonder Woman movie to watch. Maybe pair the DVD with some popcorn, wine, and whatever else she needs to be able to make watching the movie a super fun event.
Mother's Day is a huge deal to the mothers in your life, and that includes your grandma! Make sure you get her something nice that shows how much you love and appreciate all she has done for you!