Disclosure of Material Connection: Some of the links in this post may be "affiliate links." This means if you click on the link and purchase an item, I will receive an affiliate commission. Disclosure in accordance with the Federal Trade Commission's 16 CFR, Part 255. This site is a participant in the Amazon Services LLC Associates Program, an affiliate advertising program designed to provide a means for sites to earn advertising fees by advertising and linking to Amazon.
Do you have a chess lover in your life? These chess gift ideas will put them in check and might even be good enough to capture their hearts. At the very least they'll delight an avid chess player during those times when they're not working on their winning strategy.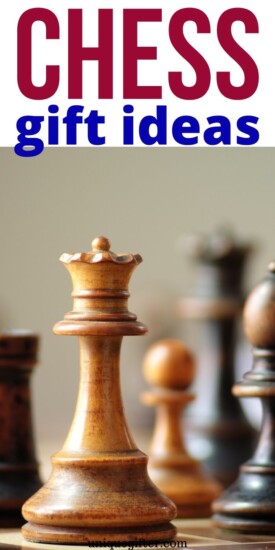 Chess Gift Ideas
Whether you're shopping for a king, queen, or any other chess piece (loved one), there's something here for every chess fanatic! And your shopping will be as easy as capturing a lone pawn with your queen.
Chess Themed Socks
They might just become a chess player's new good luck socks! At the very least these chess-themed dress socks will add a little excitement to their wardrobe.
Willing to Discuss Chess Mug
Sometimes we have to be honest. It's nice when a coffee mug can do all the talking! Yep, "introverted but willing to talk about chess" pretty much sums it up.
Chess Piece Bookends
They can use them as decorative pieces or to keep all their chess-themed books standing tall. Either way, this rook and knight combo will look stylish in anyone's home making it a great gift idea for chess fans.
Chess Book
If they need some books to put between those bookends start with something like this. It has some techniques for improving their chess game!
Big and Little Chess Shirts
Are you looking for a baby gift idea for chess lovers? With this set the onesie has a pawn on it and the adult shirt features a king chess piece.
Chess Earrings
Give these as a gift for someone who loves chess, but also likes to look nice. They're cute enough to wear every day but also look nice enough to wear out.
Solitaire Chess
Sometimes there's just no one to play with. Help a chess player play with their only true adversary: themselves. This set has 80 solo chess challenges to hone their skills.
Chess Chalkboard Style Sign
This would make a fun housewarming gift idea! "Live like a chess game, you won't waste a movie" is written on this chalkboard-style print. Add it to a frame for a unique chess gift.
Portable Chess Set
For playing chess on the go! The board folds for storage with the pieces inside. Plus, the pieces are magnetic so they won't fall if you need to move the game or are playing in the car.
Chess Piece Tie
The simple chess piece inspired print on this tie makes it classy enough to wear to the office or a night out. It would be a great gift idea for a dad or husband who loves to play chess!
Chess Egg Cup
I mean, what else could possibly hold an egg as well as a rook? Practical ideas like this one make great chess gift ideas for all ages.
A History of Chess
If they're not already familiar with the history of chess this book is a must give! This is one of the most in-depth chess history books out there.
Chessboard Inspired Table Cloth
Not even the table is safe when it comes to chess fans! The next step is playing with the dishes and condiments at dinnertime.
Retro Chess Timer
There's something so satisfying about hitting these retro chess turn timers that you just can't get with the digital versions. If the chess fan in your life doesn't already have one, consider an old school chess timer as part of your chess gift ideas.
Chess Fridge Magnet Set
This would be a fun gift idea for a spouse or roommate! Keep a game of chess going for when you enter the fridge, or just use the magnets to hang up important information.
Chess Board Art Print
This print is cool because not only does it look like a chessboard, it also has the coordinates for each square inside. Since you can print this one at home it would make a handy last-minute chess inspired gift idea.
Giant Chess Game
A fun gift idea for kids or anyone who wants to play a giant twist on the classic game. The board is a mat that you could use as a decor piece on its own too.
Queen Shirt
Well, it's true. The queen does go wherever she wants in chess. Give this shirt as a gift to a queen or anyone with a sense of humor.
Endgame: Bobby Fischer's Remarkable Rise and Fall
You might not have heard of Bobby Fischer but the chess fan in your life likely has. He was a chess champion at 13 but descended into what might be described as madness in his later years.
Hand Carved Chess Set
If you really want to checkmate with chess gift ideas, consider something extravagant like this present. It's a hand-carved designer chess set! It might be a bit pricey but this set is absolutely gorgeous.
Personally, I love to play chess, but I'm not very good at it. These chess gift ideas could easily be enjoyed by a casual player like me or someone who was a more devoted chess fan. Either way, you can probably cross a few people off your shopping list with some chess themed presents.