Disclosure of Material Connection: Some of the links in this post may be "affiliate links." This means if you click on the link and purchase an item, I will receive an affiliate commission. Disclosure in accordance with the Federal Trade Commission's 16 CFR, Part 255. This site is a participant in the Amazon Services LLC Associates Program, an affiliate advertising program designed to provide a means for sites to earn advertising fees by advertising and linking to Amazon.
Whether you are dropping your child off in their room at boarding school or college, or if they are getting their own place, getting a room drop gift is a great idea. It gives them something new or useable to make the new space homier. Check out these awesome room drop gift ideas.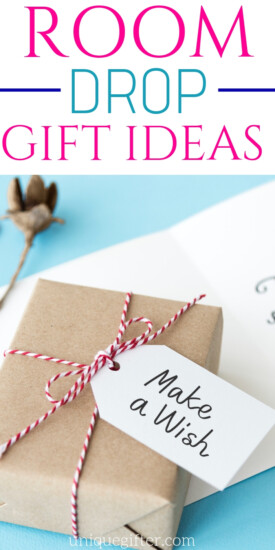 20 Creative Best Gift Ideas for Room Drop
These are helpful and creative gift ideas that anyone would love!
Cool Mist Humidifier
Help them keep the air moisturized and healthier with a cool-mist humidifier.
Complete First Aid Kit
They will always need a first aid kit to have on hand for when emergencies or injuries happen.
Lemon Sage Aromatherapy Room Spray
The lemon sage aromatherapy room spray will keep their space smelling so good, especially if there are some sources of smelly things, like dirty dishes and laundry!
Monogrammed Sherpa Throw
If they are in a space with a lot of other students, they definitely need a monogrammed sherpa throw so that it's obvious it's theirs and no one else's.
Hanging Mesh Shoe Organizer
They can hang this on the door and put things in it, whether that be shoes, clothes, accessories, or other things.
Magnetic Bulletin Board
Having a magnetic bulletin board in their new room will provide a great place for leaving notes for roommates, notes for themselves, keeping up with their day-to-day routines, and more.
Photo Pillow Cover
Help them personalize their bedding with a photo pillow cover!
Personalized Tumbler
With a personalized tumbler, they have a better chance of staying hydrated as they go about their responsibilities.
Custom Mermaid Tail Blanket
They can keep warm in style with their custom mermaid tail blanket to lounge around in.
Raw Honey Face Scrub
With a raw honey face scrub, they can keep their face feeling fresh and clean, even when they are feeling stressed and oily.
Linen Room Spray
There are different scents to choose from, so choose the scent you think they will enjoy the most. They can keep their linens smelling pretty all year long.
Chulux Single Serve Coffee Machine
Coffee is life! This single serve coffee machine is great for a dorm room or small apartment!
Green Eucalyptus Bush
The green eucalyptus bush is fake, so no need to keep it alive, and it will bring some green to their room.
"Be brave, be strong, be kind" Wall Prints
These wall prints are a great way to keep reminding them to be brave, strong, and kind as they navigate their new world.
Customized Throw Pillow Cover
Another great way for them to personalize their bed or other furniture!
Bricks Handmade Flatwoven Modern Kilim Rug
Sometimes the floor is grimy or cold, and they need a great rug to keep it cozy and cleaner.
"Live laugh love" Light Up Box
The "live laugh love" light up box can bring light to their room when it's dark and represents some good ideas to live by too.
The Ear Buddy Premium Soft Foam Ear Plugs
Sometimes their new surroundings may be noisy, and earplugs will be necessary to sleep or get homework done.
Lap Desk
Toasters are small and great for small spaces, and this way they can make more food for themselves and save a little money.
Red Toaster
Lap desks are awesome for writing or typing in bed when they can't find a better place to get their homework done.
Room drop gifts are a great way to give encouragement and help your kid or friend adjust to a new life more smoothly.