Disclosure of Material Connection: Some of the links in this post may be "affiliate links." This means if you click on the link and purchase an item, I will receive an affiliate commission. Disclosure in accordance with the Federal Trade Commission's 16 CFR, Part 255. This site is a participant in the Amazon Services LLC Associates Program, an affiliate advertising program designed to provide a means for sites to earn advertising fees by advertising and linking to Amazon.
Your little one made it to first grade! Thankfully they're still little enough to really enjoy Valentine's Day and their classmates will be delighted receiving one of these Valentine's Day gifts. Looking for a different age? You can find cool Valentine's Day gifts for other grades by clicking here.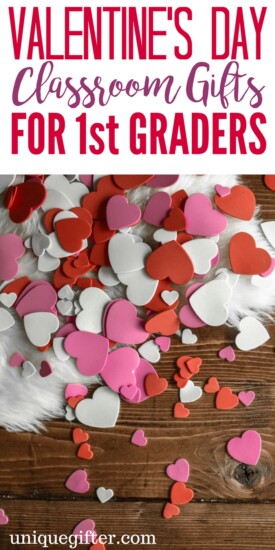 Valentine's Day Classroom Gifts for 1st Grade Students
Flying Cards
If you're wanting to stay a bit more traditional for Valentine's Day getting something that's a card, but not a card, is a great compromise. They can fold it into a paper airplane so it's more than a piece of paper that will get lost.
Gift Packs
These packs have a bunch of goodies that a 1st grader would love to get for Valentine's Day so you don't need to worry about assembling goodie bags.
Craft Kit
Stray from the toys and candy and instead opt for a craft kit to give to a 1st grade classroom. This kit has multiple crafts instead so you can hand them out.
Heart Stickers
I have yet to meet a 1st grade student who doesn't revel in the opportunity to apply stickers to every available surface.
Etsy Printables
Etsy is full of Valentine's Day treat ideas, like this one. You just print at home and add your own toys and goodies for a picture-perfect gift.
Lips Whistle
Kiss kiss! These whistles might win the award of most irritating toy on this list, but they are also most fun toy for first grade kids who love being loud.
Magnetic Bookmark
1st grade students are starting to read more complicated books. Help kick start their chapter book reading with a cute bookmark for Valentine's Day.
Pencils and Stickers
These pencils and stickers have cute robots on them for a less frilly Valentine's Day classroom gift idea.
Pencil Topper Eraser
They're going to be spending a lot of time writing so why not dress up their pencils with these cute heart shape pencil toppers. Even better, they're erasers!
Airplanes
1st grade students love throwing things so at least give them something appropriate.
Stuffed Toy Keychains
Even if they don't have their own keys yet 1st grade students can attach these to their backpacks.
Custom Treat Bags
Kids love to see their name on things. A bag with their name that's also filled with treats? Best ever. Or use them as a way to store Valentines cards.
Mini Hearts
These little heart pillows are adorable and let 1st graders dream up any use for them their imagination allows.
Happy Valentine's Day Book
1st grade students still love having picture books read to them so instead of a treat give out one of the many cute Valentine's Day books out there.
Classroom Favor Kit
With this kit your kid can still assemble the Valentines for their 1st grade class but you don't have to do all the legwork printing and finding supplies.
Pinwheels
Something different for Valentine's Day! These pinwheels are made with love paper and will be loved by the 1st grade class.
Plushie
Small plushies, like this Beanie Boo, are insanely popular with 1st graders. You'll also be insanely popular with them if you give out these to the class.
Valentine's Day Duckies
Something quacktastic for Valentine's Day! These cute duckies make a great gift for this age group.
Heart Stamp
Imprint a Valentine's Day memory by giving cute heart shaped stamps to your child's 1st grade classroom.
Customized Stuffed Animal
Amazingly these stuffed animals are not too expensive to hand out as classroom gifts. Kids will be thrilled to see their name on it too.
Do you shop early for Valentine's Day or are you more like me and wait to the last minute to pick up stuff for your kids? If you still need more gift idea's for your first grader's class here's some great gifts for other grades.