Disclosure of Material Connection: Some of the links in this post may be "affiliate links." This means if you click on the link and purchase an item, I will receive an affiliate commission. Disclosure in accordance with the Federal Trade Commission's 16 CFR, Part 255. This site is a participant in the Amazon Services LLC Associates Program, an affiliate advertising program designed to provide a means for sites to earn advertising fees by advertising and linking to Amazon.
It's dangerous to go alone! Take these gifts with you! Since its release in 1986, The Legend of Zelda has been an absolute hit with people of all ages. I personally have been playing since I was 3 years old and I'm sure there will be plenty to play in the future as the game is still going strong after spanning over 33 years now.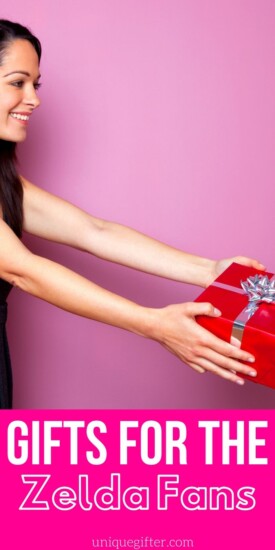 Wonderful Zelda Gift Ideas
To say that Zelda fans love the franchise is vastly understated and here are 20 gift ideas that will certainly help that particular Zelda fan in your life show off their adoration for this timeless series!
Wooden Korok Sculptures
These adorable Korok sculptures are carved from Indonesian wood and polished with natural bee wax and truly encapsulate the playful spirit of the Korok from the game. Let's just hope they don't go hiding around your home from you!
Lon Lon Milk Candle
These candles come in a few different scents and are nearly an exact replica of the bottles of milk that come from your favorite farm in the series. Just don't try to drink it!
Wooden Hylian Shield
Made from Cherrywood or Maple and available in a variety of colors, this shield is certainly bound to induce envy from your Zelda fan's friends as they spy it hanging on their wall. Sword not included!
Triforce Car Decal
When you really want to let everyone know that you're a Zelda fan when you're out and about, what better way is there to tell them than this car decal? Inexpensive and available in different colors, it's a simple way of letting people know where your video game loyalties lie.
Rupee Cookie Cutter
Looks like you don't have to cut through bushes and grass to find rupees anymore! These cookie cutters make it easy to have a steady supply of edible moolah. Currency has never been so easily delicious.
Breath of the Wild Cosplay Costume (Unisex)
Made from polyester and faux-leather, this costume comes in several different sizes and even has an option to be custom made. Perfect for events or just hanging out dressed like link, it even comes with a cape!
A Link To the Past Cartridge Shadow Box
This item is an amazing addition to any fan or collector's wall. Handmade with intricate detail with multiple layers, it's an awesome way to show off your fan's copy of the hit SNES game!
It's Dangerous To Go Alone Keyholder
Looking for a way to keep your keys organized in a wonderfully nerdy style? We've got you covered with this suggestion. With the classic line and scene from the original game, it's sure to be a hit with your loved one!
Breath Of the Wild Mousepad
Featuring the cover art from Breath of the Wild, this mousepad is a welcome addition to your fan's desk area. It's sure to let everyone know how big of a fan they really are!
Ocarina of Time Boomerang
This awesome looking boomerang is handmade and a true to style replica of the version from Ocarina of Time. Perfect for nailing that cosplay or for simple wall decoration. Perhaps even roaming around long grass to find rupees! Hyaaaah!
Legend of Zelda Bottled Fairy Necklace
Custom made with a choice between either a hemp or metal necklace, this piece of jewelry features a glass bottle with a magical fairy trapped inside! With having a choice of colors ranging from Pink to Gold, this one is sure to please any Zelda fan!
Legend of Zelda Pencil Set
Whether it's for school or your desk at home, this pencil set is fitting for all ages. A set of 5 pencils with a color theme that screams "Zelda!", each pencil features a classic phrase from a variety of games.
Legend of Zelda 8-bit Picture Frame
Looking for a fitting frame for a picture of you and your loved one? This frame is sure to nail it! Featuring 8-Bit art, it has Zelda and Link included with the classic Zelda heart containers in the most adorably geeky style.
Legend of Zelda Coaster Set
Looking to set down your tall glass of Lon Lon milk without causing unseemly rings on your furniture? These Zelda Coasters have you covered! A set of 6 custom coasters made in the style of Legend of Zelda, these are guaranteed to please.
Legend of Zelda Customized Beer Stein
This customizable beer stein looks at home on a tavern table in Hyrule or on an end table in your living room! Handmade from wood and featuring the art from Skyward Sword, this is a welcome gift in any fan's collection!
Breath of the Wild Monk Shrine
This amazing looking shrine is a perfect addition to anyone's collection. Handmade as a replica of the monk from shrines featured in Breath of the Wild, this gift is truly a work of art!
Legend of Zelda Shot Glass
Whether they're using it for drinks or for decoration on a shelf, this shot glass is an outstanding item to add to a collection. Featuring a laser-etched Hylian crest, this shot glass is certain to put a smile on your fan's face.
Legend of Zelda Laptop Decal
When you know someone that wants to show their appreciation of this series at all times, this laptop decal is the perfect addition to their collection. Customizable with different sizes and colors and art inspired by Skyward Sword, it's definitely sure to turn heads as wonderful laptop flair!
The world is a dangerous place but, rest assured, with these items in their arsenal, your Zelda fan will not only be safe but will be incredibly pleased! These are 20 of our favorite gifts for Zelda fans and we're positive that they'll be their favorites too!