Disclosure of Material Connection: Some of the links in this post may be "affiliate links." This means if you click on the link and purchase an item, I will receive an affiliate commission. Disclosure in accordance with the Federal Trade Commission's 16 CFR, Part 255. This site is a participant in the Amazon Services LLC Associates Program, an affiliate advertising program designed to provide a means for sites to earn advertising fees by advertising and linking to Amazon.
25+ Gifts For Spider-Man Lovers
Spider-Man is one of the most prominent and beloved characters in the entire Marvel Universe and there's a very good reason for it. With a mind that's as agile as the rest of him, Spider-Man is known for being almost a big of a sarcastic superhero as Deadpool (just a little more lawful and far less chaotic). With such a massive fan following, there is no doubt in anyone's mind that there are millions of different gift ideas when it comes to the wonderful web crawler!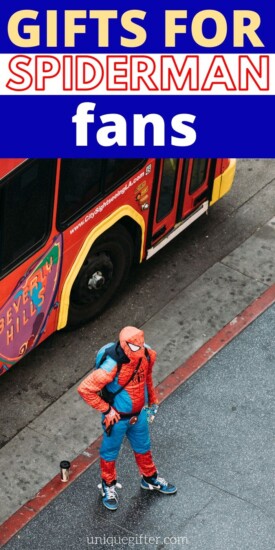 Enter The Spider Gifts
It's easy to become overwhelmed with all of the choices available when it comes to picking that perfect gift for someone that's a fan of Spidey but we're sure to have you covered when it comes to that! We've searched far and wide to bring you the ideal present and you're sure to find it within this list of 40 gifts for Spider-Man lovers!
Spider-Man Retro Tin Sign
For fans that want a more retro feel with their favorite superhero, we've come across this awesome looking sign! Made from tin for an old fashioned feel, it features the older Spider-Man type costume and artwork.
Spider-Man Toaster
Some fans just want their love to spread to every aspect of their existence and that includes their kitchen appliances! This toaster features Spidey in a classic web-slinging pose and it even creates the Spider-Man emblem on the toast!
Spider-Man Soccer Ball
When the fan in your life isn't too busy daydreaming about swinging around the city, maybe they enjoy being outside and kicking a soccer ball around. If not, this ball is still bound to be a great item for their collection!
Spider-Man 3D Illusion Lamp
A very cool lamp whether it's for a Spider-Man lover's bedside table or for their desk! Sporting his iconic web-slinging pose and 7 different colored lights, this one is a guaranteed hit.
Spider-Man: Into The Spider-Verse (Blu-Ray)
One of the latest in a long line of animated releases, Into The Spider-Verse explores a Spider-Man that isn't Peter Parker! Miles Morales is a teen from Brooklyn that puts on the suit this time around!
Spider-Man Vans Sneakers
These sneakers are as stylish as they are geeky! No space allotted for laces means that there's plenty more room for awesome Spider-Man artwork. Fresh and fashionably nerdy footwear!
Spider-Man Cufflinks
Spider-Man and formal wear? It's more likely than you'd think! Give your fan the gift of being able to look snazzy yet nerdy with these nifty looking cufflinks!
Ultimate Spider-Man Socks
These rad looking socks are as good at looking cool as they are at keeping that certain someone's feet warm! Featuring the Ultimate Spider-Man logo (one of the coolest looking emblems, in our opinion), they're guaranteed to get a positive response!
Spider-Man Gaming Chair
This one is among the coolest items on the list, hands down. Officially licensed and looking sleek with a black and red design, it brings nerdy fashion to PC gaming!
Funko Pop Iron Spider
The majority of fans loved Spider-Man's outfit in Infinity Wars and you can give the gift of one of the most outstanding outfits with this figurine. True to Funko's makeover, it manages to be adorable and awesome at the same time!
Spider-Man Wristwatch
While we'll admit that wristwatches aren't commonplace in this day and age, there are some that are definitely an exception and this is one of them. Officially licensed by Marvel, this watch features different Spidey poses and is even water resistant!
Spider-Man (Ps4)
Being hailed as one of the best Spider-Man games in creation, this is an absolute necessity for any Spidey fan that owns a Playstation 4!
Spider-Man Potato Head
There's a high chance that the person you're buying this gift for had a Potato Head as a child and this is sure to fulfill that nostalgic feeling! Cute and quirky, it's a guaranteed winner!
Spider-Man Dog Tag Necklace
This awesome stainless steel necklace may be simplistic in design but it still is a very cool piece of jewelry. Perfect for the fan that prefers to remain low-key!
Spider-Man Noir: The Complete Collection
This comic collection takes a completely different approach at the Spider-Man saga and places Peter Parker in a gritty timeline during the great depression. A must-read for fans that haven't experienced it yet!
Spider-Man: Homecoming (Blu-Ray)
One of the newest and most beloved film adaptations of everyone's favorite wallcrawler, this movie features Tom Holland as Peter Parker. There's a very small chance that the Spider-Man fan in your life hasn't seen this film yet but there's a big chance that they don't own it on Blu-Ray!
Spider-Man Wallet
Sporting a more subtle and mature look, this wallet is a perfect gift for the older fan. Customizable with laser etched print, you can include a message for that personal touch!
Spider-Man Bath Bombs
Got a friend or loved one in your life that wants to have a bath with Spider-Man? Well, now they can! Kind of! These bath bombs are available in regular Spidey, Symbiote, and Ultimate Spider-Man!
Stealth Spider-Man Mask
This is definitely one of the coolest costume options that we've come across! Modeled after the stealth mask from the Spider-Man: Far From Home film, it's a handmade mask that is sure to delight anyone!
Miles Morales Desk Mat
This desk mat is perfect for that fan who is looking to spice up their office area with some Spidey style! Featuring art from Enter The Spider-Verse, Miles Morales is definitely going to make any desk look way more awesome.
Spider-Man "Fault Line" Print
This is one of the niftiest Spider-Man prints that we stumbled upon! This awesome print features a depiction of Spidey that is half symbiote and half normal outfit and is painted over actual comics!
Scrabble Tile Hair Barrette
For that fan that wants to make a nerdy fashion statement with their hair accessories, this Spidey barrette is a must. Created from reclaimed scrabble tiles with art inspired from Miles Morales to Spider Gwen, it definitely creates a cool and unique look!
Vintage Spider-Man Keychain
If you're after a gift for a fan that prefers the wall crawler's old-school style, look no further! This keychain features Spider-Man in his old costume with the vintage animation!
Stan Lee And Spider-Man Print
One of the most heartfelt prints that we've come across, this one is an impeccable addition to a fan's collection! Everyone knows that Spider-Man was Stan Lee's favorite creation and this print showcases his adoration for the webslinger.
Spider-Man Pet Collar Tag
Even pets aren't exempt from Spidey style! This collar tag features the retro style Spider-Man art and gives your fan a chance to pass nerdy fashion on to their fur baby.
Miles Morales Plush
The last item on our list is a nifty handmade plush of Miles Morales! One of the coolest looking iterations of the wall-crawler, this adorable plush is bound to warm the heart of the gift recipient.
We've made it through the Spider-Verse of gifts and we're sure that we've given you a ton of perfect gift ideas for that certain someone! With all of these awesome suggestions, the only problem here is that you've likely found too many gifts! Have you decided on a specific one? Maybe you've found something that you'd rather own yourself! Feel free to hit us up and let us know on Twitter (@ugifter) or Instagram (@uniquegifter)!