Disclosure of Material Connection: Some of the links in this post may be "affiliate links." This means if you click on the link and purchase an item, I will receive an affiliate commission. Disclosure in accordance with the Federal Trade Commission's 16 CFR, Part 255. This site is a participant in the Amazon Services LLC Associates Program, an affiliate advertising program designed to provide a means for sites to earn advertising fees by advertising and linking to Amazon.
Trying to come up with geeky and nerdy stocking stuffer ideas can feel a bit tough. Especially if you're not really into those geeky and nerdy things! Hopefully these fun stocking stuffer ideas will be the inspiration you need for amazing holiday gift giving.
Will it fit in a stocking? Debatable. Is is a wonderful gift for any gamer that is guaranteed to stoke some nostalgia? Absolutely.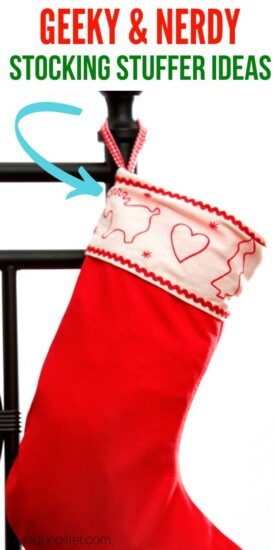 See also: Funny adult stocking stuffer ideas to complete your shopping list? We've got you covered with some inspiration!
Wonderfully Geeky & Nerdy Stocking Stuffer Ideas
Whether you're trying to pad out stockings for your geeky kids or your nerdy spouse, there's so many great gifts out there that will fit inside a stocking. So brush up on their favorite fandoms and find the perfect Christmas stocking stuffer gift idea this year. Let us know what you think about these geeky and nerdy stocking stuffer ideas!
He's Dead, Jim Phone Charger
This is a Star Trek reference, but also a practical gift idea. Who doesn't need another phone charger? The extra theming on the cord is a nice touch.
Xbox Controller Tree Ornament
I love using stockings as a way to gift someone ornaments for the Christmas tree. A controller of their favourite game console (like this Xbox controller) is a perfect geeky gift idea.
Alcohol Molecule Flask
For the chemistry geeks in your life! Not appropriate for kids, but adults will sure love this nerdy flask in their stocking. Add a small bottle of their favourite booze in there too.
Algebra Magnet
Need a geeky and nerdy stocking stuffer idea that won't cost much, but also has some practical use? Get them a magnet with something funny or geeky on it, like this one.
Schottenfreude Book
This tiny book is perfect stocking stuffer size! Perfect for a language geek who will get a kick out of all the made up words inside.
Ocarina Necklace
If you're trying to pick stocking stuffers for a video game geek or a Legend of Zelda fan, they're going to love this one. It's an ocarina from Legend of Zelda, a cute accessory for any geek in your life.
Polyhedral Dice Set
Although you can gift them any polyhedral dice set in their stocking, it's even better if you choose something cool. This dice set is a great choice, or look at what they've been drooling over lately.
Video Game Themed Scrub
If you want to pamper a geek with their stocking stuffers things like sugar scrubs are the way to go. But don't gift just anything! Look for something geeky, like this Animal Crossing themed scrub.
Custom Concrete Lego Figures
These are a cool stocking stuffer idea for Lego fans. Order the whole family for them to display!
Dragon Ball Z Herb and Spice Grinder
I have to admit, I don't quite know why they've made an official Dragon Ball Z herb and spice grinder. But what I do know is there's a geek out there who needs this in their stocking this Christmas.
Goosebumps Pencil Pouch
Whether they're a book nerd, a horror geek, or just trying to relive their childhood, this Goosebumps pouch makes a neat stocking stuffer. To make it better, fill it will nice pens or pencils!
Star Trek Fridge Magnet
Trekkies and sci-fi geeks can feel like they're boldly going where no man has ever gone before every time they enter the fridge thanks to this magnet.
Sailor Moon Inspired Necklace
If she's fighting evil by moonlight, winning love by daylight, and never running from a real fight she might be Sailor Moon. Anyone who loves Sailor Moon will also love this inspired necklace, which would make an amazing geeky stocking stuffer.
Mini Bat Signal
Work is tough, but you can help them make it easier by adding a mini Bat Signal to their stocking. That way when they need Batman's help, you know, like when there's a boring meeting coming up, they can turn it on.
Cubone Skull
Cubone skulls are a pretty morbid part of Pokémon lore but that won't stop a Pokéfan from loving this on their desk or shelf. Get the smaller size for a stocking stuffer idea.
Ninja Star Fridge Magnets
These office magnets will make it look like the person you gifted these to is a ninja master. Who threw ninja stars into the filing cabinet? They did.
Mini Starfinder
An aspiring astronomer or even a seasoned astronomy geek will love this mini starfinder. Handy for those screen free moments where you want to look up constellations, plus easy to take with you when you're out on nighttime hikes or camping.
Board Game Enthusiast Magnet
If their board game collection isn't on display this is a nice way to show off their board game love in your kitchen or the office. Or get it with the pin backing so they can put it on a bag!
Geeky Wallet
Wallets are a great practical stocking stuffer idea for adults and kids. This one happens to be made from comic book prints, perfect for the geeks in your life.
Superfight Geeky Expansion
This is the classic geeky card game. If they don't already have the base game you'll need to stick that under the tree, but if they do then a stocking stuffer is a great excuse to pick up an expansion pack.
Warrior's Death Cross Stitch Pattern
Whatever geeky reason they might love this this cross stitch would be lovely hanging in their home or office. Either download the pattern and make it yourself or if they're crafty, add the pattern and the thread in their stocking.
Kawaii Computer Pillow
This cute, nerdy computer gift idea will make them go "aww" on Christmas morning. A perfect friend for a backpack or bag!
Deadpool Cup Cozy
Deadpool will help save the planet, one disposable sleeve at a time. Also can be worn as a wrist band because why not.
Geeky Socks
The sky's the limit with geeky socks out there, but why not go beyond the sky with space socks? Geeks will love the cool prints on these, which are great for work.
Minecraft Bow Tie
Kids who have to dress up, especially for Christmas dinner, will find it much more agreeable with a Minecraft bow tie. Geeky adults will also love wearing this too!
Giant Microbes
Trying to find stocking stuffer ideas for a biologist or doctor? No need to get a microscope out to see these cute plush microbes. It's also very cute when you give them to kids and they play with "the plague" or "white blood cells", just saying.
Stealth Check Shirt
If you're shopping for a Dungeons and Dragons fan they're going to love anything DnD related in their stocking. This stealth check shirt should fit perfectly in any sized stocking and has a funny inside joke that fans will enjoy.
Zelda Can Cozy
For the beer (or soda) drinker! Perfect for handing them a support beverage and saying the quote every. Single. Time.
Playstation Coasters
These drink coasters will fit nicely in their stocking and help show the world their geeky video game fantasticness. If you didn't already know, they're the buttons from the Playstation controller.
Spaceballs Ornament
One of the best geeky parody movies out there! If they're older sci-fi fans they probably love this comedy, which will be forever immortalized on your Christmas tree.
Geeky Tote Bag
This is another category of gift that makes great stocking stuffers and can be found with almost any nerdy reference you can imagine. For a generic gift idea (like when you have no idea what they're into) a "loot" bag is a great choice for nerds.
Walking Dead Magnet Set
You get a whole set of 5 magnets with this wonderfully geeky and nerdy stocking stuffer idea! If they're a fan of the Walking Dead they're definitely going to appreciate sticking these around the house.
Donkey Kong Make Up Bag
This is especially great if you have some after Christmas travelling planned. Give them a cute nerdy make up bag like this classic Donkey Kong one to hold all their essentials in.
Space Gun Ketchup Dispenser
You know what? Sometimes you have to save the galaxy. Let them live like the space hero they truly are with this gun shaped ketchup dispenser.
Potion Hand Sanitizer
Imagine them pulling this out of their bag whenever they need to get their hands germ free. It's not hand sanitizer, it's a potion of purification. Duh.
Captain's Log Mini Notebook
This smaller sized notebook not only fits easily into purses and backpacks, it also makes a great stocking stuffer. Perfect for jotting notes, journalling, or keeping track of their space mission.
Batman Rubber Duck
You can gift this one to kids and adults alike! Little ones will love adding this to their bath, while grown up geeks will appreciate having it on display in the bathroom.
All Caps Shirt
The best stocking stuffer idea ever for a computer nerd! Roll this funny shirt up and slip it into their stocking for a very happy Christmas morning. Bonus points if they have the kind of job where they can wear it to work.
Wheel of Flame Candle Set
OK fine, you probably can't fit the whole set into someone's stocking, but these super nerdy candles are still great stocking stuffers. Perfect if you're buying for a geeky group!
Golden Ratio Necklace
If you're not familiar with the golden ratio then all I can say is this is definitely a geeky necklace. Give this stocking stuffer to someone who's a math fan, or at least understands the significance of this formula.
Origami Earrings
They're not actually made of paper, but they sure look like tiny folded animals! Made from sterling silver, they'll look even cuter on.
Wordplay Book
Geeky writers and word enthusiasts will love discovering new oronyms, oxymorons, anagrams, palindromes, puns, and other funny wordplay. Plus the book is tall and skinny so it should make a great stocking stuffer.
Geeky Hair Scrunchie
For those long haired geeks on your shopping list! They're going to love the Legend of Zelda print featured on these scrunchies, which are perfect for anyone into this up and coming 80s and 90s throwback fashion trend.
Floppy Disc Notebook
Another great upcycled stocking stuffer idea for nerds! This notebook is covered with floppy discs because, let's be honest, what else can you do with them nowadays?
Circuit Board Tie
Another computer nerd gift idea, this circuit board printed tie is going to have someone going back to the office in style after the holidays.
Sailor Moon Wine Stopper
The 80s and 90s kids who grew up watching Sailor Moon are now old enough to enjoy a bottle of wine. Celebrate that fact by putting this cool, geeky wine stopper in your partner's stocking this Christmas.
Superhero Family Set
This is one of those super sentimental stocking stuffers you buy someone you really care about. You can order the whole family, custom made into superheroes. Perfect to display around the home or to have as a family keepsake.
See also: Have some little nerds and geeks running around? Check out these awesome stocking stuffer ideas for kids!
They won't be disappointed come Christmas morning with these wonderfully geeky and nerdy stocking stuffer ideas, that's for sure! Whatever their fandom, there's definitely some great gift ideas out there to delight geeks and nerds of all ages.