Disclosure of Material Connection: Some of the links in this post may be "affiliate links." This means if you click on the link and purchase an item, I will receive an affiliate commission. Disclosure in accordance with the Federal Trade Commission's 16 CFR, Part 255. This site is a participant in the Amazon Services LLC Associates Program, an affiliate advertising program designed to provide a means for sites to earn advertising fees by advertising and linking to Amazon.
1939. This was the year that Batman first burst onto the comic book scene and since the Caped Crusader is still going strong to this day. With over 70 years of comics, films, and a plethora of toys and games, this superhero has a ton of products with his logo and visage plastered on them! With all of these years of collectibles, toys, games, and assorted things, it's gotta be tough to find a great gift, right? Get ready for these awesome gift ideas for Batman fans.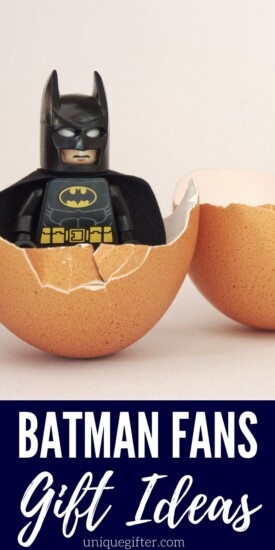 The Very Best Gift Ideas for Batman Fans
Batman is also known as "The World's Greatest Detective", so it seems only fitting that we should provide the world's greatest gifts, right? We've braved the dark streets of Gotham for some of the greatest gifts you can find and we've made the job of nailing that perfect gift an easy one for you! Relax and peruse this list and be sure you thrill the Batman lover in your life with these 40 gifts for Batman fans!
See also: Does your favorite Batman lover also get down with some Capcom games? (Of course they do!) Check out these must-see gift ideas for Capcom games fans!
The Dark Knight Trilogy (Blu-Ray)
We'll start the list off with one of the best things to happen to the entire Batman franchise: The Dark Knight Trilogy. All three of these films are presented on Blu-Ray with this entry in a special edition that we're sure any fan would be overjoyed to own!
Batman Toaster
What better way to start the day than with a couple of slices of crispy toast? How about a couple of slices of toast that have the Batman logo on them? Help your fan feast in style with this awesome toaster!
Editor's Choice Gift Ideas for the Batman Fan
Look at this thing in all of it's glory. Batman fan or not, who wouldn't want this incredible piece of kitchenware on their counter. Keep your cookies safe with this
Batman Rubber Duck
This sweet rubber duck would look good on a shelf or the edge of a bathtub. Kids and adults alike will go bananas over this Dark Knight rubber ducky!
Bat-Signal
Any Batman lover would be thrilled to have their very own Bat-Signal. While we can't point you to the location of a massive one, there is this pretty sweet 5 inch, die-cast version of the famous device!
I'm Not Saying I'm Batman Coffee Mug
This awesome coffee mug is bound to be a conversation starter! With the hilarious words "I'm not saying I'm Batman, I'm just saying nobody has ever seen me and Batman in a room together", it's perfect for any fan that needs their daily caffeine fix.
Dark Knight Vs Joker Clock
This snazzy clock is sure to be a fantastic addition to any Batman lover's wall! Fashioned out of a recycled vinyl record, it features the Caped Crusader on one side and Joker on the other. It's definitely a unique timepiece!
Batarang Replica
Who wouldn't want to own their own Batarang? One of the most popular items on Batman's utility belt, this replica of the iconic Batarang is a 1:1 scale, so it's as close to the real thing as you're going to find for your loved one!
Batman: A Visual History (Hardcover)
This hardcover book features the history of Batman from his start in 1939's introductory comic to the iconic superhero he is now. Showcasing the Dark Knight himself along with other DC characters and villains from the series, this book is certainly a collectible every fan needs.
Batman Fleece
This cozy fleece blanket is sure to win the heart of anyone who is a fan of The Bat! Designed with a minimalistic style, it prominently features the Batman logo in all its soft and comfortable glory!
Batman Socks
These socks are as nifty as they are comfy! Officially licensed by Bioworld, these socks are sure to thrill any Batman fan considering they even have small capes attached to them!
Batman Serving Platter
Got a loved one that enjoys hosting and wants to do it in a wonderfully geeky style? We've got you covered! This ceramic platter is shaped like a Bat Symbol and is perfect for appetizers at a party or gathering!
Batman Chess Set
Definitely one for a fan's collection and very likely to be a staple of it! This cool chess set is designed with Joker's colors and features the Caped Crusader and his crew on one side and The Joker with his gang on the other. A very new and unique twist on a classic game!
Batman Pajama Pants
These comfortable pajama pants are perfect for any Batman lover to lounge around the house in. Black pants, sporting the Batman logo, we can't promise you that you will be Batman while wearing them but we also can't promise that you won't!
Batman: Death Of The Family (Paperback)
This book chronicles the series in the comics where Joker has his face sliced off and returns to Gotham City, more of a dangerous villain than ever before! Included with the book is the terrifying skin mask that Joker dons in the book itself. What an awesome combo!
Rock 'Em Sock 'Em Robots: Batman Vs Superman Edition
We're sure that there is a massive amount of Batman fans who have also played the classic game "Rock 'em Sock 'em Robots" and this version of it puts a very cool twist on it! Pitting Batman against Superman himself, this game allows a different end to the classic duel between the superheroes!
Batman Ice Cube Tray
Batman everything! Even ice cubes! These neat little silicone ice trays turn boring ice cubes into awesome Batman symbols!
Editor's Choice Gift Ideas for the Batman Fan
Bake for justice with this awesome bat-a-rang shaped silicone baking mold! What awesome Batman cookie gift basket will you serve up?
Batman Bell Jar Lamp
Officially licensed by Paladone, this Bell Jar Lamp features The Dark Knight in a heroic pose while holding his trusty Batarang! When switched on, the light illuminates from below, lighting the entire Bell Jar. Quite the awesome collectible!
Batman Voice Changer Helmet
Who doesn't want to wander around wearing The Caped Crusader's mask? We know that there are plenty of fans out there that would be absolutely thrilled to receive this gift and they'll be even more excited to find out that it includes a voice changer!
Batman Cufflinks
For a touch of nerdiness to go with formal attire, these cufflinks are the perfect fit! Styled to look like Batman symbols, these cufflinks are available with a wooden box to store them and even come monogrammed!
Batman Oven Mitts
Though these oven mitts are made for hot cookware, they are almost too hot to handle themselves! Perfect for any fan that wants The Dark Knight on everything they own, these mitts have the classic black and yellow color scheme with Batman logos printed all over them!
Batman Patent Prints
This collection of six prints feature patents from an assortment of Batman's vehicles and even his helmet! Fashioned to look like actual blueprints and patents, these are available in different dimensions to be sure that your gift recipient gets the perfect size to suit them!
1989 Batman Replica Newspaper
This sweet replica is nearly an exact copy of the newspaper from the Batman film starring Michael Keaton as The Caped Crusader. It's sure to look amazing and be a prized piece of any fan's collection when it's framed and hanging on their wall!
Batman Collectible Plush
We couldn't make it through this list without including an adorable plush. Even The Caped Crusader isn't exempt from being made into a cute stuffed figure! This little guy stands tall at 21 inches and is certain to look awesome sitting around your fan's home!
Batman Black & White Statue
The Dark Knight has rarely looked so menacing as he does in this statue! With only 5,000 sculpted and each one being individually numbered, the Batman lover in your life is certain to cherish this 5.9 inch work of art!
Batman Projection Pen
Would anyone really care for their own personal Bat Signal in their pocket? We're sure that Batman fans everywhere give out a resounding "Yes!". This sleek pen is covered with Batman symbols and even has the option to act as a Bat Signal and project the famous logo!
Batman Doormat
When you have a Batman lover that wants to announce their adoration for the world's greatest detective before people even enter their home, we've got a gift for them as well! This sweet looking doormat proudly proclaims "Welcome To The Batcave" along with the famous logo!
The Lego Batman Movie (Blu-Ray)
This famous movie proved that The Caped Crusader doesn't always have to be so dark and menacing. Bringing a ton of fun into the franchise, The Lego Batman Movie was an instant hit among Batman lovers and we're sure it would make a stellar gift!
Batman Backpack
Definitely one of the coolest backpacks that we've come across! This stylish Batman backpack is showcased in darker colors with a yellow touch and a subtle Batman symbol. Very cool!
Lego Batman Flash Drive
This Batman doesn't just go out and save Gotham, he also saves your files! Bad jokes aside, this nifty little flash drive is fashioned out of a Lego Batman and can store a whopping 128gb of data!
Wayne Enterprises Decal
This Wayne Enterprises decal makes any item you slap it on look like an official product from the company itself! Any Batman fan worth their salt is knowledgeable about this company from the comics and films and is sure to enjoy!
Batman Sunglasses
Yeah, your sunglasses may be cool but are they as Batman fashioned sunglasses? These wayfarer styled shades feature comic art along the sides and are even available in prescription frames!
Editor's Choice Gift Ideas for the Batman Fan

Molded after the Batwing, this desk lamp is the perfect solution for lighting up your workspace! Whether it's the home office, or cubicle, let everyone know justice always prevails!
Zombie Batman Bust
A very cool take on The Dark Knight! This piece features Batman in full zombie fashion and is handmade with high quality resin. We're absolutely certain that it's going to be the cornerstone of any fan's collection!
The Dark Knight Cowl Replica
The last item on our list would make quite the breathtaking gift! This full-sized replica of Batman's cowl from The Dark Knight movie's is about as close to the actual thing as you're ever going to come. Whether it's to display in a collection or for the fan in your life to wander around wearing, it's an awesome present!
As we mentioned earlier, the world's greatest gifts! After searching far and wide, we've brought together this list of items and we're certain that there are a few that are essential to a fan's collection. Did you find anything on this list that your gift recipient went nuts about? Are you a Batman fan that found something you had to have immediately? Let us know on Twitter (@ugifter) or Instagram (@uniquegifter) and thanks for checking out 40 Gifts For Batman Fans!