Disclosure of Material Connection: Some of the links in this post may be "affiliate links." This means if you click on the link and purchase an item, I will receive an affiliate commission. Disclosure in accordance with the Federal Trade Commission's 16 CFR, Part 255. This site is a participant in the Amazon Services LLC Associates Program, an affiliate advertising program designed to provide a means for sites to earn advertising fees by advertising and linking to Amazon.
Do you have a Pokemon fan in your life and you're unsure of what to get them for the upcoming holiday? No worries, we have you covered! No matter what region they're busy slinging pokeballs in, we've got a gift to cover the situation.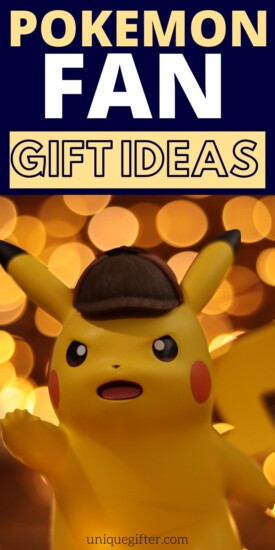 The Best Gifts for Pokemon Fans
Finding that perfect gift for that picky Pokefan in your life can be hard work. Relax and check out 20 of our favorite gifts for the Pokemon fan in your life!
Pokenatomy : The Science of Pokemon
Ever wonder about the science of Pokemon? Wonder no longer! This book is chock full of scientific information on the fictional world of Pokemon. With over 300 pages (including illustrations) of explanations of everything from DNA to pokemon abilities, this book is sure to please the fan of any age!
3D Printed Cubone Skull
Despite being one of the most tragic tales in the Pokemon universe, this handmade and hand-painted item is absolutely inspired! The Pokemon fan in your life can own a part of first-generation Pokemon history with this piece. Guaranteed to amaze and satisfy!
Bulbasaur/Ivysaur/Venusaur Planter Set
What better Pokemon to represent growing plants than the first plant type that you ever encounter in the game? You can get these planters individually or as a set. Either way, you're sure to get a smile out of the fan in your life!
Dragonair Pin
Anyone who has ever played the game remembers what a trial it was to level a Dratini into a Dragonite but they also remember what one of the coolest looking evolutions was. Dragonair! This pin is sure to delight the fan in your life and is available as a regular Dragonair or a shiny form!
Pokemon TCG Card Stand
Have a fan of the trading card game in your life? We're sure that they have a few holographic cards that they'd love to be able to display and be the envy of their friends. These stands are customizable and able to be labeled with the different types of pokemon!
Customized Pokemon Vans
For the Pokemon fan that wants to step it up a notch, these custom Vans shoes really scream: "I'm a Pokemaniac!". Available in men's and women's versions, they feature classic art from the first generation games and are definitely fancy footwear!
Pokemon Gym Badges
Has the fan in your life beaten every gym in the first generation of games? Do they want to brag about it? Help them out with this badge set! Every badge from the first generation available in pin form, they can proudly display their achievements and are sure to be the envy of the other trainers with these awesome badges!
Gameboy Color Pokemon Coffee Mug
What's better in the morning than coffee AND nostalgia? Not much! This mug is sure to bring back memories of legendary fights and is customizable with different battle scenes. Available in regular and large sizes!
Ash Ketchum Hat
I choose you, Pikachu! But, really, if the fan in your life wants to run around looking and acting like Ash Ketchum, who are you to deny them? We say support them with this gift! They're sure to be satisfied with it as they slide it around backward and toss pokeballs at unsuspecting Pokemon (squirrels) around the neighborhood!
Pokemon Go Magikarp Hat
Okay, we'll be the first to admit that this hat is a bit odd but it's heavily inspired by the hat from Pokemon Go so there's a massive chance that the fan in your life is going to love it! There is something pretty enticing about this hat though. Let's just hope that it doesn't evolve into a glorious Gyarados while you're wearing it!
Pokemon Go Egg Earrings
Oh? Those are fantastic earrings! We're pretty sure that's what they'll be hearing when people catch them wearing these earrings around while they're busy trying (desperately) to catch ditto around town. Available in any color egg from the game that they prefer!
Pokemon TCG Deck Box
Fellow card players are sure to know that your loved one means business when they show up sporting this deck box. Featuring art to make it look like a square replica of a Pokeball, we're surprised that the cards don't pop out of it as a pokemon would! TCG skill not included!
Pokemon Necktie
Let's be honest. Not every fan of Pokemon is a child. In fact, most aren't! Although, this necktie is available in men's AND boys! Just try to keep them from wearing it to a job interview!
Pokemon Go Decal
Think they want to represent their team wherever they go? We've got you covered. Laptop? Check. Car? Check. This decal is fitting for most surfaces and will allow your loved one to represent their Pokemon Go team however they see fit!
See? We told you! No matter the time or place, we've got your back when it comes to Pokemon gifts! We hope that we've helped you pick out a gift for that certain someone, no matter how hard they are to shop for 20 of our favorite gifts for the Pokemon fan in your life!