Disclosure of Material Connection: Some of the links in this post may be "affiliate links." This means if you click on the link and purchase an item, I will receive an affiliate commission. Disclosure in accordance with the Federal Trade Commission's 16 CFR, Part 255. This site is a participant in the Amazon Services LLC Associates Program, an affiliate advertising program designed to provide a means for sites to earn advertising fees by advertising and linking to Amazon.
20 Great Goosebumps Gifts
Ah, Goosebumps. A staple of a massive amount of childhood memories. For many, this series is what instilled a love of reading and the franchise has seemed to come back for the modern era. What is a shopper to do when it comes to finding a lovely gift for someone who's a fan of a franchise with such a massive following?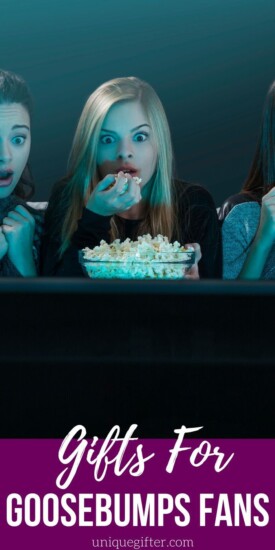 It's Scary How Good These Gifts Are
Millions of people have perused R.L. Stine's works and quite a few remain diehard fans when it comes to Goosebumps. If you've got a fan like that in your life, you've certainly got a dilemma on your hands when it's time to snag a present for them. How about you just relax and let me guide you to the right idea with one of these 20 great Goosebumps gifts?
25th Anniversary Retro Set
You really can't beat feelings of nostalgia when it comes to giving gifts. This selection here is guaranteed to make the fan in your life warm and fuzzy.
Goosebumps: The Board Game
Bet you didn't know that there was a Goosebumps board game. Now that you do, maybe you can surprise your loved one with this newfound knowledge.
Slappy The Dummy Travel Mug
Slappy The Dummy: Unofficial Goosebumps mascot! This isn't the only time you'll see his face in this list but I guarantee you that your fan will love seeing it on their mug every day.
Goosebumps T-Shirt
You really can't beat that classic Goosebumps logo and with that logic, you really can't beat this subtle, yet very cool, t-shirt.
Goosebumps: The Unofficial Coloring Book
I know that you're thinking: "A coloring book? Really?". Hear me out, though: This includes all 62 original Goosebumps covers!
Slappy Ventriloquist Doll
Got a loved one in your life that's considering the fine art of ventriloquism? How better than with this little terror?
G Splat Glitter Purse
Who can forget that awesome G splat logo? Give the gift of toting it wherever your fan may go.
Vampire Poodle Clutch Wallet
Maybe a snazzy clutch to go with that purse? This vampire poodle wallet fills that position perfectly.
Haunted Mask Replica
The Haunted Mask presented a pretty creepy mask but, personally, I think that the mask from Haunted Mask II was a bit more terrifying and here's a wonderful replica!
Goosebumps Lawn Gnome Pillow
Revenge Of The Lawn Gnomes in pillow form! What a terrifyingly comfy concept!
Glass Candle Holder
Candles are great for setting a spooky ambience. Wouldn't a Goosebumps candle holder magnify it in such a cool fashion?
Retro VHS Lamp
Ever wonder what happened to all of those old VHS cassettes? Lucky for the fan in your life, this artist has found a purpose for them and it is a unique and very awesome gift idea.
Goosebumps Pot Holder
Goosebumps? On pot holders?! It's more likely (and righteous) than you'd think.
Goosebumps Shelf Display Sign
If the fan in your life is looking for that perfect spooky decor for their DVD or collectible shelf, they can look no further when you present them with this gem.
Slappy The Dummy Blanket
The fan in your life is going to need something to cuddle up in when they're reading horror novels and why not make it a double threat by giving them a creepy blanket?
Goosebumps Bookmark
Yo, I heard you like Goosebumps, so I found a Goosebumps Bookmark so you can Goosebumps while you Goosebumps.
Goosebumps Baseball Cap
If you've got a friend that's looking for a nifty hat, you really (as I stated earlier) can't beat the classic Goosebumps logo. This hat is low-key but guaranteed to satisfy that Goosebumps craving.
You're In For A Scare Sticker
Ahh, the classic warning before every book and episode of Goosebumps. I'm sure your loved one would be more than happy to slap this on something they own.
Slappy The Dummy Bath Bomb
Maybe you or I wouldn't want to bathe with a haunted ventriloquist dummy, but I can't speak for the Goosebumps fan in your life. I think it would be safer just to give it to them and don't ask questions!
Not all horror novels have a happy ending, but this horror article definitely has one. With all of these fantastic solutions that I've introduced to solve your gifting problem, there's no way that you're walking away empty handed. Did you find something that your loved one absolutely adores? Did you stumble across something you couldn't live without? Let us know on Instagram (@ugifter) or Twitter (@uniquegifter) and thanks for checking out 20 Great Goosebumps Gifts!