Disclosure of Material Connection: Some of the links in this post may be "affiliate links." This means if you click on the link and purchase an item, I will receive an affiliate commission. Disclosure in accordance with the Federal Trade Commission's 16 CFR, Part 255. This site is a participant in the Amazon Services LLC Associates Program, an affiliate advertising program designed to provide a means for sites to earn advertising fees by advertising and linking to Amazon.
Even though Wade Wilson burst onto the scene in 1991 as the anti-hero Deadpool, his popularity didn't truly explode until his own feature film in 2016 and now you can't swing a stick without hitting something involving the merc with a mouth. With all of the merchandise surrounding the chimichanga loving, wisecracking, masked man, it's tough to find that perfect gift for that certain someone that adores him. These are the best gifts for Deadpool fans whether they're into the comics, films or just everything Deadpool!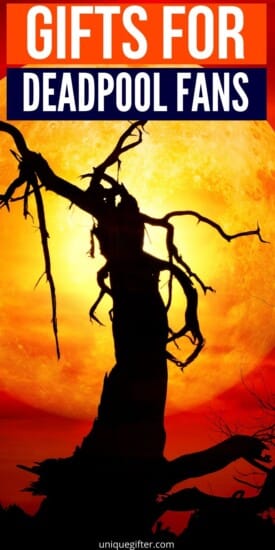 Some of the Best Gifts for Deadpool Fans
We've looked all over and compiled this trove of treasures for that ideal present and we're certain that you're going to find what you're looking for here! You can stop worrying about searching and let us take care of it, so go ahead and take a look at what we've collected here and feel confident that you'll find something wonderful in these 40 delightful Deadpool Gifts.
Deadpool 2 (Blu-Ray)
We'll start this list off the right way with the latest release starring Wade Wilson's ugly mug! Deadpool 2 kicks off a new adventure with the anti-hero and if the fan in your life doesn't own it yet, you can make that happen!
Deadpool Monopoly
The classic board game gets a Deadpool makeover! A new setup for the board, different titles for the cards and new game pieces gives this version of Monopoly the full Deadpool Experience
Deadpool Kills The Marvel Universe (Paperback)
What if Deadpool decided to kill the entire Marvel Universe? This comic compendium answers that question with a storyline in which Deadpool does exactly that!
Deadpool Chia Pet
We can't help but wonder if this Chia Pet is supposed to resemble Deadpool's take on Bob Ross but whether it's supposed to or not, it's a unique way of having his visage around!
Deadpool Duffel Bag
If you're like most fans of the film, you probably think that the duffel bag that Deadpool carries around is pretty rad and you can give the gift of that awesome looking duffel! It even has that familiar logo of his on the side!
Deadpool Blanket
Sporting his familiar pose with his arms crossed in full "tough guy" stance, Deadpool graces this stylish yet comfy blanket with his sarcastic presence. Perfect for any fan to lounge around on the couch while they watch their new Deadpool 2 Blu-Ray!
Deadpool VS The World
If you've got a Deadpool lover that enjoys party games, then we have the gift for you! This game requires 3+ players and chooses the winner based on which participant best describes the odd situation that Wade Wilson has managed to get himself into!
Deadpool Riding A Unicorn Plush
It's really not hard to believe that Deadpool's favorite animal is one that's as magical as himself. The Unicorn! This plush gives the Merc With A Mouth the most adorable makeover!
Deadpool Flask
Got a loved one that's not only a fan of Deadpool but also a fan of the old drinky drink? Two birds with one stone here! This subtle yet awesome flask is perfect for that fan hauling around that low-key beverage!
Deadpool Bob Ross Funko Pop
50% Deadpool. 50% Bob Ross. 100% Awesome. Just about anyone who saw the Deadpool 2 trailer featuring the wisecracking anti-hero as Bob Ross was immediately enthralled and now you can give the gift of this awesome mashup!
Deadpool Riding A Unicorn T-Shirt
Deadpool and his magical friend make another appearance on this list! This snazzy tee featuring Deadpool riding a unicorn across a rainbow while he waves around a katana, this truly captures the essence of the anti-hero with one picture.
Deadpool Pikachu Keychain
Who doesn't love awesome matchups? We're pretty certain that this one is going to be one of those perfect gifts for that Deadpool lover that is also a huge Pokemon fan. Let's be honest here. Who isn't a fan of Pokemon, right?
Deadpool/Game Of Thrones Canvas Art
It seems as if no universe is safe from the Deadpool invasion and that includes Game of Thrones! This awesome piece of art features Deadpool lazing around on the Iron Throne. Check out the sweet unicorn banner in the background!
Deadpool Katanas
Not one but two katanas! If you have someone in your life that you know would be overjoyed to run around their home, waving around plastic replicas of Deadpool's weapons of choice while belting out "MAXIMUM EFFORT!", then this is definitely the gift that you've been searching for!
Deadpool Heart Decal
Anyone who has seen Ryan Reynolds portraying Deadpool is bound to have seen him making the heart symbol with his hands. We're positive that the fan you're grabbing a gift for is going to be excited to receive this decal. It'll be perfect to remind fellow drivers that they love them after brake checking them!
Talking Deadpool Bottle Opener
With its unique design and 24 hilarious phrases, this bottle opener is sure to keep any Deadpool lover entertained! Maybe you caught it on the famous show Shark Tank and here's your chance to snag it for a loved one!
Deadpool Socks
Even comic geeks want stylish socks! These cool looking socks are as snazzy as they are comfortable and for your purchase, you get two pairs with two separate designs.
Deadpool Laptop Backpack
This laptop bag might just be even cooler than the duffel bag that we featured on this list earlier! Complete with tons of pockets, the classic Deadpool color scheme, and a rugged appearance, it's a pretty rad present for anyone who loves the anti-hero!
Deadpool Towel
Made for drying off at the beach or even just out of a nice hot shower, this towel is awesome looking either way. It would be perfect hanging in any fan's bathroom!
Deadpool Shower Curtain
Know what goes perfectly with a Deadpool Towel? A Deadpool shower curtain! While this gives you a comforting sense of privacy when being showered by water, it features Deadpool being showered by bullet casings! We've all seen the intro from Deadpool 2, right?
Deadpool Wristwatch
One of the more subtle and mature looking gifts on our list, this sleek watch has a more toned-down appearance. It still features the classic Deadpool color scheme and has his familiar visage in the center but it's definitely a more low-key way of showing fandom!
Deadpool Air Freshener
That's right, friends, Deadpool even has an air freshener! This one is done with a cute, chibi art style and smells (surprisingly) like vanilla!
Deadpool Cosmetics Bag
For that lovely lady that happens to adore the Merc with a mouth, this is a very snazzy and fashionable makeup bag! That classic black and red color scheme adorn this bag, including the words "Outta the way, nerd!", this is a killer gift!
Deadpool Suspenders
Not all of us can pull off wearing suspenders, but for the Deadpool fan that can? These suspenders exist and are absolutely awesome!
Deadpool Hoodie
This awesome looking hoodie is guaranteed to please any fan of the anti-hero. With a recognizable but simple design, it gives them the chance to roam around dressed like Deadpool without the mask and katanas!
The Philosophy Of Deadpool (Hardcover)
This neat book contains the secrets of what makes Deadpool tick! Containing a collection of his best and worst moments, it gives you a peek inside of the anti-hero's brain.
Deadpool Nerf Guns
These special edition Deadpool Nerf guns are absolutely amazing! Black and red with Deadpool's face and the Nerf Rival logo, this gift is perfect for any fan!
Deadpool Doormat
For the fan with a sense of humor (which is a given, considering they like Deadpool), this doormat is a must-have! Guaranteed to get a smile out of anyone visiting, it features the Merc with a Mouth stating: "Wipe your feet, I like feeling dirty"!
We've made it to the end! You've undoubtedly found a bevy of gifts for that loved one of yours and we're certain that we've done our duty here! There's such a variety of options and so many great choices, there's no way that you didn't find one or two that you just couldn't walk away from. Did you find anything that the Deadpool lover in your life adored? Maybe you found something that you just had to have for yourself! Feel free to give us a shout and let us know on Twitter (@ugifter) or Instagram (@uniquegifter) and thanks for checking out 40 Delightful Deadpool Gifts!