Disclosure of Material Connection: Some of the links in this post may be "affiliate links." This means if you click on the link and purchase an item, I will receive an affiliate commission. Disclosure in accordance with the Federal Trade Commission's 16 CFR, Part 255. This site is a participant in the Amazon Services LLC Associates Program, an affiliate advertising program designed to provide a means for sites to earn advertising fees by advertising and linking to Amazon.
Kermit the Frog Gift Ideas
Jim Henson's most popular Muppet, Kermit the Frog, has appeared in almost EVERY Muppet production. Not to mention that he's an original Sesame Street character. When you're that popular, it's obvious that he might have a huge fan base! For adults and kids alike, bring up Kermit the Frog and everyone knows exactly who you're talking about! If you've got someone in your life who is a huge Kermit fan, spoil them with one of these gifts! And even if you have another muppet favorite, we got gift ideas for them too!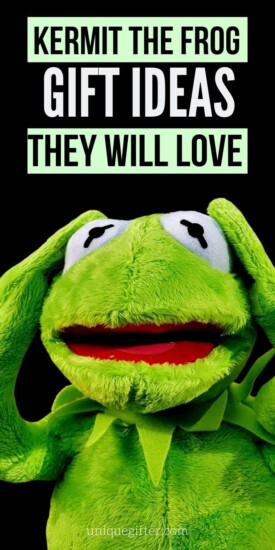 Chia Pet Kermit The Frog
Is this Kermit fan also a plant lover? See if they can keep a Chia Kermit alive with one of these!
BOOK: Before You Leap: A Frog's Eye View of Life's Greatest Lessons
Anyone who is still looking for their rainbow connection will connect with Kermit's own story in this book…written in his point-of-view.
Kermit the Frog Minimalist Poster
This simple poster with bright colors is perfect for framing in any room of the home or office.
Kermit the Frog on Vintage Upcycled Dictionary – Art Print
Get Kermit on a vintage dictionary page to hang up in your bedroom, nursery, or office.
Funko Pop! Icons: Henson – Jim Henson with Kermit
Kermit with his creator! This Funko Pop is ideal for longstanding Kermit (and Muppets) fans!
Kermit The Frog iPhone 7 Plus/8 Plus Pure Clear Case Cases Cover
Perfect for showing off how much they love Kermit the Frog wherever they take their phone.
Kermit the Frog Usiniliea Bathroom Curtain with Reinforced Buttonholes
This shower curtain is a funny and creative way to share just how much they love Kermit.
ECCC POP Muppets Superhero Kermit 2017
This collector's item is a superhero spin on the traditional Pop figurines.
Kermit Wristlet Keychain
These wristlet keyfobs are ideal for carrying your keys when your hands are already full! Plus, it's hard to miss a large green wristlet if someone is hunting for their keys.
Kermit the Frog Bow Tie & Suspenders Set
This set comes in adult AND child sizes! Great for photos or for a fun everyday outfit.
Disney Minimates- The Muppets- Kermit & Miss Piggy
Kermit, with the infamous Miss Piggy, come as a pair in this miniature set! Not for the littlest Kermit fans, but perfect for older children and collectors.
Kermit The Frog Muppets Rainbow Connection Ring
Featuring a snippet of Kermit's hit, "The Rainbow Connection," this is a more minimalist way to show off this popular character.
Muppet Movie-inspired RAINBOW CONNECTION Key Tag
If they're a lover or a dreamer, they should have this vintage-looking key tag.
Jim Henson And Kermit Illustration 
This creative image shows the creative connection that Jim Henson had with his created Kermit character. It is definitely a piece to spark a conversation.
Kermit The Frog Plush
This Kermit The Frog plush is so adorable and snuggly! Whether you want to put it on a shelf as a collector's item or give it to a kiddo, it's sure to be the perfect gift idea. 
Kermit Socks
Warm-up those cold feet with some classic Kermit the Frog socks!
Kermit The Frog Blanket
There isn't a more adorable blanket than one with Kermit all over it! You can't have a bad day when covered up with this blanket. 
Cell Phone Ring Holder Stand
Take a little piece of Kermit with you everywhere you go with this cell phone ring holder stand!
Hallmark Keepsake Christmas Ornament
Every Kermit The Frog fan needs a Christmas ornament like this one!
The Muppets are such a fun part of our popular culture and Kermit the Frog still remains one of the most popular today! With a fan club spanning generations, there's truly a gift for everyone who loves Kermit the Frog!