Disclosure of Material Connection: Some of the links in this post may be "affiliate links." This means if you click on the link and purchase an item, I will receive an affiliate commission. Disclosure in accordance with the Federal Trade Commission's 16 CFR, Part 255. This site is a participant in the Amazon Services LLC Associates Program, an affiliate advertising program designed to provide a means for sites to earn advertising fees by advertising and linking to Amazon.
Spring is just around the corner, and with that, the Easter bunny will come hoppity hoppity to bring those good little boys and girls some tasty treats. Cut down on the goodies this year by gifting these Easter books for kindergarteners or pick them up to add to your home library.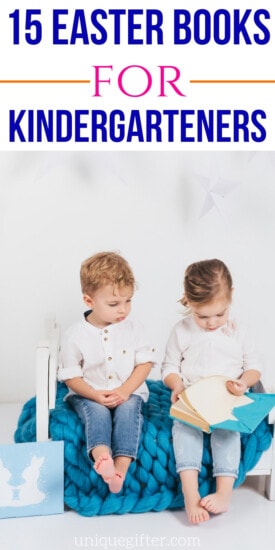 20 Easter Books for Kindergarteners
These books are ideal gift ideas for 4, 5, and 6-year-olds. At that age, kids still love being read to but will enjoy a variety of themes. Some of these books are Easter themed, others general spring stories to fuel your kindergartener's imagination.
Planting a Rainbow
This colorful book is a great first story for kindergarteners to read on their own. It's also a perfect gift idea for kids of multiple ages. It takes kids through the process of planting a garden. Gift it alongside garden tools or seeds for a fun Easter basket idea!
There Was an Old Lady Who Swallowed a Chick
Chicks are synonymous with spring and Easter, making this funny story a perfect Easter book gift idea. Similar to the other books in this series, it goes through a bunch of shenanigans through hilarious rhymes small kids love.
Little Blue Truck's Springtime
Another popular series gone spring-themed; this one is about Little Blue Truck. You and your kindergartener will have fun exploring the world of spring in this cute book.
Up and Down
This book is great for kindergarteners because it's more advanced than most picture books. Part story, part garden education book, it will have your little one excited to start planting their own seeds this spring.
How to Catch the Easter Bunny
What kid doesn't want to try and catch the Easter bunny? This book probably won't help much, but it's still a cute read.
And Then It's Spring
This book is filled with beautiful illustrations and poetic words, making it an excellent read for you and your child. It describes things in a way that makes sense to kids but also builds their understanding of the natural world.
Fancy Nancy and the Missing Easter Bunny
Even if they're not fans of the kid's show with the same name, kindergarteners will love seeing what Fancy Nancy is getting herself up to this spring.
The Honeybee
So crucial to our ecosystem and a spring mainstay, this book about the honeybee is perfect for young readers. Not only does it have a cute story and pictures, but it will also teach them more about bees.
Peppa's Easter Egg Hunt
If watching the show with your kindergartener wasn't enough for you, why not get them a Peppa Pig book as an Easter gift? Join Peppa Pig as she looks for chocolate eggs and finds all sorts of surprises around the garden.
When Comes Spring
Written by Kevin Henkes and Laura Dronzek, this adorable book showcases all the familiar sights of spring, perfect for young kids.
Pinkalicious: Eggstraordinary Easter
Pinkalicious wakes up on Easter morning only to find an egg hunt waiting for her! Great for fans of the other Pinkalicious books or to get your pink-loving kindergartener into something new.
I Love You, Funny Bunny
What better way to say "I love you" to your kindergartener than through a storybook? This one is perfect for reading aloud to your little one, and the bunny theme makes it a great choice for Easter.
Don't Push the Button: An Easter Surprise
Based on the bestselling book of the same name, this "interactive" story is perfect for young kids. It's hard to describe, but this book encourages kids to touch different spots on the pages as part of the story.
Here Comes T-Rex Cottontail
If your kindergartener loves dinosaurs, they'll definitely get a kick out of this dinosaur-themed Easter book. Or is it an Easter-themed dinosaur book?
Marshmallow
This one's a personal favorite. It's a bit wordy compared to other picture books, but for an attentive kindergartener who's ready to move into more advanced read-aloud, it's a great story to read together.
Count on the Easter Pups!
Paw Patrol, Paw Patrol, we'll hunt eggs on the double! This counting book is fun for kindergarteners to practice with, and they'll love reading about their favorite characters as they prepare for Easter.
Runaway Bunny
Another book that I love personally; this one is about a little bunny who's asking his mother what will happen if he runs away. Each time she tells him how she'll be there for him.
Pete the Cat: Big Easter Adventure
Pete is ready to help the Easter bunny in this adventure from the Pete the Cat series. This book also has stickers and a poster for some extra Easter fun!
The Story of the Easter Bunny
Kids ask so many questions, most of which are better explained through a picture book. This one tells the true story of the Easter bunny to satiate little inquiring minds (for now).
Your little one is going to love these Easter books for kindergarteners! Add them to your collection or put them in your child's Easter basket for a candy-free gift idea.