Disclosure of Material Connection: Some of the links in this post may be "affiliate links." This means if you click on the link and purchase an item, I will receive an affiliate commission. Disclosure in accordance with the Federal Trade Commission's 16 CFR, Part 255. This site is a participant in the Amazon Services LLC Associates Program, an affiliate advertising program designed to provide a means for sites to earn advertising fees by advertising and linking to Amazon.
20 Gifts For Inside Out Fans
Inside Out is quite possibly one of the most unique and interesting stories that Pixar has come out with, and you can't help but be a fan of this film. When you've got something that is as cool as this movie is, it's bound to attract a lot of attention and garner a fandom of its own, and if you're here, there's a pretty big chance that you've got a fan in your midst.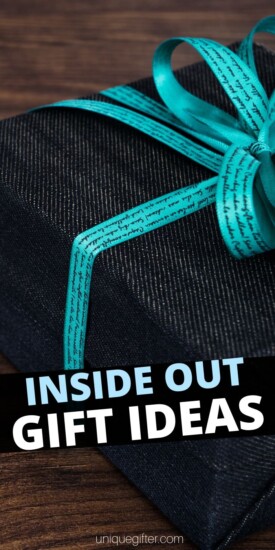 The Emotion Of Giving The Perfect Gift
I'm here to help you out with snagging that perfect present for your loved one! I've looked around and found some of the niftiest items that you're going to come across when it comes to this film, and I've decided to share it with you! You can relax in the knowledge that I've got you covered with these 20 gifts for Inside Out fans.
Fear Inside Out Movie Disney Pixar Removable Peel Self Stick Adhesive
Decorate your walls with these vinyl stickers. They don't damage your walls and look great too.
Inside Out 4 Piece Figure Set
No Inside Out collection is complete without a 4-piece set of these figurines. They are so adorable too.
Inside Out Play-A-Sound Book
Kids will love this book. It gives them lots of sound effects that are sure to make them smile.
Sadness Pillow buddy
Snuggling with this plush is even more fun when watching the movie too! It's a great gift idea for the kids also.
Inside Out Bedding
This bedding is so adorable and will be perfect for the Inside Out fan! Its bright colors are so fun and playful.
Inside Out (Blu-Ray)
Now, if the fan in your life has seen the movie, they likely own it. Do they own it on Blu-Ray, though? Change that as soon as possible!
Today Is A Core Memory Day T-Shirt
This shirt is truly an optimistic way to get your day started. Shout to the world that today is going to be filled with lasting memories!
Mixed Emotions Sherpa Throw
A very fitting blanket for those chilly days when all you want to do is laze around under a nice warm throw. Sherpa lined for optimal comfort as well!
Disgust Plush
Disgust is definitely one of the cutest emotions in the film, and what fan wouldn't love to have a miniature version of her lying around their house, right?
Bing Bong And Joy Ornament
Bing Bong was such a rad character. You can immortalize that wonderful moment when they used the wagon to get back to safety and put a smile on your fan's face.
Sadness Pin
When the fan in your life wants to add a little Sadness to their wardrobe, you'll have them covered. She's even wearing a cute little The Cure sweater for added emo appearance!
Inside Out (Little Golden Book)
The film has fans of all ages, and that includes the demographic that it's created for: Kids! This book is sure to delight any child that receives it!
Joy Inspired Skater Dress
With how cool and cute this movie is, there's sure to be plenty of cosplayers that frolic around as Joy. Maybe your loved one is one of them!
Small Anger Figure
Lewis Black absolutely killed it as Anger in the movie. This cute little figure is sure to put a smile on any fan's face when they remember his frantic outbursts.
Emotions Decals
A cute way to represent love for the film! This decal set includes all of the emotions in some very cool silhouette art.
Inside Out Pencil Pack
Cool supplies have never been so cool! This pencil pack includes all of the emotions and even Bing Bong. What a practical yet rad gift.
Inside Out Finger Puppets
Whether these are used for collectibles or putting on some of the most awesome finger puppets shows ever, they're a winner of a gift!
Inside Out Band-Aids
For the fan that needs everything Inside Out or maybe just someone who wants to add some pizazz to their boo-boos. It's the little things, right?
Lunch Bag
When you want to make sure the fan in your life carries around their food in style. This fantastic lunch bag features all of their Emotions in their cute and goofy glory!
Mini Lantern
This lantern is a very cool addition to any fan's collection. Offering silhouettes of the film's two main characters, your fan is sure to adore it. Don't forget the batteries!
There you have it! Twenty of the absolute finest Inside Out gifts that you're going to come across that are guaranteed to please even the pickiest fan of the film! Did you find anything on this list that your loved one went crazy over? Did you maybe find something for yourself? Feel free to let us know on Twitter (@ugifter) or on Instagram (@uniquegifter), and thanks for checking out 20 Gifts For Inside Out Fans!