Disclosure of Material Connection: Some of the links in this post may be "affiliate links." This means if you click on the link and purchase an item, I will receive an affiliate commission. Disclosure in accordance with the Federal Trade Commission's 16 CFR, Part 255. This site is a participant in the Amazon Services LLC Associates Program, an affiliate advertising program designed to provide a means for sites to earn advertising fees by advertising and linking to Amazon.
If we've done right by the younger set, they should love reading by the time they're in elementary school and go into middle school. My goal in life, as a big cousin and then as an aunt, was to foster that love. Light the spark if need be, and nurture the tiny little flame, of the love of reading and I knew I'd done it right if they were more interested in starting the books hidden in my bag than sitting down for lunch and catching up. Catching up and spending time together is important, of course, but there's something delightful about growing that book hunger.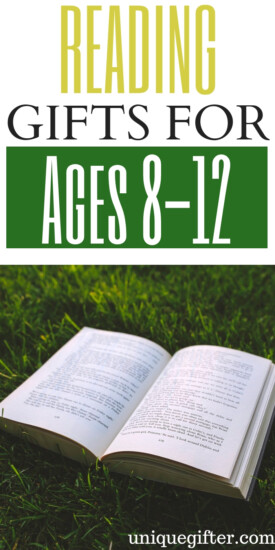 The Best Reading Gifts for Ages 8-12
Two Naomis
Two kids, both named Naomi, at first only have their names in common. They then have to learn how to become a family when their divorced parents begin dating.
Rebound
The companion to Newbery Medal winner, The Crossover, this book takes readers into the past, focusing on a critical formative summer in Chuck Bell's young life, long before he had children. This is when he discovers basketball and learns more about his roots.
The Tea Dragon Society
This wonderful all ages story about the care of tea dragons and their caretakers will warm your heart as it explores traditions and friendship, a little bit of sword swinging, and monster slaying.
The Princess Who Saved Herself
Based on the eponymous song by folk rock musician Jonathan Coulton, the princess myth expands to include a delightful Gloria Cheng Epstein Takahara de la Garza Champion, the princess with a pet snake and played guitar. I'll be the first to admit I didn't understand the love of princesses growing up but this welcome, fun addition to the pantheon is one I can kind of relate to!
Hamster Princess: Harriet the Invincible
Speaking of princesses, who said they all had to be human? Harriet Hamsterbone takes the spinning wheel curse and turns it on its head in the most delightful way: this destiny means that until the curse comes true, she's invincible!
Refugee
Refugee kids from three different places and times: Mahmoud escaping Syria in 2015, Isabel escaping Cuba in 1994, and Josef escaping Germany in 1939. Each child has to cope with their world being shaken apart and find a way to survive.
The Witch Boy
No matter how firmly adults try to uphold and enforce tradition, a little rebellion always breaks through. In this case, Aster who is destined to be a shapeshifter isn't (yet). What's going to happen to him and his forbidden interest in witchcraft when the boys need to be saved?
The Starlit Wood: New Fairy Tales
This anthology collects a group of award-winning authors and their re-imaginations of classic fairytales, perfect for kids and adults alike.
Babymouse #1: Queen of the World!
Happy readers tout this adorable story about Babymouse as a great gateway book for reluctant readers to learn to love reading and that alone recommends it for any audience.
Under the Lemon Moon
This is a fresh take on the idea of "turn the other cheek" lesson that's often taught. This bilingual story shares a young girl's journey from anger and being trespassed on, to seeing new perspectives and having compassion, patience and forgiveness.
Charmed Life (The Chrestomanci Series)
Orphans Gwendolyn Chant is a gifted witch who is thrilled to be taken to Chrestomanci Castle while her less talented brother Eric only goes along because he doesn't want to be separated from his beloved sister. Plot twists abound.
Home at Last
It's nearly impossible to feel comfortable in a world where you can't speak the language to communicate your needs or even have a simple conversation about your day but learning a new language is no easy task. A scary incident pushes Ana's mother to work on her English language skills and, in the process, feeling like she belongs.
Diana Wynne Jones's Howl's Moving Castle (Howl's Castle Book 1)
It took me years to discover that Miyazaki's Howl's Moving Castle was actually based on Diana Wynne Jone's bestselling series. The original book series is every bit as delightful and engaging as the animated film that came after it.
The Youngest Marcher: The Story of Audrey Faye Hendricks, a Young Civil Rights Activist
In 1963, Audrey Faye Hendricks, all of 9 years old, stood up with thousands of other young children and teens to march in Birmingham, AL, in the Children's Crusade. For an adult to take a stand during an incredibly scary time is one act of courage, for this young girl to spend a week in jail to stand up for freedom as a child is truly something else.
Catherynne M. Valente's The Girl Who Circumnagivated Fairyland in a Ship of Her Own Making
This beautifully written story has a flavor all of its own as it pulls us into a fantastical journey with September, a young girl from Omaha missing her father who's gone off to war and longing for her own adventures.
All the Way to America: The Story of a Big Italian Family and a Little Shovel
Dan Yaccarino's great grandfather came to America through Ellis Island carrying a small shovel that goes on to be passed down through the generations becoming a symbol of their new lives and the history that came before.
The Birchbark House
Omakayas tells the story of our country's history of westward expansion from the eyes of the Native Americans who were here first: a family and community that works hard to ensure the family survives through hard winters, sibling relationships, and personal beliefs and courage. This is a worthwhile portrayal of life on the prairie.
My Two Blankets
Change is hard. For a young Cartwheel, leaving her home to move to a new (unspecified) country, everything feels unfamiliar so she takes refuge in an old blanket. A moving tale about metaphor, refugees, friendship, and acceptance.
Princess Princess Ever After
Two princesses, one tower prison, a powerful friendship in the making. Put the two together and you have a team formidable enough to take on the sorceress who comes after Princess Sadies.
May B.
Young May is sent to work for a neighbor homesteader and his wife over the winter months, and goes reluctantly, but finds herself in far worse circumstances soon after when the wife leaves and the husband leaves May all alone on the homestead to go after his wife. She has some supplies but not enough to last until her father returns to fetch her at Christmas so she needs to quickly learn how to survive on her own.